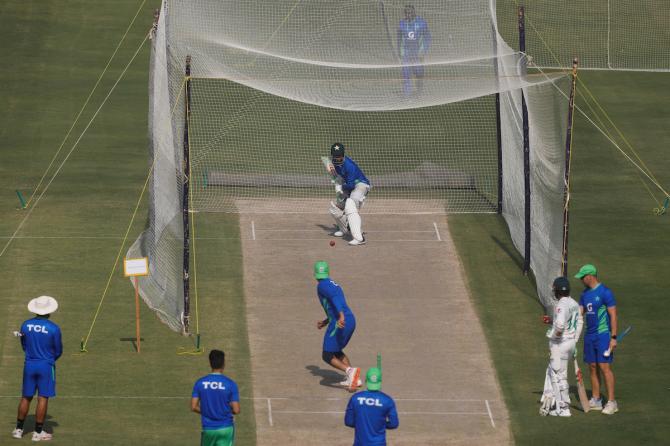 A toilet being built adjacent to the main nets of the Rajiv Gandhi Cricket Stadium at the eleventh hour, new spectator seats yet to be fully installed less than 48 hours left for Pakistan's opening World Cup warm-up fixture but Hyderabad Cricket Association officials are still promising "they will get there".
The sorry state of infrastructure for fans at cricket stadiums around the country is well documented but World Cup host BCCI has already spent crores of rupees to revamp the 12 venues chosen for the ICC event.
The Hyderabad Cricket Association, currently run by a Supreme Court-appointed single member committee in the absence of elected office-bearers, clearly has its task cut out in making the venue ready before Pakistan take on New Zealand in the opening warm-up game here on September 29.
The first game of tournament proper will be held in Hyderabad on October 6 when Pakistan take on Netherlands.
"I have been to other World Cup venues, for example Kolkata is all ready, but Hyderabad as you can see still has quite a bit of work left. But it should happen before the main tournament begins," said a BCCI official who was getting work done on war footing in one of the hospitality blocks.
The stadium has a seating capacity of 39200 and seats in couple of blocks have been replaced. "There are few rows left but it will be done over the next couple of days," said another official supervising the work.
The sight of a bunch of labourers working their guts out to build a brand new toilet for the players stood out.
Until now, the players needed to take the long walk back to the dressing room to relieve themselves.
"There was a need to build a toilet for the players, who otherwise had to rush back to the dressing room. If not the first warm-up game, it should be ready by the second game on October 3," a source in HCA told PTI.
The work related Field of Play (FOP), however, is complete. Canopies have also been erected to provide much-needed protection to the fans from the afternoon sun.
"Hyderabad will be one of the best venues in this World Cup. The pitch will be full of runs. Off the field work is pending but the main game is still more than a week away. We will get there," the source said with certainty.