Tough to look beyond Shreyas in WC playing XI, Gill will be main player for India, says Azharuddin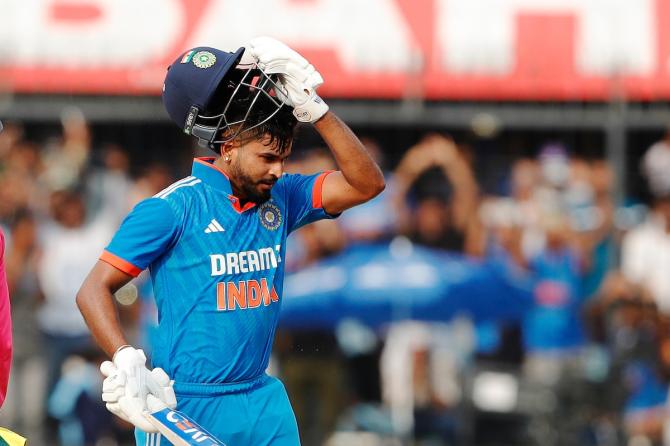 Former captain Mohammad Azharuddin can't look beyond Shreyas Iyer in India's playing eleven in the ODI World Cup and also backed a possible last-minute inclusion of R Ashwin in the 15-man squad.
India find themselves in a problem of plenty in the middle with Iyer, Ishan Kishan and Suryakumar Yadav staking a claim for one spot.
Iyer, who was India's designated number four before a back injury ruled him out of the game for six months, struck an attacking hundred in Indore to put himself ahead of Kishan and Suryakumar in the middle-order race.
"Good competition always brings the best out of the players. Shreyas is an exciting player and he really batted well the other day after losing out on games due to his back issues. He is very positive with his intent and looks to score all the time.
"He can make a big impact in the game. It is very hard to look past him unless you are looking for a left- hander in the middle, then Ishan comes into picture. However, I feel Shreyas has done enough," Azhar told PTI on Wednesday.
Ashwin should find a spot in final-15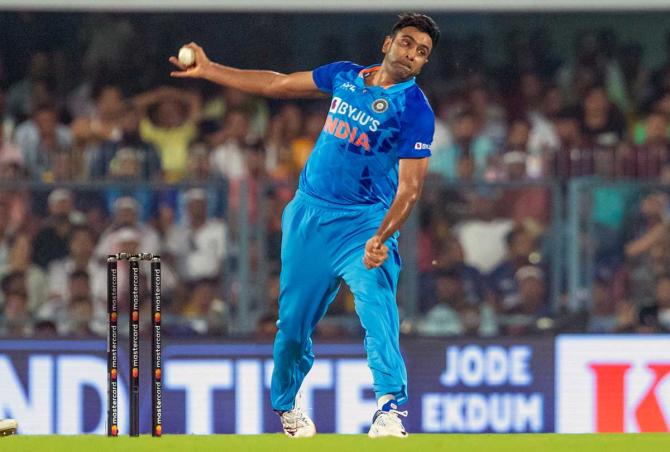 Ashwin, who had played only two ODIs since 2017 before being picked for the ODI series against Australia, is expected to replace Axar Patel in the squad if the latter doesn't regain full fitness.
He gave a good account of his skills in the first two ODIs before being rested for the final game in Rajkot.
The wily off-spinner also has Azhar's vote.
"Ashwin is someone who should be in the team. It is not very easy to line up against him as he has got a lot of variations. The team has already been announced. It remains to be seen whether Axar is in there or not."
"Instead of two left-arm spinners, Ashwin can also bat well, he should find a place," said Azhar, who captained India in three World Cups.
While Shardul Thakur has done alright in the chances he has got, he doesn't match the skills of Mohammad Shami who should be preferred over the former in the playing eleven, said the 60-year-old.
The recent selection showed that the management has not fully made up its mind on the fast bowling combination. Jasprit Bumrah and Mohammad Siraj walk into the playing eleven.
"Shami has been doing well for a long time. Shardul too has done alright in the limited chances he has got . But you don't require everyone to bat in the 11. Shami has also batted well at times."
"Shardul is a bowling all-rounder not a batting all-rounder. When you already have Haridk Pandya you don't need Shardul in the playing eleven," he said.
For him, the Indian player to watch out for will not be Rohit Sharma or Virat Kohli, as he has put his money on Shubman Gill.
Gill has been in sensational form over the past 12 months and has racked up five ODI hundreds this year.
"This time, Gill will be the main player for India. Obviously, the others around him are also batting well. If he can give India a good start it will set the ball rolling," said Azhar.
'Pressure will be on India'

Considering India have not won an ICC event since 2013, Azhar feels the team is bound to feel the pressure of not being able to win knock-out games over the past decade.
"It is going to be a very competitive world cup. India have a very good team. Grounds will be full as India are hosting after a long time."
Asked if India are peaking at the right time following the Asia Cup title and series win over Australia, Azhar said: "I really don't understand this peaking business. When you are playing you are playing well, doesn't matter whether you are peaking or not peaking."
"Sometimes you lose two three matches even after peaking and that has happened with this team. Rather than thinking about all of this, one should focus on the game, rather than thinking about semis and finals straightaway."
"Yes, there will be a lot of pressure to win an ICC tournament which we have not won for a long time. I am sure the boys are fully aware of that," he said.
His home city of Hyderabad will be one of the 10 venues staging the World Cup games. But Azhar is disappointed that Hyderabad is not hosting an India match.
"I would be happy if India were playing in Hyderabad. The matter should have been discussed with the BCCI. I don't know what happened there. Hyderabad also deserved a big game like India and Pakistan," said the former president of the Hyderabad Cricket Association.