Anyone who has been to media conference in Kolkata will second this.
The same problems hunt you every time you go: nothing is in order, there is a lot of last ditch effort, and there is always some problem or the other involving the photographers. Bluntly put, it is among the most chaotic (no offence meant here).
However, now there is serious competition on offer. While attending Mahendra Singh Dhoni's presser ahead of India's opening match against Bangladesh in Mirpur one was reminded of Kolkata.
The commotion preceding the same was such that the media manager had to, at one point threaten to call it off altogether.
Not that it helped much. The chaos continued for a while before the Indian captain was finally allowed to take the questions, much to his relief.
It is for security reasons
A noticeable feature in most autorickshaws in Dhaka (in picture) is the side-netting (or whatever you might call it).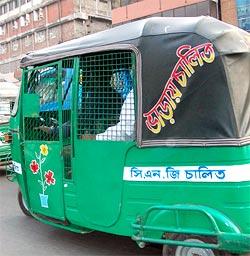 Once you are seated inside, it is difficult to see what happening out in the roads thanks to the grilled visage.
It seems like a prison once you are inside.
Inquiring about the same one got to know the story behind it.
"Earlier, ruffians used to jump into the open rickshaws and rob the tourists. So it was decided to put the grilled framework around for safety purposes," reasons Ahmed, a local.
When the question is regarding your security it is better to take it as it is.
Avian flu scare
Some kind-hearted soul had advised not to have meat in Dhaka.
"It is better if you stick to fish," he had said. In the hindsight following his advice has helped.
While having dinner the other day a colleague opted for meat and had to contend with dal-roti.
In another instance, when a group of us were contemplating having lunch, a local friend asked, "Are you non-vegetarian?"
The reply was obviously an affirmative.
"Don't have chicken," he warned, adding, "There's an avian flu scare.
"About 500-600 birds have died in the last three days."
Safe to say that there is nothing fishy about having fish in Dhaka.