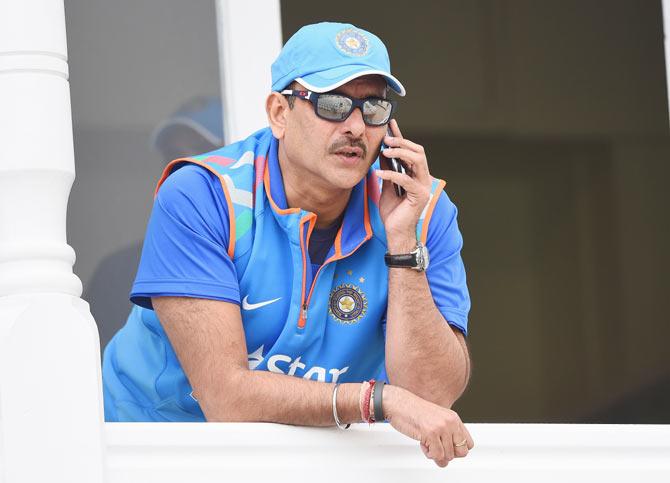 Above: India's Team Director Ravi Shastri. Photograph: Laurence Griffiths/Getty Images
'Before Shastri's induction, it was not known who was responsible for taking cricketing decisions around the team. The selectors chose a squad of players, the captain ran the show on the field and the coaches helped draft plans, or sort of tried to.'
'There needed to be one man who could coordinate all elements around the squad -- someone who had the backing of the Board, the respect of the players and that of the support staff,' says Chandresh Narayanan.
The Board of Control for Cricket in India's decision to react to India's loss in the Test series in England has to be appreciated.
It is apparent that the move has had a positive effect on the side in the ongoing ODI series.
Back in 2011-2012, the BCCI let players bow out on their own terms, and then the selectors swung into action by dropping out-of-form stars.
This time, the Board has not shown the same level of patience.
Indian cricket is usually slow to react to changes in the way other team managements operate. It is little wonder then that the move to bring in Ravi Shastri as Team Director, with Sanjay Bangar, Bharat Arun and R Sridhar as assistant coaches, has taken this long.
This is a fairly new concept for India, so there has been many questions on Shastri's role and responsibilities.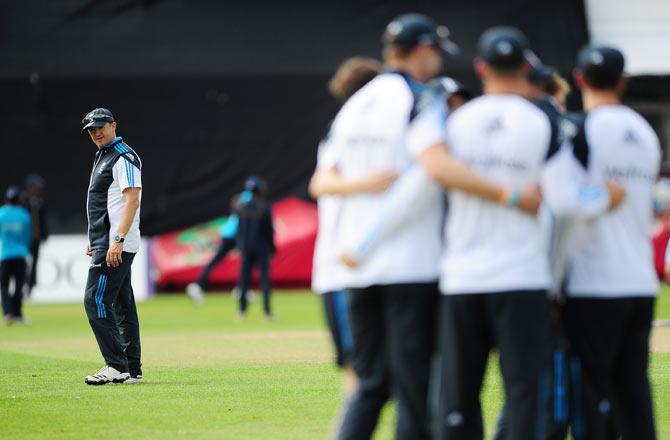 Above: Andy Flower, left, England's then head coach, looks on during a nets session. Photograph: Dan Mullan/Getty Images
Two of the oldest Test-playing nations, Australia and England, realised after their demoralising Ashes losses (2006-2007 and 2010-2011), that they needed someone to be wholly responsible for team affairs.
Hugh Morris, Shastri's Glamorgan teammate during his county cricket days, was appointed Managing Director of England Cricket in 2007, following a thorough review post the 0-5 Ashes debacle Down Under.
Similarly, Pat Howard was named General Manager-Team Performance by Cricket Australia in 2011 following recommendations of a panel probing the 2010-2011 Ashes defeat at home.
Effectively, Morris and Howard were team bosses who looked after all the affairs of the side with respect to scheduling, team requirements in terms of personnel and other cricketing matters. This made them solely accountable for all matters that revolved around the team.
The head coaches, Andy Flower (incidentally titled Team Director, England) and Mickey Arthur (Australia), ran the show with regard to team strategies, but left other issues to the overall in-charge.
This sort of arrangement did not always succeed in terms of on-field results, but it clearly demarcated roles so that cricket and cricketing affairs did not suffer from policy paralysis.
Selection was also an area that the team bosses stayed clear of usually, but the head coaches were part of the selection panels.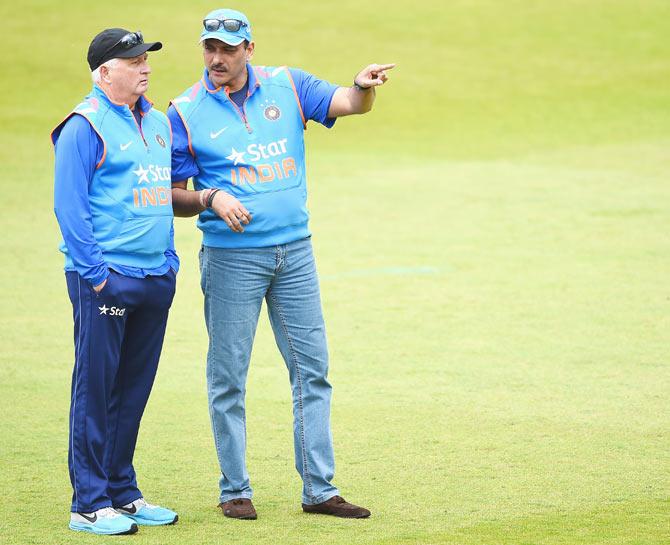 Above: Ravi Shastri and India Coach Duncan Fletcher during a nets session at Trent Bridge. Photograph: Laurence Griffiths/Getty Images
Indian cricket clearly needed such an arrangement for a long time, with someone having the authority to take firm decisions on matters related to the team.
For very long, especially in the early part of the new century, the BCCI leaned on a core group of senior players in the team for advice and suggestions.
Now, with that set of senior players gone, the BCCI needed to have someone of stature to run team affairs officially, a responsibility that could include scheduling warm-up games, number of days required in advance of a tour etc. These matters may sound trivial, but these days, it adds up to a lot in terms of a team's performance on the field.
Before Shastri's induction, things were sketchy and it was not known who was responsible for taking cricketing decisions around the team.
The selectors chose a squad of players, the captain ran the show on the field and the coaches helped draft plans, or sort of tried to.
There needed to be one man who could coordinate all elements around the squad -- someone who had the backing of the Board, the respect of the players and that of the support staff.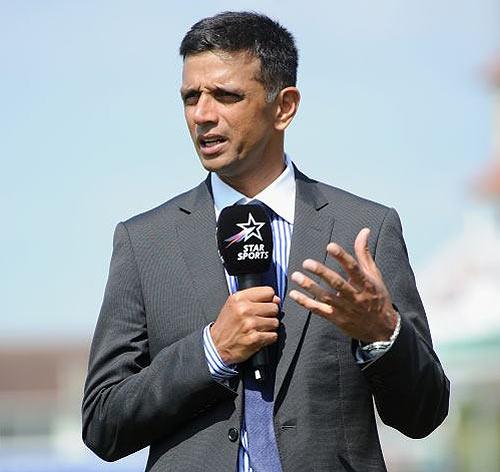 Above: Rahul Dravid, the legendary Indian cricketer. Photograph: Gareth Copley/Getty Images
Rahul Dravid may well have been the man for the role, but it may have been too soon for him to rise from being a team-mate to some in the current team, to being their boss.
Whether it is a short-term move or long-term one, Shastri's appointment will bridge the gap between various layers of Indian cricket.
It may not dramatically change the fortunes of the side in the Test series in Australia, if Shastri is still around, but will be the first step in that direction.
In England, Morris has given way to former wicket-keeper Paul Downton and the role has not changed a bit with Peter Moores as Head Coach.
In Australia, Howard has a slightly changed role, but is still on par with Head Coach Darren Lehmann.
When India needed a full-time coach rather than one being appointed every series in the early 1990s it took a bit of time. Then the appointment of a foreign coach, long overdue, took longer than expected.
Finally when that foreign coach, John Wright, needed specialists to work with him on the bowling, batting and fielding, he was frowned upon by the then Board officials.
Much the same has happened now with the new team-management structure that the BCCI has adopted for the ODI series in England.
Like most things in India, change takes place gradually, but eventually it does.