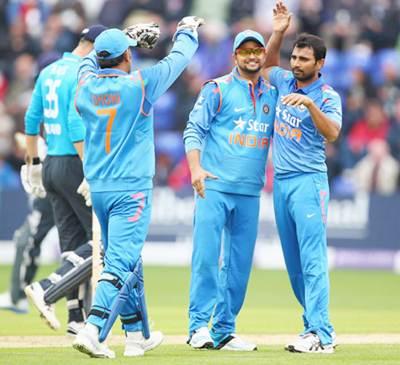 Having scored a match-winning 75-ball-100 against England in the second One-Day International on Wednesday, Suresh Raina attributed his success to Team Director Ravi Shastri's pre-match pep talk.
"Ravi Shastri gave us a lot of confidence. He came in the team meeting and said a few words to the team which were very inspiring. He was also sitting with me in the bus when we were on our way to the stadium and he told me, 'khadoos khelna hai'(play a stubborn game)," Raina told bcci.tv after his blistering century.
Following India's disastrous showing in the Tests, the Board of Control for Cricket in India appointed Shastri as Team Director, prompting speculation over head coach Duncan Fletcher's future.
There have been conflicting statements over who remains in charge - Shastri, Fletcher or captain Mahendra Singh Dhoni - but Raina said the team environment is "very good" and Shastri's appointment is already proving beneficial.
"There is a different comfort level when you talk to a former Indian player; you can be free and honest. All the other coaches have been very supportive as well but Ravi Shastri set the tone for us and instilled confidence in the team," Raina stated during an interaction with board's website.
Ending speculation about coach Fletcher's role in the five one-dayers against England, Dhoni had earlier said that the Zimbabwean will remain as "boss" of the team until the 2015 World Cup.
"He will lead us into the World Cup," said Dhoni, referring to the coach.
"Also he is still the boss. We have Ravi Shastri who will look into everything, but Fletcher is the boss. It's not as if his powers or his position have been curtailed. I don't know what you feel from the outside, but operations still remain the same. We have a few other support staff coming into the dressing room, but overall the operation remains the same," Dhoni had said on the eve of the first ODI.
The BCCI took exception to Dhoni's statement, describing it as "unbecoming of the Indian captain" who had "overstepped his brief".
Image: (Left to right) Mahendra Singh Dhoni, Suresh Raina and Mohammed Shami celebrate the fall of an English wicket in the second ODI in Cardiff on Wednesday.
Photograph: Michael Steele/Getty Images