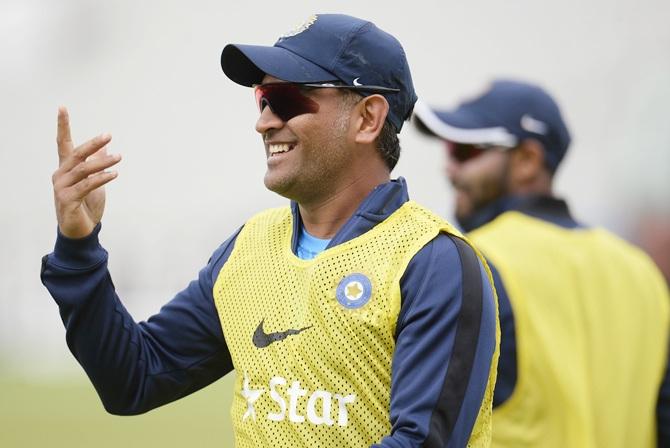 India captain Mahendra Singh Dhoni. Photograph: Philip Brown/Reuters
During his tenure as captain Mahendra Singh Dhoni has gone from being extremely cautious to trying something fancy, hoping to catch the opponent by surprise.
However, mostly, he's ended up with egg on the face, especially overseas.
After yet another overseas Test series defeat, Mahendra Singh Dhoni's captaincy is under the scanner again.
While the visitors lost the plot, suffering three humiliating defeats on the trot following victory at Lord's in the second Test, his captaincy in the just-concluded five-Test series in England left a lot to be desired.
In unfamiliar overseas conditions he again struggled to impose his leadership, not only on his team but the opposition too.
Check out some weird tactics adopted by him when leading the side in Test cricket.
Publicly backing coach Fletcher and inviting BCCI's wrath
Coach Duncan Fletcher came under a lot of flak after India's debacle in the England Test series and even the normally-supportive Board of Control for Cricket in India put him under virtual notice by appointing former captain Ravi Shastri as the team director, while his support staff including bowling coach Joe Dawes and fielding coach Trevor Penney were given a 'break' for the ODI series.
While BCCI sources indicated that the Board had given Fletcher enough feelers to give up the India job, India captain Dhoni was singing a different tune altogether.
"He (Fletcher) will lead us into the World Cup. Also he is still the boss. We have Ravi Shastri who will look into everything, but Fletcher is the boss. It's not as if his powers or his position have been curtailed. I don't know what you feel from the outside, but operations still remain the same. We have a few other support staff coming into the dressing room, but overall the operation remains the same," Dhoni said, ahead of the first of the five-match ODI series, which was not played because of incessant rain in Bristol.
A senior office-bearer of the Board hit back immediately, saying: "What happened is very disappointing and unbecoming of an Indian captain. The matter will come up for discussion at the next working committee meeting of the board. Let's get it straight. Dhoni is no one to comment as to who is the boss of the team. He has overstepped his brief as an Indian captain."
Allowing the game to drift after lunch on Day 2 of the fourth Test at Manchester
Sourav Ganguly is not one to mince words. He summed up Dhoni's captaincy perfectly when asked about it by his co-commentator, Naseer Hussain.
Nasser Hussain: What have you made of MS Dhoni's captaincy, Sourav?.
Pat came Ganguly's reply: Poor! He goes through these patches, especially overseas.
Ganguly was the most vocal among Indian commentators of Dhoni's captaincy during the Test series.
He was particularly unhappy with the way the captain let the match drift in the fourth Test at Manchester.
Dhoni brought on his worst bowlers -- Pankaj Singh and Ravindra Jadeja -- to bowl straight after lunch on Day 2 after England were in a spot of bother at 201 for 6, having lost a few quick wickets in the morning session.
Singh and Jadeja had not picked a wicket till that stage, as Dhoni strangely decided to play it safe rather than go in for the kill.
In the six overs that followed, England's Joe Root and Jos Buttler hit 31 runs to grasp the momentum, post 367 in their first innings and take a handy 115-run first innings lead.
Publicly making accusations against Anderson
India were on a high after the second Test following the 95-run victory at Lord's, but the visitors let off-field drama take centre stage and lost focus going into the next Test.
Dhoni was insistent that England fast bowler James Anderson be punished after he allegedly pushed Ravindra Jadeja during the lunch break in the first Test at Trent Bridge.
'It's nothing between me and Jimmy Anderson that we had to do something like that. What's important was what was done on and off the field. You can't really just move ahead with saying 'OK, you get abused on the field. That's part of the game',' said Dhoni, trying to plead his case with the ICC and the BCCI.
It seemed India's whole focus was to somehow get Anderson banned for a game or two; trying to prove the charges became more important than preparing for the next game.
Eventually, Anderson was cleared by the ICC and came back stronger. A fired-up Anderson ripped apart the Indian batting thereafter in the series, finishing with 25 wickets in the five Tests, at an average of 20.
In hindsight, one wonders if it was sensible for Dhoni to hype up the issue and take the team's focus away from the on-field cricket.
The spin conundrum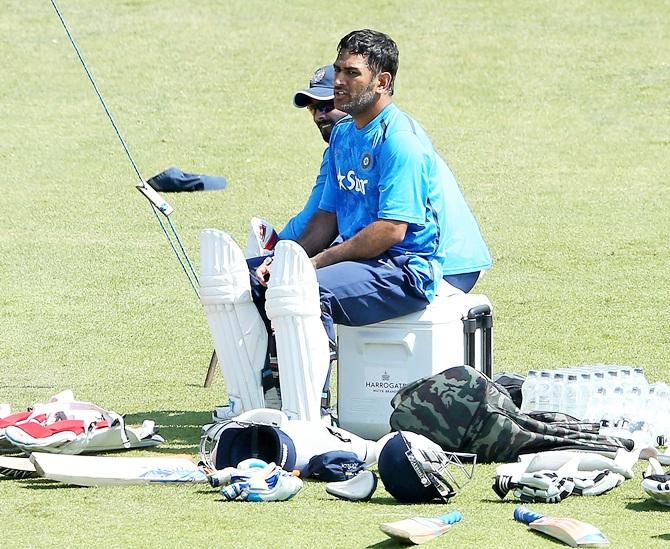 Image: Ravindra Jadeja and MS Dhoni during India's nets session. Scott Heavey/Getty Images
Ravindra Jadeja was preferred as the lone specialist spinner for the first three Tests with limited success. Dhoni then decided to include Ravichandran Ashwin as the second spinner for the fourth Test at Manchester, but forgot about Jadeja, who just a few days ago was his No. 1 spinner, during the match.
The left-armer was not called up to bowl till the 48th over of England's first innings.
Jadeja picked a solitary wicket in his 13.3 overs while Ashwin went wicketless from 14 overs as India lost an innings and 54 runs.
In the next Test, Ashwin, perhaps because of two good knocks in the fourth Test, got the nod ahead of Jadeja, who was replaced by Stuart Binny.
Ishant told to bowl short at Lord's
Dhoni's weird tactics did work for once in the series. Ishant Sharma's seven-wicket burst which guided India to victory at Lord's was all down to the captain's quick thinking.
Chasing 319 for victory, England looked in contention at one stage – at 173 for four -- before Ishant ran through the middle and lower order using the short ball to good effect.
Dhoni later revealed that Ishant was reluctant to try the bouncer.
'That last over before lunch, Ishant didn't want to bowl short; I just told him he has to and turned away. It was a fantastic performance,' he said later.
Binny dilemma for Dhoni
Stuart Binny played a crucial innings of 78 to take India to safety in the first Test at Nottingham after India were in a spot of bother at 184 for 6 in the second innings on Day 5.
The all-rounder's inclusion was primarily to give Dhoni more options, as he could also do the job of fifth bowler with his handy medium pacers.
However, despite selecting him, Dhoni didn't seem to repose trust in Binny's ability with the ball. He was given only 10 overs in the first game, whereas the other seamers bowled around 30 or more each.
In the second Test too, Binny got only 10 overs in the first innings and not used in the second as Dhoni preferred part-timers like Murali Vijay and Shikhar Dhawan.
After missing the next two games, Binny made it back to the team for the fifth Test and bowled just 12 overs while again going wicketless.
It was strange that Dhoni chose to select a player in the playing eleven and not back him.
Five bowlers or four bowlers?
At Lord's, India were successful with the five-bowler strategy but, strangely, changed tactics for the next Test and went in with four bowlers, including a batsman in Rohit Sharma in place of Stuart Binny.
They lost the match at Southampton by 266 runs, forcing Dhoni to revert to the five-bowler strategy for the Old Trafford Test, and bring in Ravichandran Ashwin for Rohit Sharma.
By then, England had already seized the momentum.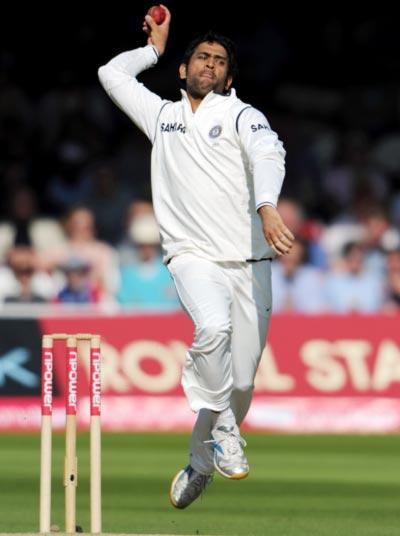 Dhoni bowled himself on Day 2 at Lord's in 2011
There are other moments in the past when Dhoni's unusual captaincy was in question and attracted a lot of criticism.
India lost veteran Zaheer Khan because of injury on Day 1 of the first Test against England at Lord's in the 2011 series.
Dhoni decided to try something fancy and brought himself on to bowl on the second day, something that left former India captain Kapil Dev seething.
'Dhoni has made mockery of Test cricket by bowling (himself). This is not acceptable that on the second day of the Test match, you can't do this,' Kapil told Headlines Today.
Rahul Dravid took over the gloves as Dhoni brought himself into the attack and bowled eight overs without any success. He also bowled a couple of overs in the second innings but, again, failed to make an impression.
India were comprehensively outplayed in the match, losing by a huge margin of 196 runs.
India abandon comfortable run chase against West Indies
For India, an overseas Test victory is premium, but the visitors let go an opportunity to win in the West Indies with the game at their mercy.
India were the No. 1-ranked Test team in July 2011 and chasing a target of 180 in 47 overs to win the third Test in Dominica.
Despite needing a comfortable 86 runs from 15 overs, with eight wickets in hand, the chase was abandoned.
Image: Mahendra Singh Dhoni bowls during the first Test match against England at Lord's in 2011.
Photograph: Gareth Copley/Getty Images