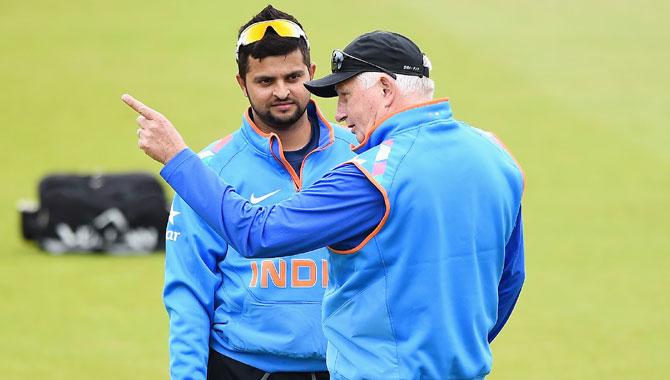 Team India coach Duncan Fletcher talks with Suresh Raina during net practice. Photograph: Laurence Griffiths/Getty Images
An unassailable lead in their pocket, India will look to clinch the One-day series against England by putting up another dominating display when the two sides square off in the fourth match in Birmingham on Tuesday.
The visitors took an unassailable 2-0 lead after a 133-run (Duckworth/Lewis) and six-wicket win in Cardiff and Nottingham in the second and third ODIs respectively.
This was after the first ODI at Bristol was abandoned due to incessant rain.
At Edgbaston then, the Men in Blue will be hoping to wrap things up with one match remaining in the series. Their confidence stems from the fact that England were unable to challenge them in the two matches played so far.
On current evidence, in limited-overs' cricket, the hosts appear to be a completely different team than the one that takes the field in the Test arena. Like every other team they too are building up to the 2015 World Cup in Australia-New Zealand, but they are beset with problems.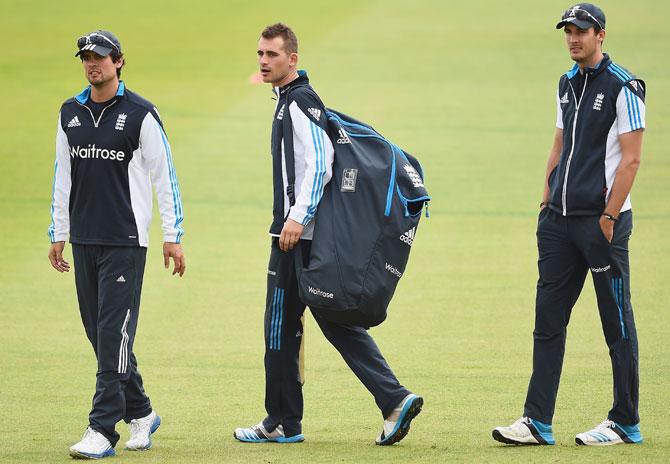 Alastair Cook, Alex Hales and Steven Finn of England look on during net practice. Photograph: Laurence Griffiths/Getty Images
A lot of quarters have criticised Alastair Cook's batting at the top of the order, but, along with Alex Hales, he has put up two fifty partnerships in two games.
That isn't the trouble though. His captaincy has been under the scanner and while the 3-1 series win helped silence his critics, even his closest supporters -- read Graeme Swann -- do not believe that he should lead his country in the World Cup. However, that is done and dusted, he will do so, and England's problems mount from there.
Cook's captaincy is quite unimaginative in the sense that he doesn't feel the need to play two off-spinners in the same eleven. This conventional thinking has always been England's downfall in limited-overs' cricket, and that is the summation of their problems.
It is perhaps the reason why they haven't won anything of value in this 50-over format, leave alone a single ICC trophy. Their last major ODI win was in New Zealand in early 2013 which was quickly avenged when the Kiwis won in England later that summer.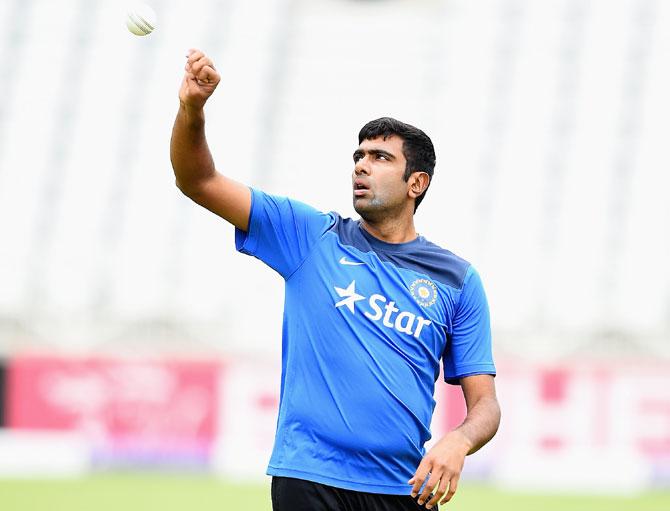 Ravichandran Ashwin of India prepares to bowl during net practice. Photograph: Laurence Griffiths/Getty Images
Does this mean India's upswing in form in last two ODIs is a miscalculation?
It could be, since this same team struggled a lot in South Africa and New Zealand, wherein conditions were more similar to the ones that will be prevailing in the quadrennial event next year.
India's openers found it tough to get starts against more disciplined bowling attacks. The middle order couldn't take the subsequent pressure and only Virat Kohli and Dhoni himself were among the runs in New Zealand.
Here, the former's poor run-of-form has been shaded by the Indian success riding on others' shoulders. India's own World Cup plans have been hit by Rohit Sharma's finger injury.
This is their last overseas ODI assignment before the tri-series in Australia later in January, a dress rehearsal for their title defence.