'The coaching job is done by Ravi Shastri. The players are also happy with him'
'I think he is doing a very good job and he can continue'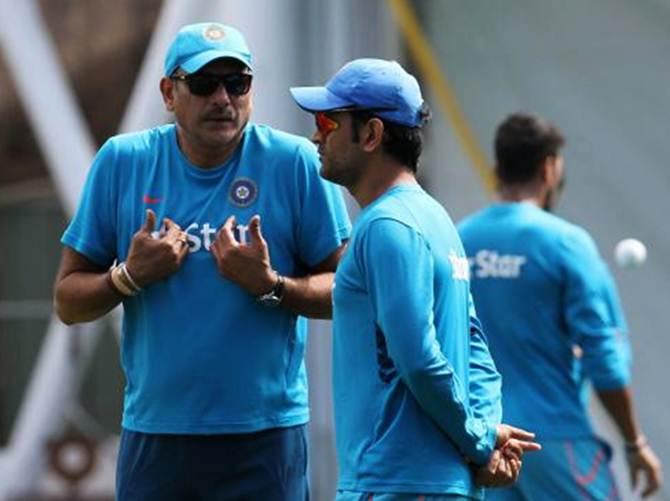 IMAGE: Team India Director Ravi Shastri, left, with India skipper Mahendra Singh Dhoni during the 2015 ICC World Cup. Photograph: Solaris Images
Senior Board of Control for Cricket in India functionary Rajeev Shukla says the decision to give Team Director Ravi Shastri an extension till the 2016 World Cup was based on his good performance and rapport with the players.
While he did not give a direct reply to whether Shastri will get a longer tenure post next year's World T20, Shukla said the former India all-rounder is also doubling up as chief coach, a position left vacant by the exit of Zimbabwean Duncan Fletcher.
"Basically, the coaching job is done by Ravi Shastri and he has been asked to continue till the World T20.
"Shastri has been entrusted with the job and the players are also happy with him. I think he is doing a very good job and he can continue," IPL chairman Shukla told mediapersons on the sidelines of the Hockey India League auction.
"If anything needs to be done, the advisory committee, comprising Sourav Ganguly, Sachin Tendulkar and VVS Laxman, will be taking a decision what exactly should be done."
Shukla also said the proposed bilateral series between India and Pakistan in UAE in December is lying in uncertainty although the BCCI is committed to resuming cricket ties between the two neighbouring nations.
"Right now I can't say anything. There are some issues and these issues have to be sorted out. Once these issues are sorted out then only we can think about it. Our policy is that bilateral matches should be played in each other's soil. Still that's our focus. For these, we need to take the permission of the government also because the security issue is also there," he said.
Shukla also said that just like any big event there are bound to be controversies associated with the Indian Premier League, but the BCCI is taking all possible measures to make it clean and corruption-free.
"When you start something controversies and allegations are bound to be there. IPL is a big event. People watch IPL all over the world as it is being telecast in 152 countries. So there is bound to be some issues.
"But the question is if there are issues or allegations, how quickly corrective steps are taken and how tough steps are taken. That is important. We at BCCI are taking strict action if such cases are brought to light," the Congressman said.
"We can't look at what a person is doing in his room, what a person is doing in the confines of his house. We can't keep surveillance on people."
- Also read: 'More important to adjust mentally when batting at No 3'