'It is his luck that he got a coach like Rahul Dravid who gave him an opportunity.'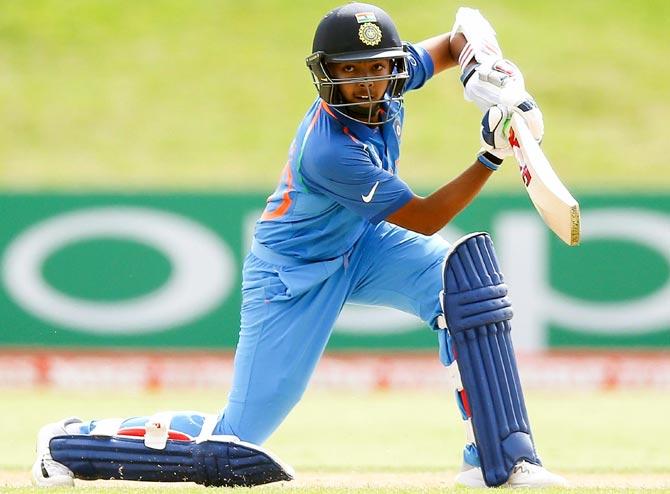 IMAGE: India Under-19 Captain Prithvi Shaw in action. Photograph: ICC/Getty Images
As he became the toast of the nation for leading India to a dominating Under-19 World Cup triumph, Prithvi Shaw's first coach Santosh Pingulkar, on Saturday, recalled the days when he had spotted talent in the three year old.
Prithvi's cricketing journey started in the modest town of Virar near Mumbai, but avenues kept opening for him as he grew as a cricketer.
"Prithvi Shaw came to me when he was around three years old. It was a coincidence when I first spotted him playing on a municipal corporation ground first. I had come to Virar from Aurangabad to take permission for the local ground when I saw him play there," Pingulkar said.
"No one was taking him in Mumbai, saying he was very young. We enrolled him in our Golden Star Academy. He was our first student," he added.
Prithvi studied at the National School, but later shifted to the Rizvi School in Mumbai, where he got ample opportunities to prove himself and showcase his talent.
"He was at the National School till the 2nd, 3rd standard and then was shifted to Rizvi school, but he stayed in Virar till he was 12 years," recalled Pingulkar who still coaches young cricketers in Virar.
Pingulkar remembered that he first Prithvi playing a few drives and felt that something was special about the toddler.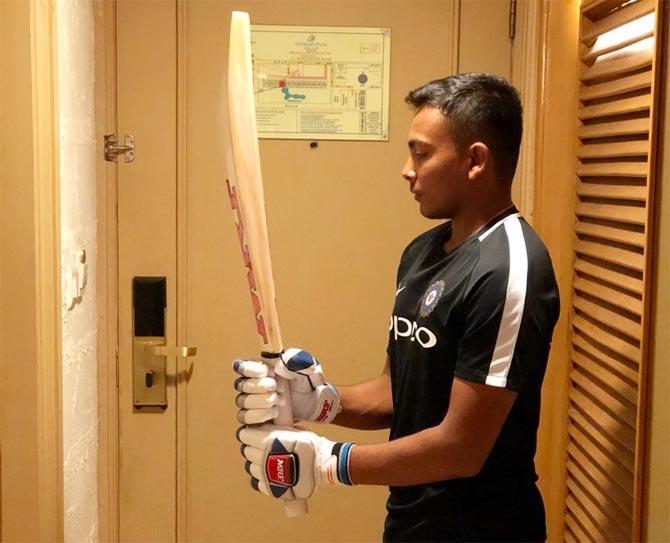 IMAGE: Prithvi Shaw. Photograph: Kind courtesy Prithvi Shaw/Twitter
"When I saw him at three, I felt there is something and so I spoke to his father (Pankaj Shaw). He joined our academy in September 2002 and started coming regularly to me," Pingulkar said.
"He started playing for his school and coming for practice. After he shifted to Rizvi, he used to come for practice in the evening. Later it became difficult for him to commute in the (suburban) train. Local MLA Sanjay Potnis arranged a flat for him there (in Mumbai) and looked after him," he added.
According to the coach, when Prithvi was around seven years old, Pingulkar felt that he had the potential to become a big player.
"When he was 8, 9 years old he played a tournament organised by Chandrakant Pandit's academy. At nine we sent him for selection for the MCA (Mumbai Cricket Association) U-14, he got selected for second round, but in the third round was stopped as he was young."
"We then got him enrolled at Rizvi where he got many opportunities and got selected for the Mumbai U-14 when he was 10 years old," the coach recalled fondly, minutes before his pupil received the U-19 World Cup trophy.
Pingulkar remembers that Prithvi was very patient and he batted last in the nets so he could get to play for more time than the others.
In 2006 Prithvi played on turf wickets for the first time. After Prithvi shone in several local tournaments Pingulkar decided his pupil needed to move to Mumbai.
After moving to Mumbai, Prithvi played for MIG, was selected for the U-19 team and the rest is history.
"It is sure that he will play for India," Pingulkar said.
"It is his luck that he got a coach like Rahul Dravid who gave him an opportunity."