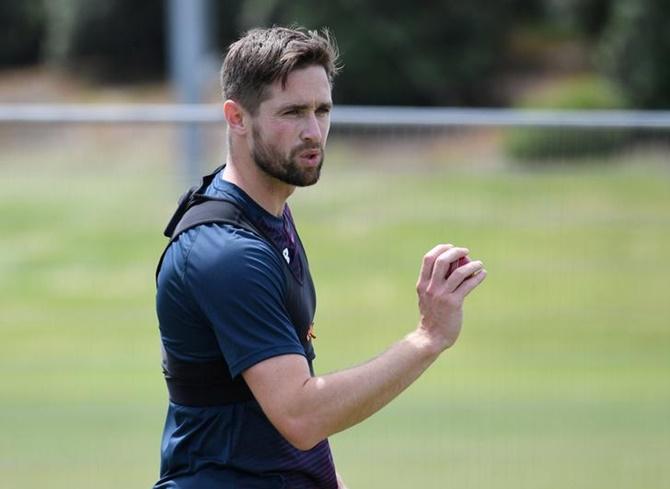 Pacer Chris Woakes on Monday said he is happy staying away from the spotlight and says he just wants to churn out match-winning performances for England.
Woakes's performances often go unnoticed as the likes of Stuart Broad, James Anderson and Jofra Archer steal the spotlight.
"I honestly really don't mind. I'm not one for being centre of attention," Woakes was quoted as saying by Sky Sports.
"Don't get me wrong, I want to go out on the field and perform and I want to make match-winning performances for England but it really doesn't bother me if I'm first choice to write about or not, to be brutally honest," he added.
The 31-year-old, who has 106 wickets from 35 Tests, feels while he can't join compatriots James Anderson and Broad in the 500 wickets elite club, he still has a lot to offer.
"My stats have been mentioned and they're very good in England, I want to keep working on those, keep improving on them and making them as good as they can be," Woakes said.
"At my age and where I am now at 31, it's unlikely that I'm going to go on and get 500 Test wickets like Jimmy and Broady but I still want to go on and get as many as I can individually.
"I still feel like I can provide really good services to England for many more years to come so I'm happy with how it works and as long as I continue to be able to represent England then I'll be happy," Woakes added.
England are in a unique situation with all their pacers fit to play resulting in an intense competition between the speedsters to start the match.
Thus, even with a good record and consistent performances under his belt, Woakes cannot cement his place in the playing XI.
"It's not an easy team to just be cemented in. My record in England is brilliant, I'm obviously pleased with that.
"I want to keep getting better and improving myself and every time I get the opportunity to play for England, whether it is home or away, I'm giving 110 per cent and trying to do my best for the team," Woakes said.
England's Topley to miss third ODI against Ireland with groin injury
England fast bowler Reece Topley will miss Tuesday's one-day international (ODI) against Ireland after picking up a groin injury, the country's cricket board (ECB) said on Monday, two days after he made his international comeback.
With England's first choice fast bowlers rested between tests against the West Indies and upcoming matches against Pakistan, Topley was called up to the ODI squad and he made his first appearance in more than four years on Saturday.
The 26-year-old bowled nine overs and picked up Ireland's final wicket in England's four-wicket win.
The six-foot-seven-inch Topley joins Joe Denly on the sidelines after the batsman was ruled out of the final two ODIs when he suffered back spasms in training ahead of the second match.
England have already clinched the three-match series with wins from the first two games. All matches are being played at the Ageas Bowl in Southampton behind closed doors due to the COVID-19 pandemic.
Trott appointed England batting coach for Pakistan series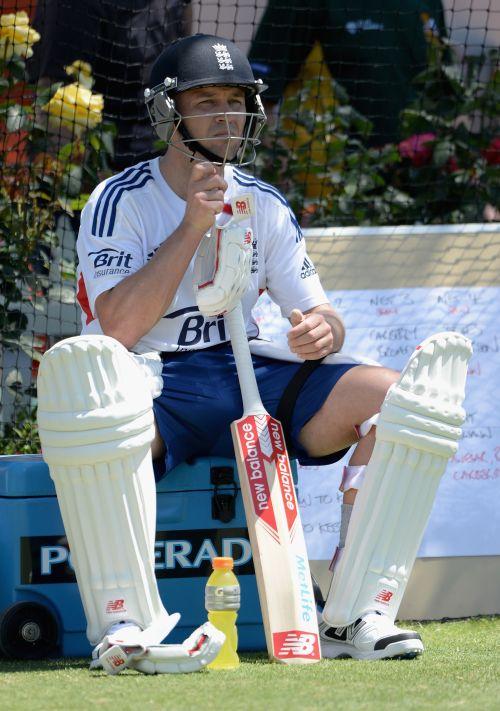 Former batsman Jonathan Trott has been appointed England's batting coach for the upcoming three-Test series against Pakistan, starting Wednesday.
The 39-year-old, who scored 3835 runs in 52 Tests between 2009-2015 for England, will be joined by former New Zealand spinner Jeetan Patel and Warwickshire seamer Graeme Welch, BBC reported.
Trott, who played 68 ODIs and seven T20 matches, has scored 18,662 runs in first class cricket.
England and Pakistan will lock horns in a three-match Test series starting Wednesday at Old Trafford in Manchester, followed by the next two games in the Ageas Bowl in Southampton.
England won the recently-concluded three-Test series, that mark the resumption of international cricket, against West Indies 2-1.
Hopeful that exhibition games in UAE will lead to Women's IPL in near future: Rangaswamy
BCCI Apex Council member and former India captain Shantha Rangaswamy on Monday said the board's decision to organise Women's T20 Challenge during the IPL shows that it remains committed to the game.
She hoped it would lead to a full-fledged Women's IPL in the near future.
The BCCI had received criticism for withdrawing the Indian women's team from a tri-series in England in September at a time when it was gearing up for the IPL, scheduled from September 19-November 10 in the UAE. The India players have not played since the T20 World Cup final in March.
"Those who were predicting doomsday for women's cricket, I want to say to them BCCI is interested in promoting women's cricket and I would like to thank Brijesh Patel (IPL Chairman), president (Sourav Ganguly) and secretary (Jay Shah) for making this possible in these tough times," Shantha told PTI.
Before the outbreak of the COVID-19 pandemic, the BCCI had announced that the Women's T20 Challenge will have four teams, one more than last year.
"It was supposed to be a four-team event this year but the venue change has made the task much tougher. I am happy that it is happening and hopefully will lead to franchise-based tournament like the IPL in the near future," she said.
The Women's T20 Challenge is clashing with the Big Bash League in Australia and star Australian player Alyssa Healy has questioned the timing of the event.
"We are going through unprecedented times and the board has done the best it could in the current scenario," Shantha added.
Former TN player Malolan to miss out on stint as CPL team assistant coach
Former Tamil Nadu all-rounder Malolan Rangarajan, who had been roped in as assistant/strategy coach by CPL side St Kitts and Nevis Patriots for the 2020 tournament, will not be a part of the event.
The 31-year old, who is also head of scouting at IPL team Royal Challengers Bangalore, is expected to be involved in the Indian franchise's pre-season camp.
He will, however, assist the Patriots remotely.
Rangarajan confirmed that he would not be able to be part of CPL this season.
The CPL is scheduled to run from August 18 to September 10 while the IPL has been confirmed to be held in the UAE from September 19 to November 10.
The IPL teams are expected to begin pre-tournament training from the third week of August.
Meanwhile, Tamil Nadu cricketers will have to wait longer to train as the authorities have yet to give the nod.
The Tamil Nadu Cricket Association (TNCA) has written to the Chennai Corporation, requesting permission to open grounds or at least the M A Chidambaram (MAC) stadium in the city, for practice.
TNCA secretary R S Ramasaamy told PTI: "We have written to the Corporation seeking permission to open grounds or the MAC. There are plans to meet the Commissioner of the city civic body soon to obtain the nod needed for it."
If the Corporation gives the go-ahead to open grounds, international and state cricketers from the state will be allowed to use the nets at the MAC.
The Tamil Nadu government has extended the lockdown to control the spread of COVID-19 till August 31 with some relaxations and had recently allowed stadiums to reopen without spectators.