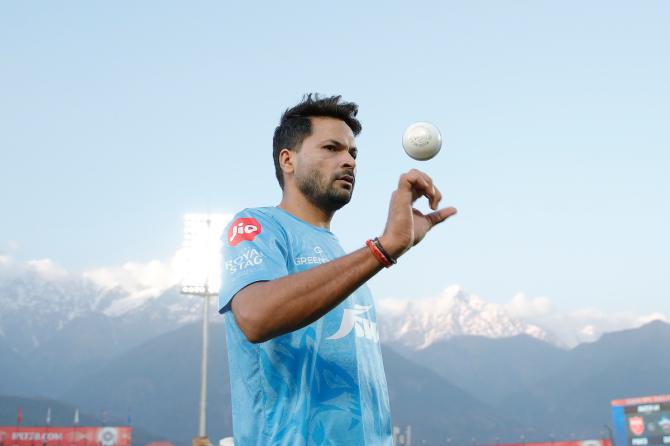 For someone who has come through the grind and lost many battles, including when his father died of a brain haemorrhage, in his journey to become a cricketer, Mukesh Kumar knows well what it takes to be selected for the Indian Test team.
"Kehte hai na agar aap Test nahin khele toh kya khele... (Like they say, what have you done if you didn't play Tests)," the fiesty Bengal pacer told PTI after being selected in the Test and ODI squads for the upcoming tour of the West Indies.
"My dream is now in front of me. I always wanted to be here -- to play Tests for India. And, I've finally arrived."
What now flashes through his mind is a myriad of memories from his village Kankar Kund in the remote Gopalganj district of Bihar to sleeping in the dormitory at Eden Gardens in Kolkata where he had first come in 2012 to help his father in his taxi business.
His father Late Kashinath Singh, who died in 2019, was against cricket and wanted Mukesh to join Central Reserve Police Force.
An emaciated Mukesh failed in CRPF exams twice and his cricketing dream was also heading nowhere after representing the Bihar U-19 side.
He resorted to playing "khep" cricket in Bengal -- where one represents unaffiliated clubs in tennis ball cricket to earn Rs 500 to Rs 5000 per match.
Besides suffering from malnutrition, Mukesh also had an issue -- bone edema -- where one has excessive fluid in his knees, so he would miss games, and end up either in hospitals or rehab centres.
The 'Summer of 2014' changed it all for Mukesh when he came under the radar of former Bengal speedster Ranadeb Bose.
It was during Cricket Association of Bengal's ambitious programme 'Vision 2020' -- that was introduced by then CAB secretary Sourav Ganguly to find and groom talents for 2020 -- Bose spotted the "frail-looking" Mukesh.
It was not just his speed, but the ability to bowl long spells in that probing outside off-stump line throughout the day, that impressed Bose.
Even as he was rejected in the trials, Bose went out of his way to convince Ganguly and take him under his wings.
CAB took care of his diet, MRIs, medical bills, and arranged dormitory at Eden Gardens.
It was all about rehab and core-strengthening for Mukesh for about a year, and Mukesh kept at it relentlessly.
He did not play any First Division clubs before making Ranji debut for Bengal against Haryana in 2015-16 and Bose, the then Bengal bowling coach, recollects an interesting story.
"My job was at stake, then at the end of day, the first wicket he got was that of Sehwag in Lahli. He saved his career and my job," Bose said.
Mukesh played four games in his debut season only to get injured in 2016-17 after playing two matches.
It was once again struggle as he lost rhythm and was sidelined with the return of Mohammed Shami and Ashok Dinda in their ranks.
But he came to the fore once again in 2018-19 when he impressed with 22 wickets from five matches and went on to form Bengal's formidable three-pronged pace attack with Ishan Porel and Akash Deep who took Bengal to two Ranji Trophy finals, in 2019-20 and 2022-23.
He has not looked back since then. An India A regular, Mukesh has 18 wickets at 17.50 average including five-fors against New Zealand A and Bangladesh A.
"I'm sure dad would be happy now seeing my rise," an emotional Mukesh continued.
"Mummy, papa's support will always be there and to all my friends for believing in me... Vision 2020. Sourav Ganguly Sir, Joydeep (Mukherjee) Sir and my guru Ranadeb Bose sir who has always guided me in red-ball cricket," he said, dedicating his rise to them.
"Without their help, I don't think I would have survived," said Mukesh who has 149 wickets at 22.55 from just 39 first-class matches.
He also has six five-wicket hauls to his name.
"Kahan se start kiya tha, aur kahan pahuncha -- from where I began and where I'm now, it feels completely surreal," Mukesh said.
A tireless workhorse, where does Mukesh get the consistency from?
"It's simple. I always give my 100 per cent in whatever I do, and I will keep doing the same thing."
He said it is Bose's mantra which has kept him going all these years.
"There is only one mantra -- don't give room to batters.
"If you bowl in the legs, they flick, and if you offer room they cut you. He always kept telling me to maintain discipline in bowling.
"I always carried that mantra with me in domestic cricket and it has worked for me.
"The more I make the batters play, the more opportunity I would create," the 29-year-old said.
After being picked up by the Delhi Capitals for a massive Rs 5.5 crores in last year's auction, Mukesh had a mixed IPL in his debut season, claiming seven wickets at an economy of 10.52 from 10 matches.
His high point in the IPL came when Mukesh defended 13 runs in the final over to guide DC to a seven-run win over Sunrisers Hyderabad.
"It's a big platform no doubt, International level. It was very important for me to get a chance there and I had a few bad matches initially. This was my first season, and I learnt a lot.
"I will always be grateful to the DC management. I practiced a lot there and bowled a lot of yorkers in match situations."
Having accompanied Team India as a stand-by in the WTC Final against Australia in the Oval, Mukesh also learnt a lot.
"Bowling in the nets in England conditions, Rohit and Virat paaji, they always guided me, where to bowl. Paras (Mhambrey) Sir told me a few ways and I'm working."
"Getting to play for the country does not come easily. They don't just pick you out of nowhere and make you play. I will always try to maintain the same hard work. I will give 100 percent," he signed off.