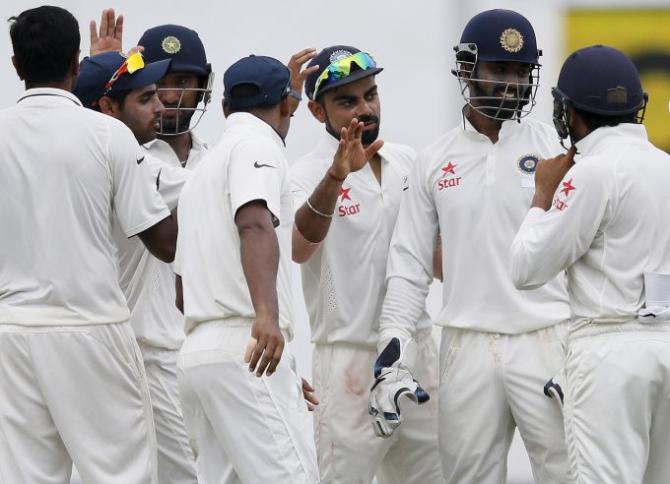 Indian players celebrate after picking up a wicket. Photograph: Dinuka Liyanawatte/Reuters
Hailing India's series-levelling victory against Sri Lanka in the second Test as the start of a bright future, former captain Sunil Gavaskar said the Virat Kohli-led side not only looks "determined" but has also found the right balance in all departments.
Trailing 0-1 in the three-match series, India humbled Sri Lanka by 278 runs at the P Sara Oval, denying Kumar Sangakkara a fairytale ending in his swansong Test.
Gavaskar was impressed with India's team effort.
"It tells you how determined they are to take Indian cricket forward. The way they have played this Test match and the way they have combined... this was a real team effort.
"In a win there will always be a couple of people who have done a bit better than everybody else, but I think it's been a combined team effort. And that's what it tells you; it's the determination to take Indian cricket forward," Gavaskar told NDTV.
"The real Test will come outside the sub-continent, but the way they are shaping up for it, certainly makes you feel optimistic. Because they have got a very good balance, very good batting, their bowling looks balanced and their fielding has been quite outstanding. The close-in catching has been quite superb.
"So, I think, there is all the more reason for Indian cricket lovers to be optimistic about the performance of the future of this team," he added.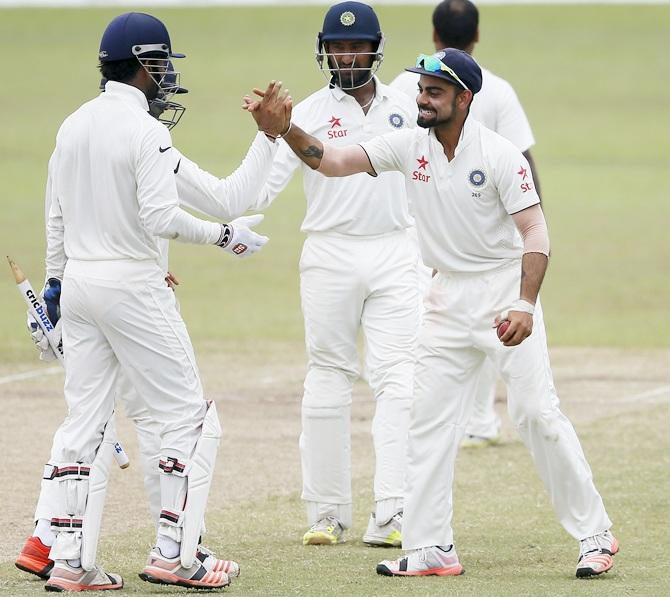 Captain Virat Kohli, right, celebrates with teammates after India's victory over Sri Lanka in the second Test in Colombo. Photograph: Dinuka Liyanawatte/Reuters
It was Kohli's first victory as Test skipper and Gavaskar also sees a good future for the young leader.
"Just like a batsman wants a hundred under his belt, a captain wants a Test win under his belt and that's what Virat has had. I would believe that this would be the first of many wins that he will have under his leadership," he said.
Gavaskar felt Murali Vijay's absence from the final Test due to an hamstring injury was a blow to India, but he welcomed Cheteshwar Pujara's re-entry into the playing eleven.
"Vijay's injury is a bit unfortunate, because he batted so well. He was the one who took the attack to the opposition and thus allowed (Ajinkya) Rahane to play his natural game. So Vijay's injury is a big blow for India. But I think Cheteshwar Pujara is equally capable of the big runs and maybe long overdue for a recall to the Indian playing eleven," he said.
"The pitch in the next game will decide the formation of the side, but I don't really foresee too many changes in the team. Maybe a Bhuvneshwar Kumar in place of Stuart Binny," he added.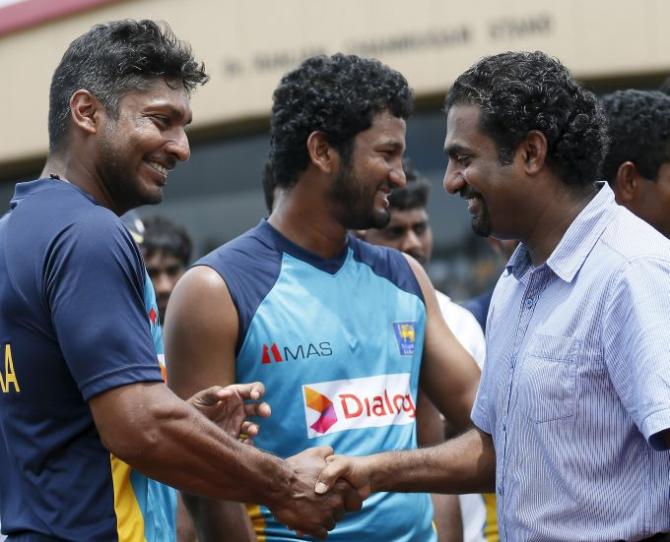 Sri Lanka's Kumar Sangakkara (L) shakes hands with former cricketer Muttiah Muralitharan. Photograph: Dinuka Liyanawatte/Reuters
Not undermining Sangakkara's contribution to the game and Sri Lanka, Gavaskar did not forget to mention Muttiah Muralitharan's service to national cricket.
"Murali's contribution to the game cannot be overlooked. Look at the number of matches he spun Sri Lanka to a win. Sanga did play some stellar innings for Lanka, gave them plenty of runs but he did that along with Mahela Jayawardene and Tillakaratne Dilshan.
"Murali often did everything on his own. He was one bowler picking 6,7,8 wickets for Sri Lanka. Difficult to judge anyone as the No.1. But the combination that was there was terrific," said Gavaskar.
Sanga's 15-year-old illustrious career came to an end as Sri Lanka face a must-win battle in the final Test against India.
Gavaskar admitted that the road ahead will not be easy for the islanders sans Sangakkara.
"But now they are going to have a major problem in their hands, because now we have seen them crumble this morning. It was quite unbelievable. Now Sri Lanka is really going to struggle with batting."
The batting legend though was not surprised at Sangakkara's timing of retirement.
"Not surprised, because he had made the Sri Lankan board known from before. He made them know, it was they who wanted him to carry on. He wanted to quit at the end of the World Cup in Australia, but the SLC made a request for him to play a few matches.
"He accepted to play two Test matches against Pakistan and two against India. But now it is a bit difficult for Lanka in the deciding Test. The next game without Sangakkara will be very, very difficult for Lanka to win it."
- Also read: Stats: Record-breaker Ashwin continues golden run in SL