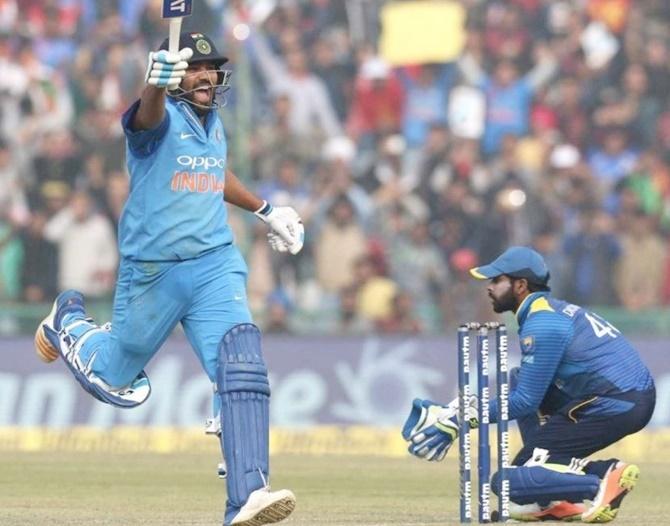 IMAGE: Rohit Sharma celebrates. Photograph: ICC/Twitter
Talent they say is over-rated but in Rohit Sharma's case, the word had been thoroughly used and abused till Mahendra Singh Dhoni made him an opener, who could be beautifully destructive.
Rohit's three double hundreds, a feat that was unthinkable at one point in time, are testimony not only to his talent but his ability to get rid of the cobwebs in his mind.
What looks easy to the eye may be very difficult to execute as it takes years of practice. Those full-tosses from Suranga Lakmal, instead of landing in the cow corner stand, could well have landed in the cupped
hands of fielders stationed at the boundary line.
They didn't because the day Rohit Sharma hits -- it stays hit. Cliched but holds true for the 30-year-old.
The bat looks like an extension of his hand. The sixes are not execution of raw power but more like strokes of a brush on the canvas.
VVS Laxman did it for India in Test matches over a decade. Now Rohit Sharma does it in a blue shirt. Perception is a difficult beast to deal with and there will be sceptics who will point out at his 23-Test career over 10 years in International cricket.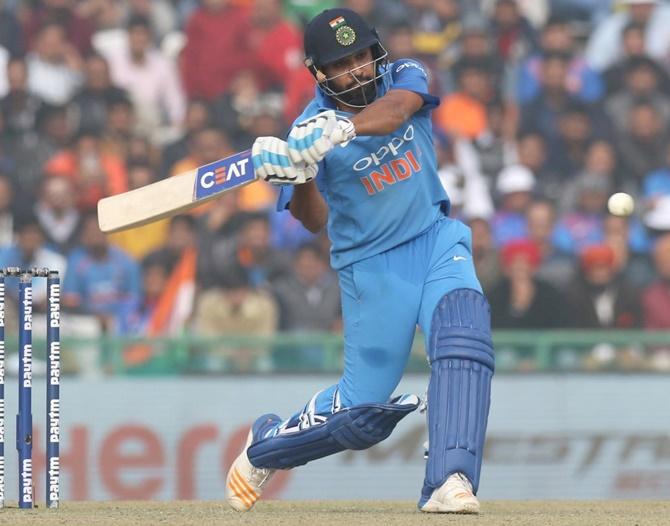 IMAGE: Rohit Sharma hits a shot. Photograph: ICC/Twitter
But then the value of a player can only be gauged by what the dressing room thinks about him. And Virat Kohli probably gave him the ultimate compliment during a recent web-series programme.
It was fascinating how Kohli spoke endearingly about Rohit during that episode of 'Breakfast With Champions'.
"I will tell you a story about Rohit. It was 2007 and I was playing U-19s. And we were told that there is this player Rohit Sharma and people spoke highly about his talent. "I started feeling like 'Upcoming player toh hum bhi hain'. So during one of those World T20 matches, I wanted to watch what was Rohit Sharma all about. Jab batting dekha, main just chup chap aake baith gaya," Virat recalled.
The way he told the story spoke the kind of professional respect he has for his limited overs deputy.
His wife Ritika went through an entire gamut of emotions during the last few overs. It couldn't have been a better second marriage anniversary gift for her.
Rohit Sharma's batting is Joie de vivre. It should be enjoyed for what it gives rather than what is expected of the man.