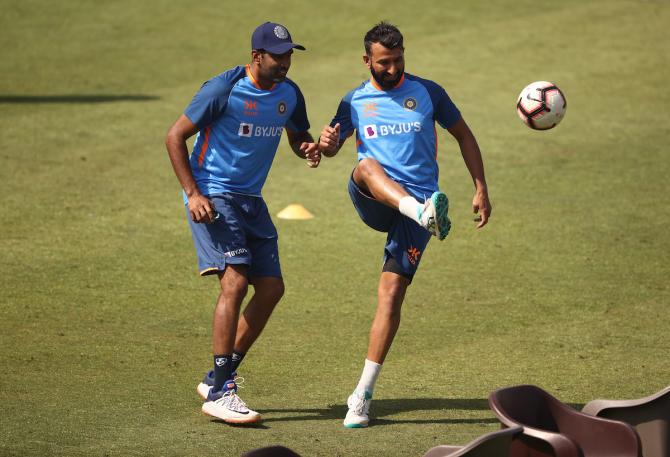 Known for his workmanlike approach to batting, Cheteshwar Pujara on Thursday said he has understood the need to have some flexibility in order to stay relevant in Tests, the only format that he plays.
Pujara, standing on the cusp of his 100th Test after an international career spanning over a decade and a half, has added new shots to his repertoire after discussions with the team management.
Last year, Pujara was briefly dropped from the Indian team during a home series against Sri Lanka after claims that he "wasn't able to move the game" and put pressure on the bowlers.
Against this backdrop, how difficult was it to stay true to his methods?
"Certainly, it was challenging, but the most important part is you need to be mentally strong, believe in yourself," Pujara said on the eve of the second Test against Australia.
"I know how I got success in first five-seven years for what I have done and I can't change my game, but obviously, you can fine tune and add things to your game. But you can't change your entire game," said the man with 7000 plus Test runs and 19 centuries.
There is also the challenge of competing with multi-format players, who probably possess a different dimension of attacking game.
"Each and every player has different style. What I have learnt in all these years is to stick to your strengths and you need to back that and I have added few shots to my game in last couple of years and continuing to grow as a cricketer."
'Team management told me what I needed to add to my game'
Dropped from the Indian team, he went back to English county cricket, scored heavily for Sussex, and made a comeback to become the 13th Indian to play 100 Tests.
"I had already spoken to Rahul bhai (Dravid) and Vicky paaji (Vikram Rathour) and although I was left out of team, I had clear communication that there were certain things I had to work on and there will be opportunities to play for India," Pujara stated.
"I got my opportunity again to play that one-off Test match in England and I was ready, I played first-class games for Sussex and scored enough runs, got enough confidence," he added.
The word 'I' builds a lot of perceptions but he understood that he needed an open mind to get back into the groove.
"As a cricketer, having played white-ball cricket... it has helped me while playing for Saurashtra and against Sussex I tried playing sweep shots against fast bowlers and paddle scoop as well."
Pujara said he is now open to playing some unorthodox shots in the traditional format.
"That has opened my mindset and I want to implement these in Test, you are little more open-minded and flexible and that has helped me even in last series against Bangladesh, and when we needed to accelerate and I had to play few shots, I could do that."
"I have been a little more open minded and flexible to changes and adapt to situations and be open to changes in technique."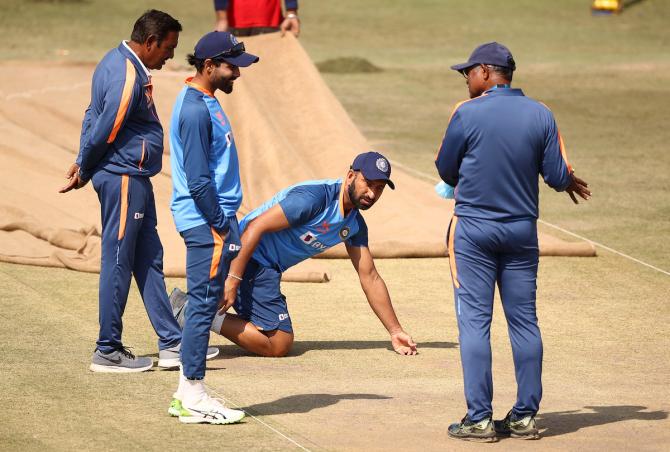 There are no manuals for developing mental strength and patience. It is an inherent trait.
"Patience needs mental strength and lots of practice. Preparation is an important part and I learnt my patience from junior and first-class cricket."
Players often speak about shutting the outside noise but Pujara says even positive news or words of praise at times could be a distraction.
"I do a little bit of meditation, yoga and pranayama because it is necessary to shut the outside noise. It is easy to say that but, to do that, you need to be mentally strong and sometimes detach yourself to what's spoken outside."
"Shut out even if it's positive news. I don't read newspaper or check social media and that's important."
Some of his best knocks and best attacks he played
If one has played for 13 years, it is difficult to cherry-pick special innings but Pujara does have a few favourites.
"The 72 versus Australia on debut. May be I wouldn't have played Tests if I wouldn't have scored those runs. The second innings hundred at Johannesburg in 2014, my first century outside the sub-continent."
"The 92 at Chinnaswamy against Australia in 2017, the 123 at Adelaide in 2018-19 series and 56 at Gabba, when I was hit multiple times on the body," he stated.
Among the toughest bowlers that he has faced, James Anderson, who has dismissed him 12 times in Test cricket, is right up there along with Pat Cummins in Australian conditions.
He also found Morne Morkel and Dale Steyn too hot to handle during the 2011 tour of South Africa where Rahul Dravid came to his rescue.
So how much has he changed in all these years as a person? "I am the same Cheteshwar as a person."
"If you speak to people who know me, I am the same person and I don't think you need to change as a person if you are a good human being," he signed off.