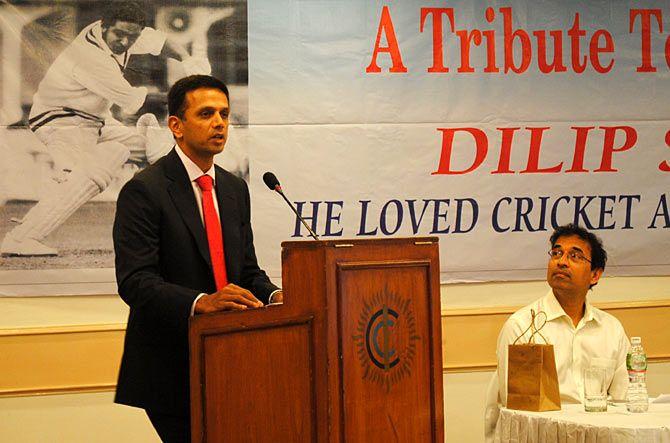 Rahuld Dravid speaks at the Dilip Sardesai memorial lecture. Photograph: Reuben NV/Rediff.com
With the demands of the game growing everyday, former India skipper Rahul Dravid urged the administrators to cut down on the number of ODI matches to save the format from extinction. Harish Kotian reports...
Former India captain Rahul Dravid, on Friday, urged cricket administrators to rethink their plans for One-day cricket to ensure longevity of the format.
He believes that the number of One-Day Internationals should be cut down drastically to save it from extinction, and importance must be given to big tournaments, like the World Cup and Champions Trophy.
"One-Day cricket is seriously struggling. I definitely think that One-Day cricket without a context is struggling. When you think of One-Day cricket from a point of view of Champions Trophy and the World Cup, it is relevant," said Dravid, on the sidelines of the Dilip Sardesai Memorial Lecture, at the Cricket Club of India.
"But I think all the other One-Day cricket should be given towards playing the Champions Trophy and the World Cup. And then you [also] have Test cricket and the T20 format. The meaningless One-Day games and too many One-Day games can actually be a problem... and it is something that can be cut off. You should play lesser One-day cricket and play more tournaments," he added.
ICC vigilant about chucking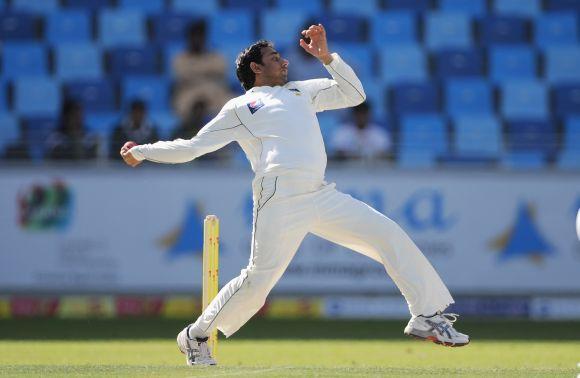 Saeed Ajmal of Pakistan. Photograph: Gareth Copley/Getty Images
Quizzed about Saeed Ajmal's recent suspension for suspect action, Dravid said one has to adhere to the rules of the International Cricket Council.
"The ICC has a rule in place. They reviewed a lot of the old footage and they found out that the elbow bent to about 15 degrees was pretty normal and that is what everyone was doing. Glenn McGrath had a slight bend in his elbow up to 15 degrees.
"I am not suggesting that Glenn McGrath was chucking. They have a system in place and what I am glad about is that they are really enforcing it strictly. They are reviewing people, they are getting people caught," said Dravid.
He, however, was of the view that it would be wrong to classify chucking as a 'crime', and the bowlers who have been reported should get a chance to make a comeback by working on their action.
"I give them the benefit of the doubt. I always give the bowler the benefit of the doubt. [Muttiah] Muralitharan went through every test possible; at that time so you have to give him the benefit of doubt. What the ICC is doing now is they are being vigilant.
"What they are not saying is that if once you are cleared in 2009, you can't be checked again. You have got to keep monitoring, watching it closely and they see bowlers developing new types of deliveries, then why not go into the lab and have it checked.
"Personally, I don't think we should see chucking as a crime as such. It is just a technical fault that people have. So if you have a technical fault in the action, you correct that and come back. When you overstep the line, nobody says you are cheating. You say, okay, come back behind the line. And here we are saying, come back within 15 degrees and play the game," Dravid explained.
'I would love at some stage to work with young cricketers'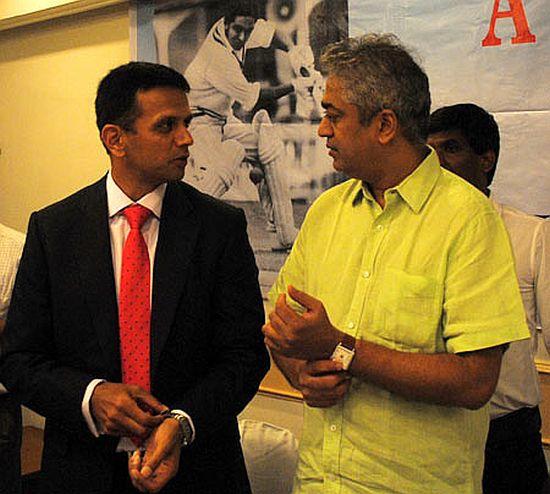 Rahul Dravid with Rajdeep Sardesai. Photograph: Reuben NV/Rediff.com

The 41-year-old, who was batting consultant for Team India on the recently-concluded England tour, remained non-committal about whether he would be keen on taking over the coaching job.
"I think there is a time and place for everything. I have enjoyed the media side of what I have done. I don't think it's easy. I have enjoyed the mentorship thing that I do with Rajasthan Royals for two months. It just fits into where my life is at the moment.
"That's just being an honest answer having two young kids. It's just a question of balancing how your life is. But, yes, I would love at some stage to work with young cricketers; whether that is with the Indian coach, I don't know. It could be as a coach of a Ranji [Trophy] team at some stage. There is time and place for everything," he said.
'I always wanted to be a Test cricketer'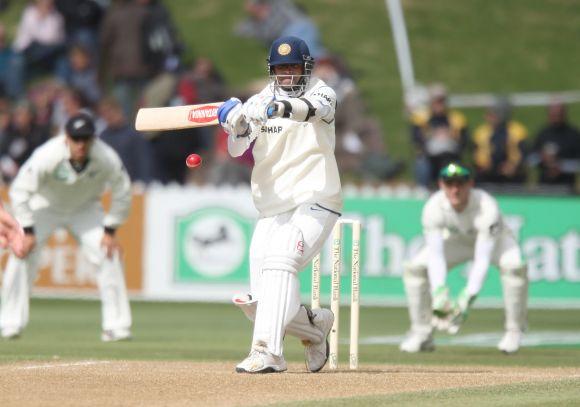 Rahul Dravid in his playing days. Photograph: Marty Melville/Getty Images
With the shorter versions taking over the longer version of the game, Dravid, who played 164 Tests and 344 ODIs for India between 1996 and 2012, said he always preferred the longer version.
'The Wall', however, believes that these days youngsters don't have much choice.
"Growning up, I always wanted to be a Test cricketer. I never wanted to be a One-Day cricketer. For me, it took a bit of time... the transition. I learnt how to adapt and play.
"But today's cricketers, if you see right from the start, there are three forms of the game and they need to succeed in all three. I hope they really take the option of succeeding in all three.
'Succeeding in Test cricket requires a certain type of skills'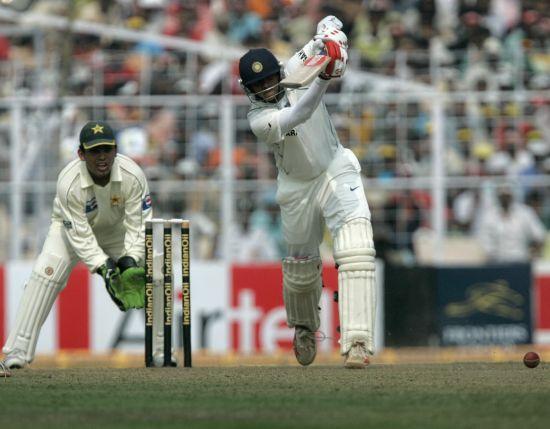 Rahul Dravid. Photograph: Photograph: Jayanta Shaw/Reuters
"Succeeding in Test cricket requires a certain type of skills and abilities. Succeeding in Twenty20 requires certain type of skill and ability. And, sometimes, they are not the same skills and abilities … but you need to work on these types of skills and abilities and, if possible, you can see some type of players, like AB de Villiers, who are extremely successful in all the formats. I hope the young Indian cricketers really aspire to be good in all the three formats of the game.
"It's not going to be easy, but you need to practice more, you need to sacrifice a lot more, you need to challenge yourself a lot more," added the former India skipper.
Dravid is also in favour of wives and girlfriends accompanying players on overseas tours, as owing to the gruelling international schedule the players hardly get any time to spend with their families.
"The guys play 10-11 months in a year, so wives, girlfriends – you should be allowed to decide what your partners are irrespective of the gender – on tour. And if you don't allow them on tour, it will be an even bigger problem; and for performances you can't start blaming wives and girlfriends. No one blamed players' wives for performances," he said.
'Adelaide double ton was special'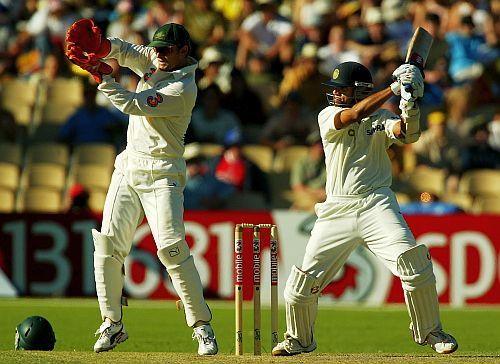 Rahul Dravid. Photograph: Hamish Blair/Getty Images
Asked about his best innings in Test cricket, Dravid chose the two half-centuries he scored against the West Indies in Jamaica as against the double century he hit against Australia in Adelaide in 2003-04, which many consider one of his best knocks.
"The two innings that gave me the most satisfaction was scoring two fifties in that Test match in Jamaica in 2006. The series was tied at 0-0 and I was captain of the side and I was feeling a bit of pressure because India needed to win the series.
"We went into the last Test match and we had to play on a terrible wicket. We had a look at the wicket and you know that this Test was not going to last more than three days. I got a couple of fifties in that game and (Ramnaresh) Sarwan got a fifty for the West Indies in the second innings.
"If I look back at my career, I got a double century (233) at Adelaide, but scoring those fifties in really difficult conditions and winning the Test match for India probably gave me the most satisfaction," Dravid said.