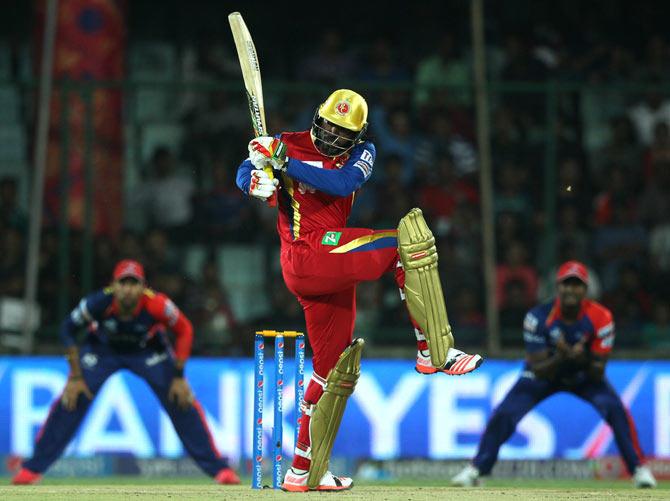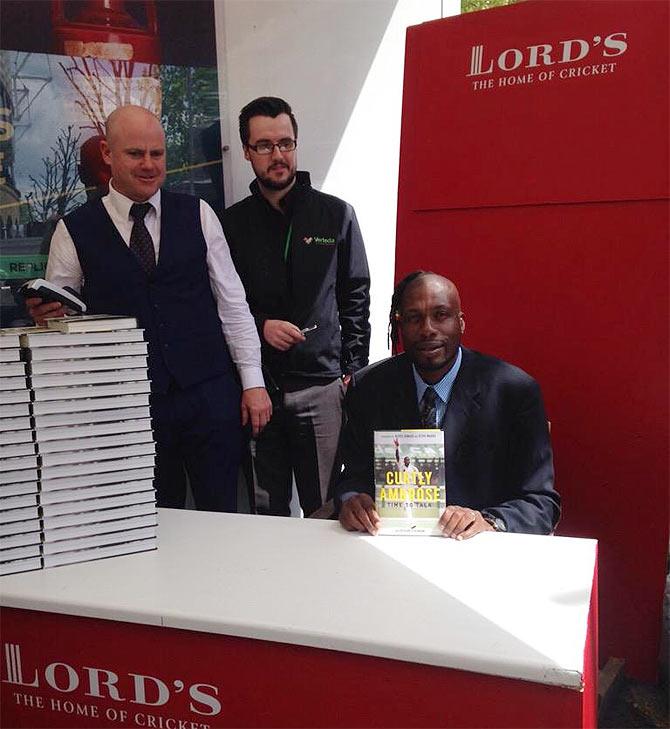 West Indies bowling great Curtly Ambrose at the launch of his autobiography at the Lord's cricket ground on Thursday. Photograph: Lord's Ground @HomeOfCricket/Twitter
West Indies must find a way to turn the undoubted talent in their ranks into consistent performances that will win Test series, former fast bowler Curtly Ambrose said on Thursday.
Ambrose also doesn't believe West Indies' IPL players should walk back into the Test team.
"For me, I think not," he said at Lord's.
Ambrose, 51, is now coaching the Caribbean team's bowlers and has been encouraged by their development.
"We have the talent, we just need to be consistent," Ambrose told Reuters.
"It is my job to help the bowlers achieve that consistency which will win Test series."
- WI cricket on the rise but is there reason for optimism?
Ambrose took 405 Test wickets in a stellar career, forming a formidable West Indies pace bowling attack with Courtney Walsh.
He was notorious for not giving much away to reporters but has now decided to tell his story in a book entitled Time to Talk.
"I did not like to speak about myself when I was playing," he said.
"I tried to do my talking on the field. But now it feels like the right time to tell my story."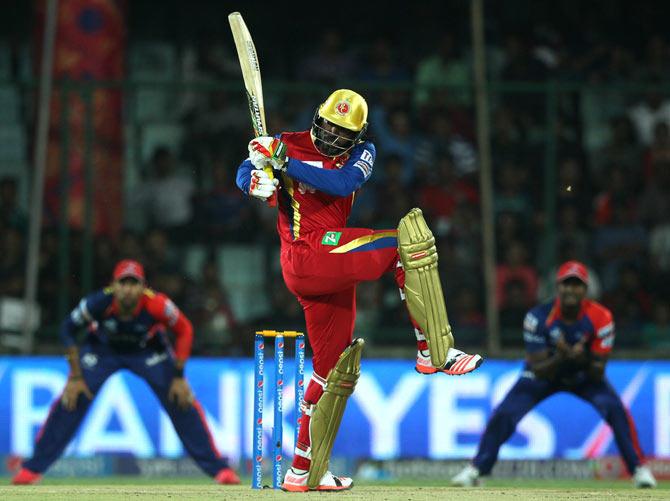 Royal Challengers Bangalore's West Indian opening batsman Chris Gayle hits out. Photograph: BCCI
Ambrose was strong in his views about West Indies cricketers playing in the IPL.
"Not disrespecting the players who have gone to the IPL, but you can't really decide to go away, and walk straight back into the team. For me, that's a concern."
The team will play a two-Test home series against Australia -- the Frank Worrell Trophy, which the Aussies have won for 20 years.
West Indies has beaten Australia in a Test only once in this century, which has made some in the Caribbean wonder whether coach Phil Simmons will consider bringing IPL players into a team which fought back this month to surprisingly draw the home series with England.
Simmons reportedly said on Thursday he wasn't yet prepared to rule out Dwayne Bravo, Chris Gayle, Kieron Pollard, Sunil Narine, Andre Russell and Lendl Simmons.
Gayle made himself unavailable for the England series because of his bad back, Bravo and Simmons retired from Tests, although Bravo was wavering, Pollard was taking an "indefinite break" from first-class cricket, Russell said he wasn't physically capable of playing Tests, and Narine was repairing a suspect bowling action.
"I believe we should try our best to field our strongest team," Ambrose said yesterday. "Unfortunately, some of our top players are in the IPL at the moment. They should decide whether they want to play for West Indies or go to the IPL."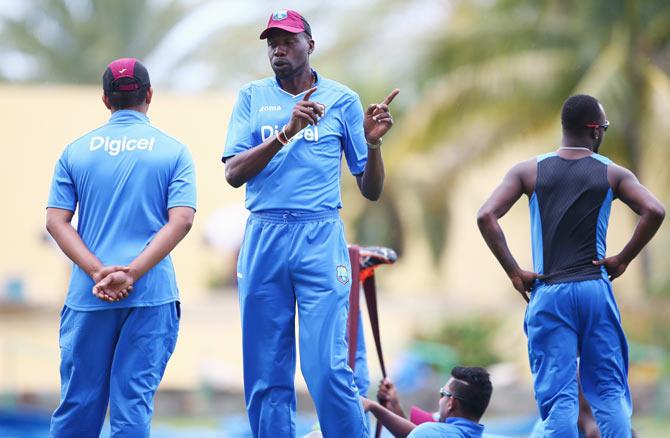 Curtly Ambrose (centre) the bowling coach of West Indies speaks to players during a nets session. Photograph: Michael Steele/Getty Images
Ambrose grew up in Antigua and, with his immense height and controlled hostility, was one of the most feared bowlers in international cricket from 1988-2000 at the end of an era in which the Caribbean side dominated world cricket.
He believes that West Indies have found another diamond in the shape of Jason Holder, who is as tall as Ambrose.
"Jason Holder is a wonderful talent," Ambrose said.
"I know him very well and he has everything you need to be a top Test cricketer."
Holder, 23, captained the West Indies in this year's World Cup in Australia and New Zealand and he showed his ability with bat and ball in the 1-1 home Test series draw against England.
Critics suggested that Holder has a technical fault in his bowling action, delivering the ball off a front leg that is not fully braced.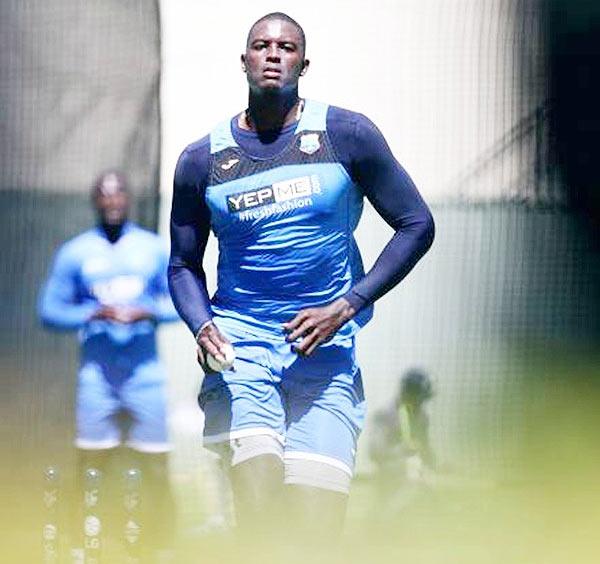 Jason Holder of the West Indies during training session in Perth on Thursday. Photograph: Vipin Pawar/ Solaris Images
"Malcolm Marshall (West Indies great) and Wasim Akram (Pakistani pace legend) were the same," he said.
"It does not worry me. Jason needs to stand up taller and that will help him bowl fast."
Ambrose is more concerned that Holder likes batting too much.
"Every time I see him he has a bat in his hand," Ambrose said.
"I want to see him with a ball. He is a bowler who bats. Not the other way round."
Ambrose has lost none of his love for the game and intends to use it to help the West Indies improve.
"I love cricket and I am still very passionate about it," he said.
"I don't want to get involved in the politics of West Indies cricket but I want to help the team. I like to try to motivate the players and get them pumped up. That is what I can do."