Sanju Samson replaces Virat Kohli for three-match T20I series against Bangladesh, while Mumbai all-rounder Shivam Dube earns maiden call-up to Indian team.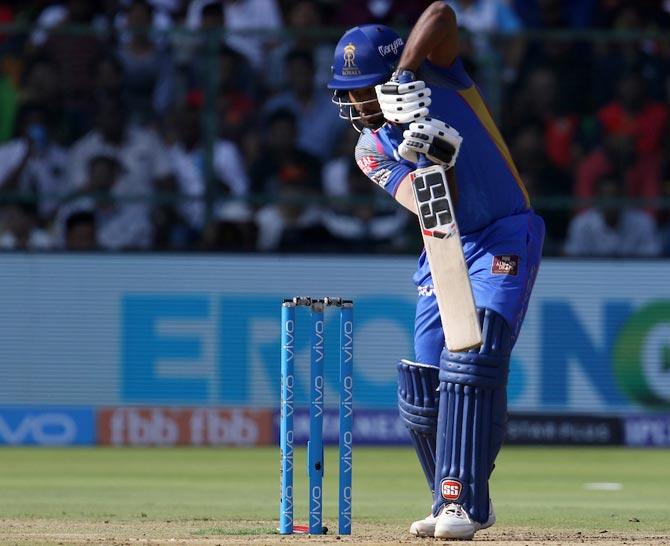 Captain Virat Kohli was rested for the upcoming three-match T20I series against Bangladesh next month. Rohit Sharma will lead India in his absence.

Veteran Mahendra Singh Dhoni was again not named in the T20I squad. The former India captain has taken a break from cricket since India's exit from the World Cup in the semi-finals in July. He missed the West Indies tour and recent home series against South Africa.
The three matches of the series Bangladesh will be played on November 3 (Delhi), November 7 (Rajkot) and November (10) Nagpur.

Kerala's young batsman Sanju Samson, who recently hit a double century in the Vijay Hazare One-Day tournament, was named in place of Kohli. Samson, 24, makes a comeback into the Indian team after a long wait of four years, having last played a T20I against Zimbabwe in Harare in July 2015. He recently hit a double century against Goa in the Vijay Hazare One-Day touranment and also did well for India 'A'

"The problem with Samson is that four-five years back he was in the Indian T20 team, his problem was inconsistency but in the last one year or so he has been really. He had a fantastic IPL followed by a good domestic season and recently for India 'A' also he did well against South Africa, he had a wonderful Vijay Hazare as well. He is more consistent now, that is why we thought of drafting him into the squad," chairman of selectors MSK Prasad said in Mumbai on Thursday.

Mumbai all-rounder Shivam Dube earned his maiden call-up to the Indian team, included in place of the injured Hardik Pandya, who recently underwent surgery in England. Leg-spinner Yuzvendra Chahal replaced the experienced Ravindra Jadeja.

Dube performed well with the bat for India 'A' during their tour of West Indies earlier this year, with two half-centuries and then followed it up with a good showing at home for India 'A' against South Africa, with 155 runs from four games at a strike rate of 144. The left-hander continued his good run as he hit 177 runs in the Vijay Hazare Trophy One-Day tournament at a strike rate of 146 to further bolster his chances of making it to the Indian team.

Prasad said that the team management is looking at the aggressive Dube to play the role of the finisher and score some quick runs at the end.

"If you see in our earlier T20 team we had Hardik Pandya then we tried Vijay Shankar, all of us in unison along with captain Rohit we all felt that the role that he fits, the role that he has to deliver, Shivam Dube fits in much better. He bats aggressively really well, his performances in India 'A' series in West Indies and also against South Africa 'A' in One-Dayers was phenomenal. He has gone up by leaps and bounds with regards to his skill set and we are very much convinced about him," he said.

Mumbai seamer Shardul Thakur too found a place in the squad. He replaces Delhi pacer Navdeep Saini, who is nursing an injury.

Rishabh Pant retained his place despite not doing well in the T20 series against South Africa, scoring just four and 19.

"Post World Cup I have been very, very clear on this that after the World Cup we have started backing Rishabh Pant and we will still back him and see that he progresses well. He might not have had the best of matches and which is what was expected of him, but we can only make a player by backing him. We are very, very confident that he will come out successful and this is a clear thought process that post World Cup we are focussing on Rishabh Pant only," Prasad said.

The newly-elected BCCI president Sourav Ganguly met the national selection committee and captain Kohli along with Rohit at the BCCI head office in Mumbai as they discussed the roadmap for Indian cricket.

"I can proudly say that as a cricketer at the helm his thought process was fantastic, we had a very, very healthy discussion which included Sourav Ganguly and Jay Shah. At the same time, Rohit and Virat were also there in the meeting along with the senior selection committee. He has explained to us some of his observations not just as the president but as a cricketer, as a former cricketer, certain observations that he has expressed to us. We are really thankful to him. I am sure those are really invaluable suggestions that he has given us and we will definitely follow in the time to come," said Prasad.

There were no surprises in the Indian Test squad for the upcoming two-match series against Bangladesh as the selectors retained the same combination, which whitewashed South Africa 3-0. Interestingly, Shahbaz Nadeem, who played in the third and final Test against South Africa in place of an injured Kuldeep, has been left out.

The two Tests against Bangladesh will be played in Indore (November 14-18) and Kolkata (November 22-26).

Team for Bangladesh T20Is: Rohit Sharma (captain), Shikhar Dhawan, Shreyas Iyer, KL Rahul, Manish Pandey, Sanju Samson, Shivam Dube, Krunal Pandya, Washington Sundar, Rishabh Pant (w/k), Deepak Chahar, Rahul Chahar, Khaleel Ahmed, Yuzvendra Chahal, Shardul Thakur.

Team for Bangladesh Tests: Virat Kohli (captain), Ajinkya Rahane, Mayank Agarwal, Cheteshwar Pujara, Rohit Sharma, Shubman Gill, Hanuma Vihari, Ravichandran Ashwin, Ravindra Jadeja, Wriddhiman Saha (w/k), Rishabh Pant (w/k), Mohammed Shami, Umesh Yadav, Ishant Sharma, Kuldeep Yadav.