'We let it slip towards the end of our bowling.'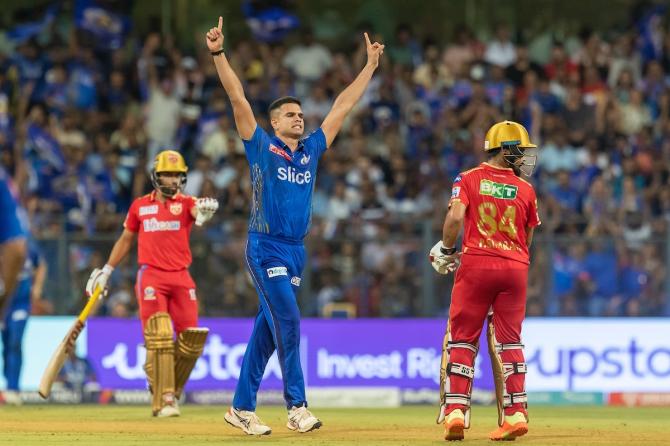 Mumbai Indians head coach Mark Boucher lamented that his side allowed Punjab Kings to get away with the game in the final five overs of the first innings, in which they added 96 runs to swell their total to a match-winning 214 for 8 at the Wankhede stadium, in Mumbai, on Saturday.
In reply, Mumbai Indians fell 13 runs short despite Cameron Green (67 off 43 balls), Suryakumar Yadav (57 off 26) and skipper Rohit Sharma (44 off 27) playing some fine knocks.
"I thought the game was in the balance. Surya's was a big wicket; a couple of centimetres higher or lower and it would probably have gone for a boundary.
"He held his nerve at the end, so well done to him. We batted well but they (PBKS) did get too many runs, which is disappointing because we controlled half per cent of the game.
"We let it slip towards the end of our bowling (innings)," Boucher told the media after Arshdeep Singh's four-wicket haul sealed victory for Punjab Kings.
"It was nice for Surya to get some runs. The way he does, it always looks spectacular. Form is a funny thing; sometimes you judge it by the numbers. He has been hitting the ball really well in the nets. It was just a matter of time before it translated into runs."
Boucher said it is frustrating when a side concedes 100-odd runs in the last five overs, adding that it was the only reason Mumbai Indians lost.
"We were in control until the 15th over and then they got 96 runs in the last five (overs). That is some hitting. We got it wrong, and it is frustrating because we dominated and when we did lose, we lost it incredibly big. We can put a finger on why we lost."
The South African backed Arjun Tendulkar, who went for 31 runs in the 15th over of the Punjab Kings innings. The young pacer was the most expensive MI bowler, conceding 48 runs in three overs, at an economy of 16.
"I think Rohit, who is a very experienced cricketer, felt that he would bowl Arjun at the 14th-15th over. That was a better match-up at that stage in the game. Sometimes, they (decisions) go your way and sometimes they do not. Unfortunately, it did not go his way, and, in hindsight, sometimes the match-ups do not work and that is just the nature of T20 cricket," he said.
"It will be tough on him (Arjun), coming in to bowl at the back end at Wankhede, where the conditions were good to bat on. He, may be, got one or two (deliveries) wrong; he probably felt under pressure but he will live and learn from it. It is not the end of the world; it is still not the early days but mid days in the IPL and, hopefully, he will come back stronger. He has full support of the support staff and players to try and get over this as quickly as possible," he added.
Boucher said he was pleased to see Jofra Archer making a comeback.
"Jof bowled with some good pace; he wanted to land a couple of yorkers but the wicket was good to bat on. For his first outing (after a short lay-off), we will take it. Hopefully, he will not feel any pain tomorrow."
Punjab Kings wicketkeeper-batter Jitesh Sharma said his side was aware of the fact that MI's long batting line-up posed a threat, despite Arshdeep Singh (4/29) landing a decisive blow to get rid of Suryakumar.
"Every wicket is very important in T20 cricket. Rohit Sharma's wicket was crucial, so was Ishan Kishan's. Surya's wicket was also very crucial at that moment, but we knew Tim David and the line-up and the cushion of having one extra batter as impact player; they could go all out. We could not have got complacent or relaxed after Surya got out."
Jitesh added that Punjab's regular captain Shikhar Dhawan is close to making a comeback.
"Shikharbhai is almost there. I think we can see him soon."