Australia's batting sensation Steven Smith tells Harish Kotian that switching over from the Test and One-day mode to T20 will not be a problem for him in the upcoming eighth edition of the IPL.

(From left to right): James Faulkner, captain Shane Watson, mentor Rahul Dravid, Ajinkya Rahane and Steve Smith launch the Rajasthan Royals jersey for IPL 8 in Mumbai. Photograph: PTI
Steven Smith will be looking to continue his recent golden run with the bat in the eighth edition of the Indian Premier League, which begins on April 8.
Whether it was Test cricket or ODIs, Australia's batting sensation was unstoppable, and it was the Indians who suffered the most because of his exploits during their recent four-month tour of Australia.
After scoring a record four centuries in four Tests, he tormented them again in the World Cup semi-final as Australia made it to the summit clash where they beat New Zealand to capture their fifth title.
For a man in such a sensational run of form, switching over to the various formats seems like a piece of cake.
Asked if he would find it difficult to switch over to the T20 format for the IPL within just two weeks of playing the World Cup, the Rajasthan Royals batsman replied: "I don't think it will be all that difficult. It is part and parcel of the game. You go from one format to the next and the next so often. I think all the boys are used to it. For us, the way James (Faulkner), (Shane) Watson and even Ajinkya (Rahane) played in Australia for a long time it is just about getting used to the conditions here again quickly, and we will do that over the next couple of days and be ready to go for the first game."
The 25-year-old also said he does not differentiate between the three formats, though he rates Test cricket a bit higher than the others.
"In regards to the format, I enjoy playing all of them. Test cricket is the pinnacle, but I do enjoy playing all of them. In regards to getting used to the conditions, it is just getting in the nets and out in the middle here; it is getting used to the different pace of the wickets, the bounce of the wickets and that is the main thing. Hopefully it doesn't take too long," he said.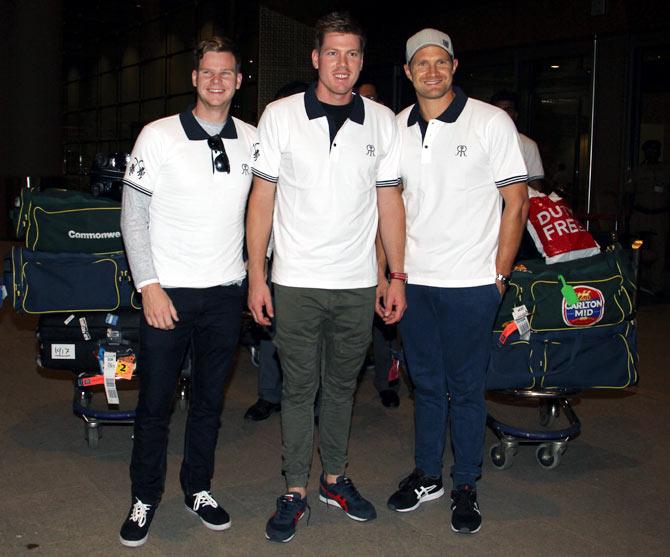 (From left to right): Rajasthan Royals batsman Steve Smith, all-rounder James Faulkner and captain Shane Watson on their arrival in Mumbai.
Smith has taken over the No. 3 position held by Shane Watson in Australia's ODI and Test teams.
Interestingly, Watson, who will captain Rajasthan Royals in the IPL, is still undecided about whether Smith will continue batting in that position.
"It's something I will sit and talk with everyone, the coaching staff and also Steve and the group and see what works well for us. I have my own thoughts and let the other guys share theirs as well.
"We are incredibly lucky to have some of the best batsmen in our squad. No matter what, no matter where we bat, we are going to anyway to give our best," said Watson, on the sidelines of Rajasthan Royals practice session at the Brabourne stadium, in Mumbai, on Monday.
He believes that this is the best squad Rajasthan Royals have assembled in recent years and it gives them a big chance of adding to the title they won in 2008.
"The squad that we have got for this IPL season... we have got match-winners all the way through this whole team, whereas normally in the past we didn't have as much as we do now.
"We have got world-class match-winners as well, so for me that is a very exciting thing... the group that we have got together for this IPL season.
"We normally are underdogs, but the quality of the players we have through our squad, and the team that we play as well, we got to know what we have got and what we are able to achieve and that is a very exciting thing.
"The most important thing in the IPL is getting off to a good start. With the way the season is mapped down this year, a lot of games are back-to-back to start with. So we know we have to hit the ground running and with the quality of players we got I am sure we will."
Watson, 33, also revealed how playing in the IPL over the last seven years has played a huge role in his growth as a cricketer.
"I know from my perspective, the IPL has been huge in my development as a cricketer. From 2008, when the IPL started, playing under Shane Warne, that was a really great first season for me. And also as a player, playing in India against the world-class players, it can only improve your cricket whether it is bowling or batting.
"I know the experience the guys have got, like James (Faulker) and also Steve Smith over the last couple of years playing in the IPL. It can only improve your cricket because even though you are not playing for your country you are still able to play in a world-class tournament which will help you grow and get better with experience," he said.
Australia all-rounder James Faulker, who was also part of the World Cup-winning squad, said he sees no problems with players engaging in verbal duels on the field.
"I think no one goes out on the ground to get into a verbal altercation with anyone. It is a part of the game and things happen from time to time and, like I said, no one sets foot on the ground and tries to upset someone on purpose. Cricket has always been played tough and it will continue to be played hard and tough and fair as well," he said.