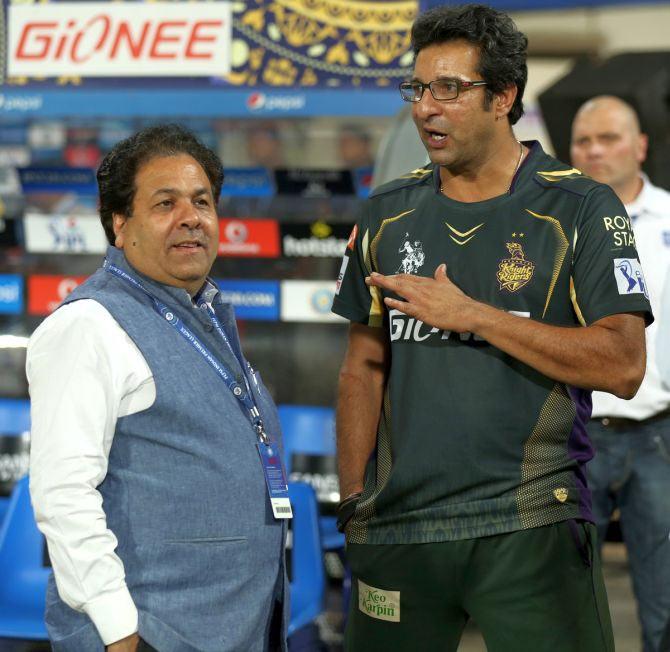 IMAGE: Rajeev Shukla (left) with Wasim Akram during an IPL game. Photograph: BCCI
Senior Indian cricket official Rajeev Shukla insisted that the planned bilateral series between Pakistan and India in December is still on.
He also claimed that the Pakistan Cricket Board delegation that visited Mumbai earlier this week has been given proper hospitality by the Board of Control for Cricket in India.
Shukla's comments came a day after Pakistan Cricket Board chairman Shaharyar Khan said in Lahore that chances of the series being held in December are very remote.
Shaharyar said on Wednesday that Pakistan's participation in the World T20 next year in India depended on what sort of response the BCCI gave over the next week or so regarding the proposed bilateral series between the two countries in December.
Khan also complained about getting a cold shoulder from the BCCI officials during his stay in India.
But Shukla, who is also the chairman of the Indian Premier League said that the BCCI is looking forward to the continuation of talks between the chiefs of both the cricket boards after the ongoing India-South Africa ODI series ends on October 25.
"The talks regarding an Indo-Pak bilateral series have not derailed yet and we will continue anytime after the India-South Africa series ends," he told the Daily Dawn newspaper on Thursday.
The senior Indian administrator also said that the BCCI extended full hospitality to the PCB delegation but Shiv Sena spoiled the schedule meeting last Monday.
Najam Sethi who heads the PCB executive committee and also travelled to India with Shaharyar also confirmed that the BCCI had sent them a positive message.
"We have got a positive message from the BCCI regarding the continuation of talks," Sethi said.
"Shiv Sena's protest has been a cause of shame for BCCI too and the Indian media has also condemned it," he added.
"If they (BCCI) weren't interested in talks, they wouldn't have indicated towards the possibility of dialogue in near future," Sethi said.
Sethi was PCB chairman when the two boards signed a MOU under which the two countries are scheduled to play six series between 2015 and 2023 with the first in December to be hosted by Pakistan in UAE.
But Shaharyar Khan made it clear at his press conference that the MOU didn't contain any clause that could force India to play the series or allow Pakistan to claim any compensation from them.