'The weather is consistent around that time and the wickets may be on the drier side because the sun will be out.'
Former India pace spearhead Zaheer Khan on how India should prepare for the upcoming tour of England.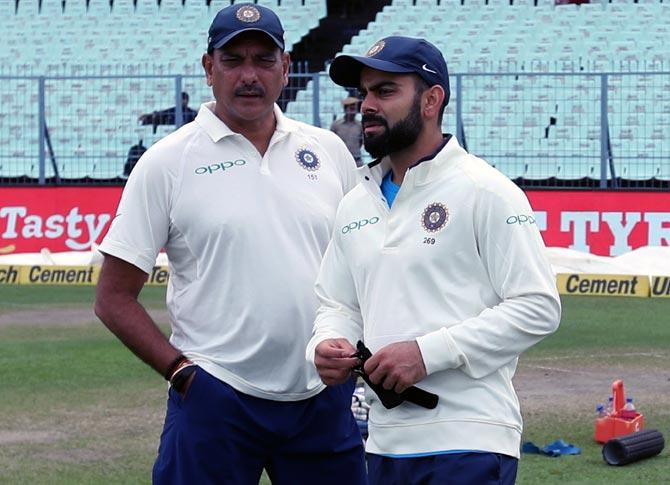 Former pace spearhead Zaheer Khan feels the month-long preparatory time for India's players ahead of the tough five-Test series against England this summer will be sufficient to get used to the weather conditions there.

India will visit England, after hopping over from Ireland where they play two T20 Internationals in June, to play three T20Is and as many ODIs between July 3 and 17.
The tourists then have the remainder of July to practice and get acclimatised to the weather and wickets before the start of the opening Test against England at Edgbaston on August 1.
"There will be more than enough time to get used to the conditions. It certainly will give you enough time to get yourself acclimatised. Most players are playing in more than one format and the key players will get used to wickets and conditions," said the 39-year-old former India pacer.

"One thing with England is the weather is not consistent. In overcast conditions the ball is going to swing. At the end of day you need the right frame of mind and right technique to deal with it as a bowler or batsman," the 92-Test veteran opined in Mumbai.

The former left-arm bowler took 31 wickets in eight Tests in England and also played county cricket for Surrey and Worcestershire.

Zaheer is also of the opinion that the tracks in England, when India play the Tests, may be drier than in the earlier part of the tour.

"The weather is consistent around that time and the wickets may be on the drier side because the sun will be out," said Zaheer, who grabbed 311 wickets in Tests and 282 from 200 ODIs.

Captain Virat Kohli is planning to head to England in advance to play county cricket and get into the groove for the international cricket to follow, and Zaheer said it is an individual's decision whether to adopt the same policy or not.

"It's an individual's call. Even Virat playing county cricket is an individual call and not a team call. The kind of squad we have, most of them have played in England and are aware of what kind of conditions will be on offer."

Zaheer said the fast bowlers' work load needs to be managed by not skipping matches but by skipping some practice sessions.

"The workload got to be managed is a fact, but you also need to be smart about it. I have always emphasised that match practice is the best practice. If you are in a good rhythm then that practice session is not going to help you in managing the workload. But lots of bowlers want to bowl before the match for psychological reasons.

"I never endorse staying away from matches just because work load is high. I managed my work load in the nets rather than by missing a match," he elaborated.

Generally thought to be someone who perfected the knuckle-ball in cricket, Zaheer said it is a great advantage to possess the art, especially in T20 cricket.

"As a bowler you have to stay on top of the game. Knuckle-balls don't give clue to the batsman. It's very hard for a batsman to pick it. I personally had lots of success with it, although I started using it only late in my career.

"It's a great asset to have as a bowler especially in this format (T20s) where batsmen look to be aggressive and try to hit big shots. It's about speed variation. That's why lot of bowlers have started using the knuckle ball (in the IPL)," he said.