'It's definitely a sense of sadness, a sense of disappointment. Sad in a way that I'm leaving my teammates, leaving my home country for a number of years'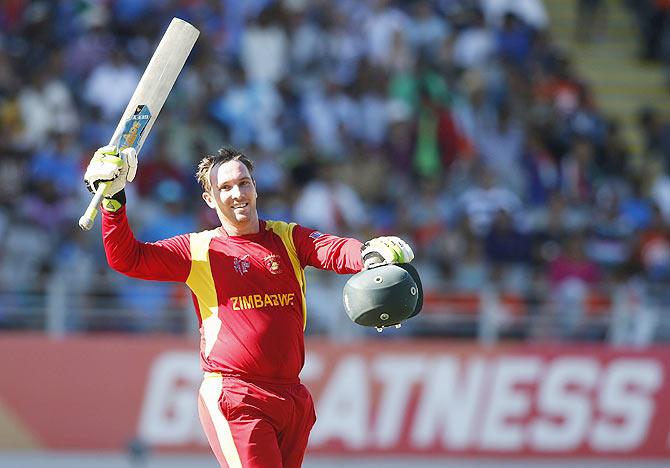 Zimbabwe's Brendan Taylor celebrates scoring a century against India during their World Cup match at Eden Park in Auckland on Saturday. Photograph: Nigel Marple/Reuters
Zimbabwe captain Brendan Taylor departed international cricket on Saturday on a bittersweet note after scoring a wonderful century in a losing cause.
- Record-maker, Taylor leaves Zimbabwe cricket on a high
- The most searching examination of India's resilience with bat and ball yet
- PHOTOS: Raina ton stretches India's unbeaten run in World Cup
Taylor, a loyal servant of his troubled country on the international scene for 11 years, scored 138 in his team's final cricket World Cup group match against defending champions India at Eden Park.
But once again Zimbabwe fell short of setting a really challenging target and India completed an ultimately comfortable six-wicket victory.
Taylor, 29, will now take up a three-year contract with Nottinghamshire in the English county championship and has said on Twitter that he has decided to retire from Zimbabwe cricket. "It was pretty tricky," he told a news conference.
"They bowled really well and then it just sort of fell into place a little bit. I said to myself as I went out today just to enjoy the moment and not put myself under too much pressure. That just helped a little bit."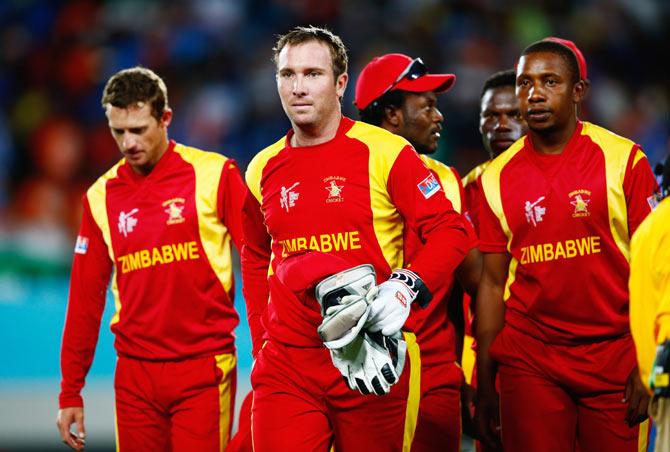 Brendan Taylor of Zimbabwe leads the team off the field at the end of the game against India. Photograph: Phil Walter/Getty Images
Asked as to what he will miss the most, Taylor instantly said, "Well, to be wearing this red shirt of mine. I guess it's every cricketer's dream to put on their country's shirt. That's why we play the sport. We're lucky and privileged enough to do that. I will certainly miss that."
Taylor said he had been overwhelmed by the applause from a predominantly Indian crowd and the congratulations he had received from the India team after his dismissal.
- VOTE: Who will win the 2015 World Cup?
- The World Cup, as never before on Rediff.com
He said Saturday's century, his second in a row in the tournament, had probably been his best One-day innings.
"Thank you. It's just a testament to their cricket knowledge. I think they just appreciate good cricket and they saw two teams playing some pretty entertaining stuff today. Obviously, we knew who they were supporting, but they clapped when we put on a decent show.
"That was always nice to see. I was very overwhelmed the way they responded, and I'm very appreciative for that," he said.
"But if you are not going to win then it doesn't feel so sweet. It was definitely up there but unfortunately it was in another losing cause," he said.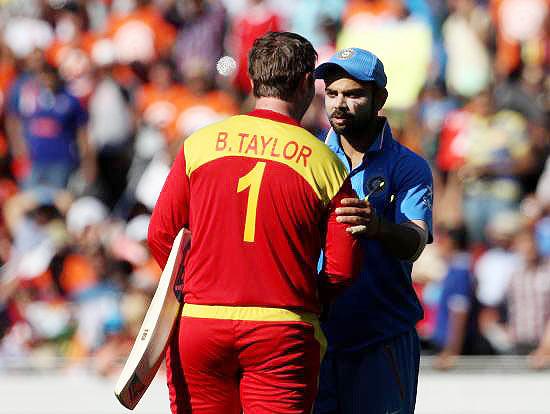 India's Virat Kohli congratulates Zimbabwe's Brendan Taylor on completing his century. Photograph: Vipin Pawar/Solaris Images
The Zimbabwean said he was touched by the gesture of some of the Indian players, who walked all the way from their fielding positions to congratulate him on his brilliant knock of 138 in his last international innings.
- Don't Miss! The Rediff Cricket Show
"Yeah, it was nice from some of the Indian guys, Shikhar, Virat and Suresh came up to me. That really was quite touching for me. They didn't have to do that. They're established players, and that was a very nice touch that they did, and then obviously my teammates just wished me well and thanked me for the little bit that I've contributed.
"But it's all been with them, and it's been enjoyable doing it with them. It was pretty tough to swallow that, but it was a good feeling in a way," Taylor said.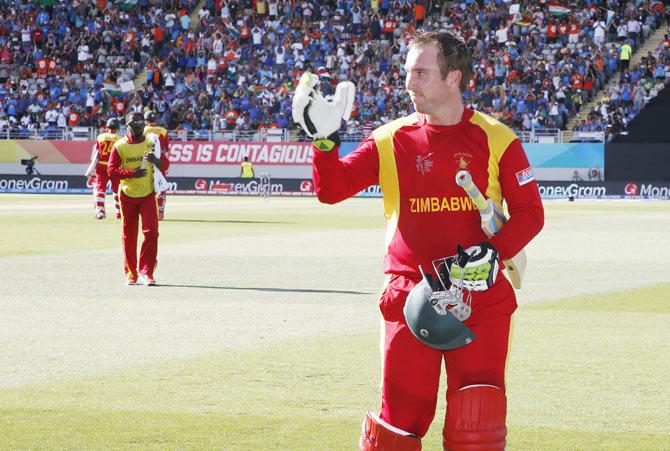 Zimbabwe's Brendan Taylor leaves the field. Photograph: Nigel Marple/Reuters
On an emotional note, he said, "I'll miss my teammates, the camaraderie that we have amongst each other, the good and bad times that we went through. That's all part of it. I've had it for 11 years and I wouldn't change that for anything. It's been some special times through good and bad."
"It's definitely a sense of sadness, a sense of disappointment. Sad in a way that I'm leaving my teammates, leaving my home country for a number of years.
"I guess life goes on and you are posed with different challenges and choices. But it's a positive one I've taken and I'm looking forward to it."