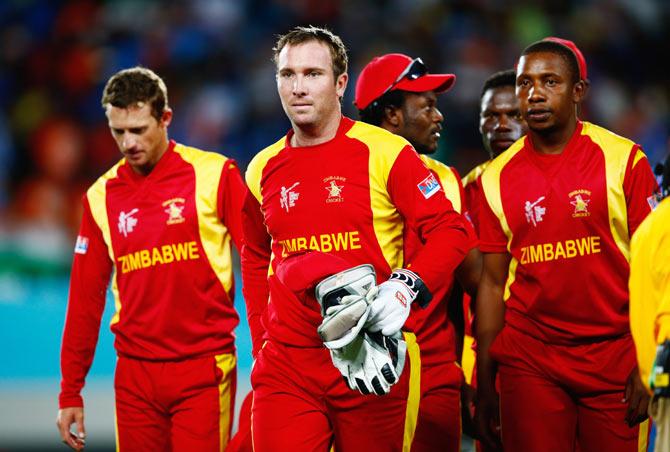 Brendan Taylor of Zimbabwe leads the team off the field at the end of the game against India during the World Cup match at Eden Park in Auckland on Saturday. Photograph: Phil Walter/Getty Images
Brendan Taylor has been the boy on the burning deck all through his career for Zimbabwe.
- VOTE: Who will win the 2015 World Cup?
Player exodus, inexperienced teammates, bungling, corrupt board -- he has seen and withstood it all.
The talented Taylor had many opportunities to jump ship but he didn't. He saw Kyle Jarvis take the Kolpak deal and move to England and play for Lancashire, but he didn't. Until now.
Taylor has chosen to put the interests of his young family before his loyalty to Zimbabwe and no one can begrudge him.
He has signed a deal to play for Nottinghamshire for three years and has, for all practical purposes and intents, played his last game for Zimbabwe.
The decision to walk away from Zimbabwe and put his international career on hold for at least three years, for a 29-year old cricketer at the peak of his powers, is not an easy decision.
Taylor described how tough it was for him to quit playing international cricket but ultimately decided what's best for his kids.
"International cricket has always been the pinnacle for me, but it's something that I discussed with my family and my wife, and after two, three months of doing that, I decided to go and play in England. I think all players tend to try and maximise a little bit, and when you've got kids at home, you want to try and make sure they've got the best sort of upbringing that you can give them. That all sort of favoured the decision."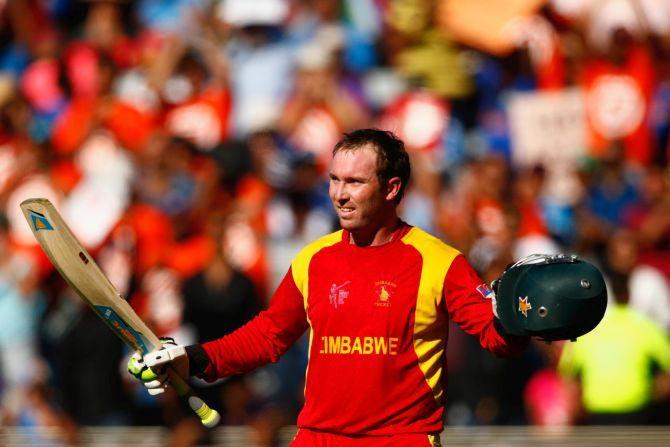 Mitchell Johnson celebrates after dismissing Shikhar Dhawan. Photograph: Scott Barbour/Getty Images
And what a last game that was!
With the knowledge of no progress in the World Cup and no prospect of representing the country of his birth again, he batted with the freedom that only comes with an unburdened mind.
- Don't Miss! The Rediff Cricket Show
- The World Cup, as never before on Rediff.com
Coming in at No 4, Taylor spanked the Indian bowlers to every corner of Eden Park on his way to become the first Zimbabwean to accrue 400 runs in a World Cup and score back-to-back hundreds in the mega event.
None of the Indian bowlers were spared. Shami, the pick of the bowlers, was ramped over third man as Taylor reached his final ODI hundred for Zimbabwe. He then plundered 24 runs with sixes over long-on and long-off, and three slog swept boundaries in one Jadeja over.
Indian legend Sunil Gavaskar said on air that Taylor's innings was one of the best he'd ever seen. High praise, indeed!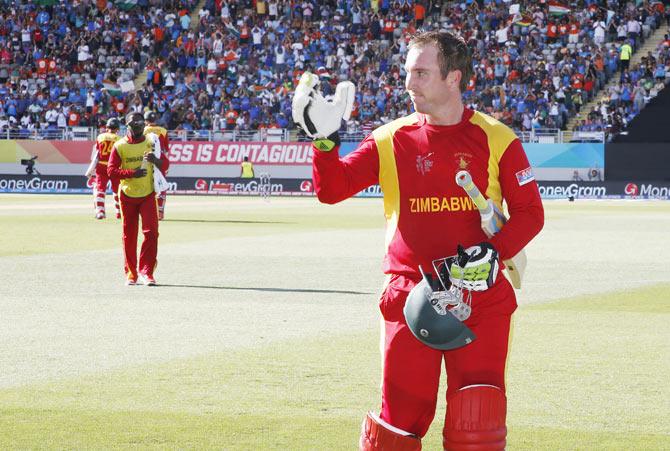 Zimbabwe's Brendan Taylor leaves the field. Photograph: Nigel Marple/Reuters
For a while, Zimbabwe made all the right moves reducing India to 92/4 in the 23rd over but the old firm of Suresh Raina and captain Mahendra Singh Dhoni, who have seen through many a run chase, took India home with 8 balls to spare with an unbroken 5th wicket partnership of 196 runs, to deny Taylor a parting gift.
As he walks off in to the sunset of his international career, he looked back on the 11 years he served his nation fondly.
"It's been fairly enjoyable, the 11 years and I'm extremely grateful for it. Every player's dream is to represent their country, and I've been lucky enough to do that. It is nice to get a few runs, but it is sad to have ended. It has been a joyful ride though," he signed off.
Brendan Taylor, despite all the hardships he has faced within Zimbabwe Cricket, walks away without a bad word; representing all the good in the goodbye.