The ICC has said that there are no plans to change or reduce the minimum ban of five years imposed on Pakistani pacer Mohammed Aamer who has serving the ban for spot-fixing.
ICC Chief Executive Dave Richardson told a website that contrary to speculations that Aamir might have his ban reduced they were no such plans.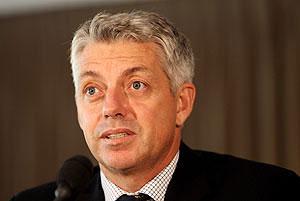 "Under the ICC Anti-Corruption Code, the minimum ban is 5 years and at this stage there is no plan to change that minimum sanction," Richardson said.
Pakistani cricket fans have been hopeful that Aamer could be allowed to return to action before 2015 when his ban ends.
Aamer and teammates Salman Butt and Muhammad Asif were banned for a minimum of five years by the anti-corruption tribunal of the ICC in February, 2011 but their bans are counted from September, 2010.
Aamer,20, who has been living in Lahore undergoing a rehabilitation process including counselling from sports psychologist Maqbool Babri appointed by the Pakistan board has said time and again he will try to make a comeback to the national team once the ban ends.
"I have been training regularly and undergoing the rehabilitation process. I know when I get a chance, I can play cricket again," he said.
The left-arm pacer is the only player among the banned trio to have admitted he was told to do spot fixing in the fourth Test at Lord's.