Duncan Fletcher's contract as The Board of Control for Cricket in India was extended by one more year despite a below-par track record, setting to rest the intense speculation on his future.
The decision to renew the 64-year-old Fletcher's two-year contract, which was due to end at the end of this month, was taken by the BCCI's Working Committee which met in Mumbai.
"The Board has decided to extend his contract. But we have to discuss the terms. I can't tell you the deliberations of the Board. All I can tell you is what is the decision. We have decided to extend it," BCCI president N Srinivasan told reporters after the meeting.
Speculation was rife about Fletcher's future after India lost 10 Test matches including a home series against England recently apart from 'whitewashes' in England and Australia.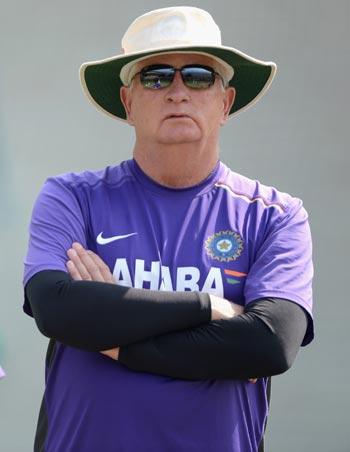 A senior BCCI official informed that continuing with Fletcher made sense, keeping in mind the Test series in South Africa.
"Since he has been with the team for two years, we don't want to take a knee-jerk reaction considering the next big Test series is in South Africa. It will be risky and unfair on a new coach to give him charge in South Africa and expect good results from him," the official said.
Under Fletcher, India had lost 10 out of the 22 Test matches before the ongoing match in Mohali having won only eight. The only away Test win was against West Indies nearly two years back just when Fletcher had taken charge.
In the 44 ODI matches played by India post their World Cup triumph, Team India has won 25 matches losing 16. Two were tied and one match did not yield any result.
In T20s, India won nine of the 17 matches losing the other eight. India did not qualify for the Asia Cup final and also couldn't make it to the last four in the ICC World T20.
It was also confirmed at the Working Committee meeting that all the matches of Pune Warriors in the sixth edition of the IPL will be played at Pune's new stadium following an understanding between the Maharashtra Cricket Association and franchise owners Sahara Group.
"All IPL issues have been sorted out including Pune and Hyderabad and all the home matches of these franchises will be held at these venues," a source who attended the meeting said.
MHA and the Sahara Group were at loggerheads over alleged non-payment of money due to the former by the business conglomerate over the construction of the new stadium on the outskirts of Pune.
The matter was dragged into the courts after the cricket association covered the stadium's name plate with a piece of cloth.
"The two parties have come to an agreement," sources said.
Photograph: Gareth Coopley/Getty Images