The ICC Cricket Committee has decided to keep the controversial Duckworth-Lewis method for calculating one-day targets when weather intervenes while making minor changes in other areas of the game, the sport's governing body said on Friday.
The committee considered a proposal by V Jayadevan for a new way of working out run chases for reduced overs matches at a two-day meeting at Lord's this week.
- Duckworth-Lewis better than Jayadevan?
"The committee unanimously agreed that there was no evidence of any significant flaws in the D/L method nor did the committee believe that any improvements could be offered by the VJD method. Therefore the committee decided to continue with D/L," the ICC said.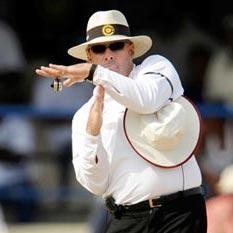 Duckworth-Lewis has long been criticised because of its complex mathematics.
The technology behind the Decision Review System has also been queried in some quarters but the ICC committee fully backed the idea.
"The committee noted the improvements in DRS technology and that DRS has almost totally eradicated player-dissent. This is an extremely beneficial side effect of the DRS," David Richardson, ICC general manager - cricket, said.
"We have always said that DRS was there to assist the umpires in getting more decisions correct and eradicating the obvious mistakes. The statistics demonstrate that it has been effective in that objective. The committee re-affirmed this as the aim."
DAY/NIGHT TESTS
They recommended trialling day/night Tests and the proposal will go forward for consideration by representatives of the game's leading countries during meetings at the ICC's annual conference in Kuala Lumpur from June 24-28.
"The committee agreed that it was important to maintain the impetus with regard to day/night Test cricket and recommended that should the competing countries in a bi-lateral series agree that they wish to trial day/night Test cricket then this request should be accommodated," the ICC said.
The recommendation was made after receiving reports on trials that have already taken place at first-class level and spectator feedback.
The committee also heard that a prototype sensor has been developed that can be worn during matches and would indicate whether or not the bowler's elbow is being straightened during the delivery swing.
Other changes which were recommended included an increase in the number of permitted short pitched deliveries from one to two per over in one-day cricket.
Powerplays should also be restricted to the first 10 overs plus one five-over batting powerplay to be completed by the 40th over. In a non-powerplay over, only four fielders ought to be allowed outside the 30 yard circle.
With regards to Test cricket, the committee suggested that drinks should not be brought on to the field other than at the official drinks breaks as well as urging teams not to waste time at referrals.
The committee also asked for more consultations on switch hitting and confirmed previous ICC plans for a 16-team World Twenty20 every two years from 2014.