David Richardson, the former South Africa [ Images ] wicketkeeper, has been chosen by the International Cricket Council [ Images ] as its new chief executive.
The 52-year-old Richardson, who played 42 Tests and 122 One-Day Internationals, will replace fellow South African Haroon Lorgat [ Images ] when the latter's four-year term ends in June, subject to the appointment being ratified at June's ICC [ Images ] Annual Conference in Kuala Lumpur.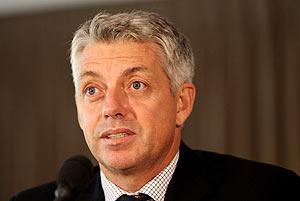 The appointment was approved by the ICC Board in a teleconference on Thursday following a recommendation by the organisation's nominations committee after the leading candidates were interviewed in Mumbai [ Images ] last weekend.
Richardson has been with the ICC for more than 10 years as its cricket general manager and was an unsuccessful applicant for the chief executive's role in 2008.
"It is a great honour to be nominated to be Chief Executive of the ICC," Richardson said in an ICC press release. "I am delighted with this opportunity and thank the ICC Board for their approval."
Richardson will become the fourth ICC chief executive following on from Australians David Richards (1993-2001) and Malcolm Speed [ Images ] (2001-2008) and Lorgat.
He was his country's first choice behind the stumps for more than six years after their readmission to international cricket following a two-decade long international sporting boycott brought about through the policy of apartheid.