IMAGE: Cricket legend Sachin Tendulkar during the launch of a book Jelly Belly wrriten by Aparna Santhanam in Mumbai. Photograph: PTI
Retired batting maestro Sachin Tendulkar has heaped praise on former Indian team trainer Adrian Le Roux for keeping him fit and making physical training an enjoyable exercise in his playing days.
Tendulkar was speaking after releasing the book Jelly Belly, penned by Dr Aparna Santhanam. South African Le Roux worked as a physical trainer with the Indian team in 2002-03.
"I started playing in 1989, I was only 16 and had no idea. I had practiced all my life at Shivaji Park, Achrekar Sir (Ramakant Achrekar) had his own ways of coaching and training us. The concept of going to gym did not exist at that time," Tendulkar, who was accompanied by his wife Anjali, said.
"Most of the first half of my career, I did not go to gym. I did not give much attention and focus to training, to specific training as such. But then we were introduced to foreign trainers who had fair knowledge, more exposure. Meanwhile, I also travel quite a bit and I started looking at things differently," he added.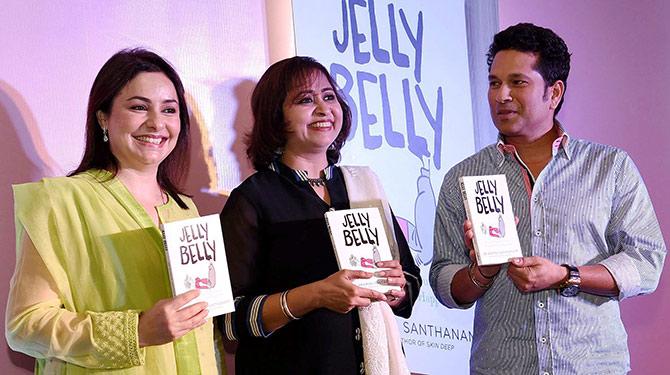 IMAGE: Cricket legend Sachin Tendulkar with his wife Anjali during the launch of a book Jelly Belly wrriten by Aparna Santhanam (centre) in Mumbai. Photograph: PTI
Explaining how he began to enjoy physical training stints under Le Roux, Tendulkar said, "The best time in my life I felt I really enjoyed training was when Adrian Le Roux joined our team. He never forced us, he said whatever you feel like doing, you come to gym and do it and I'll monitor you.
"It is all specific training, fast bowlers require different sort of training, batters need to have different muscles like that. So, it was not a common thing and he identified that very quickly and training became addiction," said Tendulkar, who retired from international cricket in 2013.
"Even after fielding the whole day in Sri Lanka or West Indies for six-seven hours, I would go on cycle for hours after that.
"And at the same time, I loved Adrian because he said you can go out and eat and all he did was pushed us to the limit where we felt OK fine this is what we can do. When the training got boring we were back in the room. Adrian knew where to stop," said Tendulkar.