Mike Hussey scored an unbeaten 115 to drive Australia towards an aggressive declaration at 450 for five before Sri Lanka were reduced to 87-4 at stumps on the second day of the first Test on Saturday.
More than two hours of play were lost to rain but the Australians made the most of what time they had on the picturesque Bellerive Oval to take firm control of the opening match in a three-test series.
Dimuth Karunaratne (14) was the first Sri Lankan to fall but it was the cheap wickets of the experienced duo of Kumar Sangakkara (4) and Mahela Jayawardene (12) that would have delighted Australia more.
Thilan Samaraweera (7) was caught behind off the bowling of spinner Nathan Lyon to bring an end to play and leave opener Tillakaratne Dilshan, who had made 50 not out, to resume on Sunday with Angelo Mathews.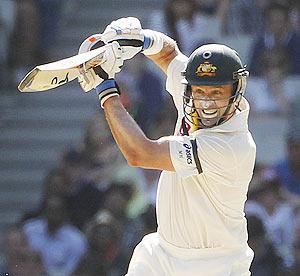 The day had started so well for the tourists when Australia, resuming on 299-4, lost Michael Clarke for 74 in the third over to break the latest in a run of prolific partnerships with Hussey that have produced 736 runs in the last four Tests.
Young paceman Shaminda Eranga induced the Australian captain into an edge which Sangakkara collected with ease at second slip but it was the last wicket to fall in the hosts' innings.
Matthew Wade (68 not out) and Hussey proved just as obdurate in a 146-run partnership and cut loose to pile up the runs when play finally resumed after lunch, racing towards the declaration 40 minutes before tea.
LUCKY BREAK
Hussey reached his 19th Test century in fortuitous circumstances when he was dropped at deep midwicket by Angelo Matthews and the ball bounced across the boundary rope for four.
The 37-year-old breathed a huge sign of relief before whipping off his helmet to celebrate his third century in his last four matches and a fifth in six Tests against Sri Lanka.
It was not his most fluent innings - coming off 171 balls with most of his eight fours struck after he reached the half century - but gave him a tally of 877 runs at an impressive average of 125.28 against the Sri Lankans.
Wicketkeeper Wade had reached his own half century with a rushed single as he further cemented his place in the Australia team after his 68 in the last Test against South Africa.
Karunaratne, playing in only his second Test, and Dilshan survived the seven overs between the declaration and tea but Ben Hilfenhaus got the breakthrough soon after the break.
The Tasmanian quick got the ball to move away from lefthander Karunaratne and it took a good outside edge before Wade scooped it up behind the stumps.
Sangakkara, who scored 192 in his last Test in Hobart, lasted just 16 balls before he got a thick edge on a Peter Siddle delivery and Hussey took a fine catch at gully.
Jayawardene managed a couple of fours in his 36 minutes at the crease before all rounder Shane Watson proved once again his ability to take key wickets, trapping the Sri Lanka skipper leg before in a decision confirmed on appeal to the TV umpire. 
Scorecard
 Australia (1st innings): (overnight 299-4)
 D. Warner run out 57 
 E. Cowan c Eranga b Welegedara 4
 P. Hughes b Welegedara 86
 S. Watson c M. Jayawardene b Welegedara 30
 M.Clarke c Sangakkara b Eranga 74
 M. Hussey not out 115
 M. Wade not out 68
 Extras: (b-1, lb-3, w-1, nb-11) 16
 Total: (for five wickets dec, 131 overs) 450
 Fall of wickets: 1-18, 2-97, 3-183, 4-198, 5-304
 Did not bat: P. Siddle, B. Hilfenhaus, M. Starc, N. Lyon.
 Bowling: Kulasekara 32-2-80-0 (nb-5, w-1), Welegedara 26-1-130-3 (nb-4), Eranga 25-5-90-1 (nb-2), Mathews 15-3-41-0, Dilshan 7-0-30-0, Herath 26-4-75-0.
 Sri Lanka (1st innings):
 D. Karunaratne c Wade b Hilfenhaus 14 
 T. Dilshan not out 50
 K. Sangakkara c Hussey b Siddle 4
 M. Jayawardene lbw Watson 12
 T. Samaraweera c Wade b Lyon 7 
 Extras: 0
 Total: (for four wickets, 29.1 overs) 87
 Fall of wickets: 1-25, 2-42, 3-70, 4-87.
 To bat: A. Mathews, P. Jayawardene, N. Kulasekara, C. Welegedara, S. Eranga, R. Herath.
 Bowling: Starc 7-1-30-0, Hilfenhaus 9-3-18-1, Lyon 2.1-2-0-1, Siddle 6-1-23-1, Watson 5-1-16-1.