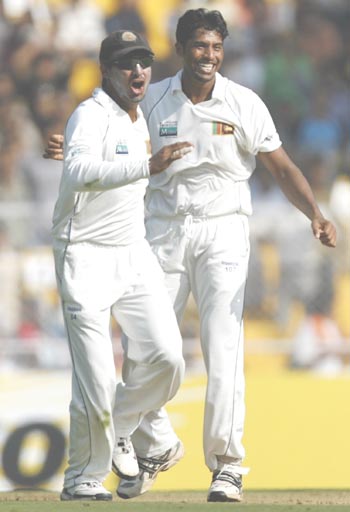 Having made the most of his last minute inclusion in the Sri Lankan squad with three Indian wickets, rookie left-arm pacer Chanaka Welegedara said its Sachin Tendulkar's prize scalp which he cherishes most.
Welegedara said it was a pleasant surprise when he was told, a few minutes before toss that he would be playing in the series opener because first choice pacer Thilina Thushara had injured his shoulder on Sunday.
"Thushara was injured and I was told I am playing a few minutes before the toss. They did not want to take a chance with someone who was not hundred per cent fit at the start of the series," said Welegedara whose first spell of three for 28 in seven overs rocked India.
Opening the attack, the 28-year-old bowler, in only his second Test, sent back openers Gautam Gambhir, Virender Sehwag and Tendulkar.
"I bowled in good areas and Sachin's one is the best (of his three scalps)," he said.
Tendulkar struck a boundary off the first ball, before being bowled through the gate by an in-swinger from Welegedara who has trained in the MRF Pace Academy in Chennai.
Welegedara said that he played one Test (against England at Galle) in 2007 and then went out of the team as he had problems with running on to the pitch.
"I went out because I was running on the danger area but since then have improved on it (and sorted out the problem)," he said.
From a precarious 32 for four, India finished the day at a strong 385 for six but Welegedara sounded confident of doing early damage on Day Two. "I can get any batsman out if I can bowl in the right areas," he said.
The pacer said the Indians batted well after being reduced to 32 for four in the eighth over. "There was moisture in the wicket in the morning. They batted well later," he said.