- Scorecard: India vs Sri Lanka, 2nd ODI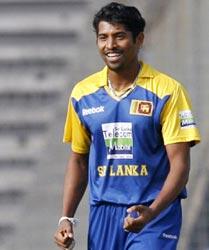 Chanaka Welegedara took five wickets and Thilan Samaraweera smashed an unbeaten century as Sri Lanka outclassed India by five wickets in the second One-Day International of the Tri-Nation tournament in Dhaka, on Tuesday.
Samaraweera finished unbeaten on a splendid innings of 105 from 106 deliveries, inclusive of 11 boundaries, as Sri Lanka finished with 283 for five in 48 overs for their second victory in the tournament.
All-rounder Thissara Perera took the game away from India in the final overs as he blazed 36 from just 15 deliveries, hitting six boundaries and a six, and was involved in an unbroken stand of 57 runs in 4.3 overs for the fifth wicket with Samaraweera.
Kumar Sangakkara played a fine innings of 60 from 80 deliveries before he hit one straight to Suresh Raina in the cover region off Harbhajan Singh, who took three for 47 in ten overs.
Captain Sangakkara kept the scoreboard ticking in the middle overs as he added 122 runs for the third wicket with Samaraweera to keep Sri Lanka going in the middle overs.
Earlier, Welegedara bagged his maiden five-wicket haul in ODIs to restrict India to 279 for nine.
The left-arm pacer took five for 65 in ten overs to trigger a lower order collapse that saw India lose four wickets for 20 runs in the last five overs.
Yuvraj Singh was India's top-scorer with a brisk 74 from 84 deliveries, including four boundaries and two sixes. He was caught at the midwicket boundary off Thissara Perera.
Virender Sehwag had given India a flying start despite the loss of a few early wickets, smashing 47 from just 31 deliveries, inclusive of nine boundaries.
India:
Sehwag got off the mark in style, driving Welegedara straight down the ground for a boundary in the first over of the innings. After a quiet second over from Suranga Lakmal, Gambhir decided to take charge when he advanced down the wicket in the next and smashed Welegedara through the cover region for his first boundary.
However, it was Welegedara who had the last laugh when he bowled Gambhir for eight with a fast swinging yorker that crashed into his leg stump. (14-1, 3)
Sehwag looked in good touch right from the start and was quick in despatching the loose deliveries to the boundaries. The inexperienced Lakmal suffered in his third over when Sehwag smashed him for three back-to-back boundaries, twice over mid-wicket and once the batsman was lucky that the edge flew through the vacant slips region as India raced to 46 for one after six overs.
Virat Kohli got his first boundary when he drove a full delivery from Welegedara straight down the ground. Sehwag was lucky when he was caught behind off an edge, but to Sri Lanka's dismay the bowler, Welegedara, had overstepped the mark and called for a no-ball.
He overstepped again off the next delivery and Sehwag slammed him for a boundary through the off-side.
However, Welegedara made up for his lapses by getting the wicket of Kohli for nine. The Delhi youngster tried to run a wide delivery to the third man region but got a thick edge that was neatly taken by wicketkeeper Sangakkara, diving to his right. (62-2, 7.5)
Two overs later, India suffered yet again when Sehwag was foxed by a slower delivery from Welegedara, got a leading edge and was caught at mid-off. The right-hander had helped India recover after the loss of two early wickets as he smashed 47 from 31 deliveries, hitting nine boundaries, before becoming Welegedara's third victim of the innings. (71-3, 8.4)
Captain Mahendra Singh Dhoni got off the mark with a boundary, guiding a full delivery from Thilan Thushara through the point region as India reached 76 for three after ten overs.
Yuvraj Singh struggled to get going at the start of his innings before he finally found the boundary when he cut a short delivery Thushara through point as India reached 86 for three after 14 overs. The left-hander repeated the dose in Thushara's next over by stepping down the wicket and clipping a full delivery over midwicket for his second boundary.
Lakmal continued to suffer as Dhoni and Yuvraj hit him for a boundary each in his sixth over to take India to 128 for three after 22 overs.
Sri Lanka employed spinners from both ends and kept both Dhoni and Yuvraj quiet for a few overs, till the latter broke free. Yuvraj broke the shackles when he pulled a short delivery part-timer Thilan Samaraweera over midwicket for a boundary in the 29th over.
In the next over, another part-timer, Thilina Kandamby, suffered when Yuvraj slammed him for two consecutive sixes. The first one was slog-swept over the midwicket fence while the next delivery, a full toss, was hit straight down the ground to bring up Yuvraj's half-century in 59 deliveries as India reached 164 for three after 30 overs.
Against the run of play, India lost the wicket of Dhoni, who was out for a sedate 37 from 70 deliveries. Dhoni, who added 99 runs for the fourth wicket with Yuvraj, became Thissara Perera's first victim in one-dayers when he was caught behind by wicketkeeper Sangakkara. (170-4, 31.2)
In the same over, Yuvraj was lucky to survive a close leg before wicket appeal against Perera. The left-hander was struck right in front of the pads by a straight full delivery but the umpire turned down the huge appeal.
Yuvraj continued to blossom as he hit boundaries in consecutive overs off Perera and Randiv to take India to 186 for four after 35 overs.
Suresh Raina (7) was lucky to survive after being given caught behind off Lakmal but called back in the 37th over. Umpire Simon Taufel ruled him out initially but Raina was hesitant to leave and after deliberation the two umpires consulted the third umpire, who ruled in favour of the batsman.
However, Perera struck in the next over with the big wicket of Yuvraj, who pulled a short delivery straight to Lakmal on the deep mid-wicket boundary. The left-hander played a fine innings of 74 from 84 deliveries, inclusive of six boundaries and two sixes, to put India on course for a huge total. (198-5, 37.5)
Raina then took charge and despatched a short, wide delivery from Lakmal through point for his first boundary off the 24th ball he faced. He repeated the shot in the next over and bagged his second boundary when Perera also dropped it short and wide as India reached 211 for five after 40 overs.
India were 225 for five after 43 overs and decided to take the Batting Powerplay, hoping to make most of the fielding restrictions in the final overs.
They started well in the first over of Powerplay with Raina getting a boundary fine through the vacant third man region and Welegedara obliging for another wide boundary through the leg side for 14 runs from the over.
Jadeja, quiet till that point, suddenly cut loose as he hit Thushara for three boundaries and a straight six for 20 runs in the over. The two youngsters showed great purpose as they scored 48 runs from the last five overs to take India to 259 for five after 45 overs.
However, Welegedara did the trick when he turned things around with wickets in consecutive overs.
Welegedara continued chipping away at the wickets as he bowled Raina for his fourth wicket of the innings. Raina, who made 35 from 46 deliveries with four boundaries, was beaten all ends up with a full swinging yorker from Welegedara after a quick 65-run partnership in 7.5 overs for the sixth wicket with Jadeja. (263-6, 45.5)
Harbhajan Singh made just one before spooning a simple catch to the point fielder off Thushara as he shuffled across the stumps and tried to smash a wide delivery. (264-7, 46.1)
Zaheer Khan was dropped off the first delivery he faced by Tharanga on the cover boundary off Thushara, but could not make the most of it.
Welegedara then claimed his maiden five-wicket haul in one-dayers when he hit Zaheer's middle stump with a straight delivery that found the top of middle stump. (268-8, 47.1)
The Batting Powerplay went to plan for India as they scored 45 runs from the five overs, but, importantly, they lost three wickets and it kept getting worse after that.
Jadeja's cameo innings of 39 from 34 deliveries ended when he pulled a slow bouncer from Thushara straight to Kandamby at midwicket. (275-9, 49.2)
The Sri Lankan bowlers stuck to their task quite well in the final overs as India finished on 279 for nine in their 50 overs.
Sri Lanka fought back quite well in the closing stages as India lost four wickets for 20 runs in the last five overs.
Sri Lanka's star of the show was Welegedara, who took five for 66 in ten overs, as India finished way below the 300-run mark.
Perera also chipped in with vital wickets (Yuvraj and Dhoni) in the middle overs to finish with two for 27 in six overs, while Thushara took two for 62 in ten overs.
Sri Lanka:
Upul Tharanga started in attacking fashion, chipping a full delivery from Zaheer Khan over the covers for a boundary in the first over of the innings. Debutant left-hander Thirimanne got his first boundary in international cricket when he drove Zaheer through the cover region. Zaheer then gifted Sri Lanka easy runs as he drifted wide down the leg side and Tharanga ended the over with another boundary through the off-side as Sri Lanka reached 32 for no loss after five overs.
S Sreesanth, back in the team after having recovered from swine flu, looked rusty in his first over. Thirimanne welcomed him to the bowling crease with three cracking boundaries through the off-side as Sreesanth erred with his line and length and conceded 13 runs in his opening over.
Ashish Nehra was simply unplayable in his early overs as he stuck to a good line and length. He was unlucky not to have picked a wicket as he beat the bat a few times while giving away just eight runs in his first four overs.
At the other end, Sreesanth had his revenge, having Thirimanne caught by Gautam Gambhir at square leg off a top edge attempting the pull shot. The left-hander made 22 from 24 deliveries, inclusive of four boundaries, adding 48 runs for the opening wicket with Tharanga. (48-1, 8.3)
Tharanga and Sangakkara hit a boundary each in successive overs as Sri Lanka reached 61 for one after ten overs.
India tightened things up as just 16 runs came from the next overs as Sri Lanka reached 77 for one after 15 overs.
Sri Lanka's problems further worsened when Harbhajan Singh struck in his first over with the the wicket of Tharanga. Left-hander Tharanga scored 30 from 48 deliveries, inclusive of four boundaries, before he lobbed one back straight to Harbhajan. (77-2, 15.4)
Surprisingly, despite starting with a maiden wicket over, Harbhajan opted to change ends as he bowled in tandem with left-arm spinner Jadeja.
Thilan Samaraweera realised that the slow pitch was making stroke-making difficult and he got boundaries in successive overs, both behind the wickets, playing the ball late. Sangakkara also took a cue from him as he played the late cut against Jadeja for his second boundary through the third man region to take Sri Lanka to 101 for two after 20 overs.
Sangakkara looked intent on attacking Jadeja and did not let him bowl his quota of overs as he hit him for boundaries in successive overs. Both times Sangakkara stepped down and chipped it over the midwicket region for boundaries as Jadeja went for 21 runs in three overs before giving way to Yuvraj.
The two batsmen brought up the 50-run partnership in just 52 deliveries for the third wicket to take Sri Lanka to 128 for two after 25 overs.
Sangakkara continued using his feet against the spinners with a lot of success. He even repeated that dose on Harbhajan when he stepped down the wicket and lofted it over midwicket for his fourth boundary to take Sri Lanka to 142 for two after 27 overs.
Samaraweera hit Sreesanth for back-to-back boundaries as the bowler overstepped twice. Those couple of boundaries also brought up his half-century off 51 deliveries to take Sri Lanka to 163 for two after 30 overs, needing 117 from the last 20.
In the next over, Sangakkara took a double off Sehwag to become the fifth Sri Lankan player to complete 8000 runs in ODIs. In the next over, the Sri Lankan captain brought up his half-century 68 deliveries with a single to the third man region off Zaheer.
The middle overs were going to plan for Sri Lanka as they accumulated 25 runs in five overs to reach 188 for two after 35 overs, needing 92 from the last 15.
After three listless overs Jadeja was called back for his second spell, but the move backfired yet again as Samaraweera hit the spinner for two more boundaries to take some pressure off.
Just when it looked Sri Lanka were running away with the match, Harbhajan pulled things back with the key wicket of Sangakkara. The Sri Lankan captain tried to loft over the covers but holed it straight to Raina to fall after a fine innings of 60, inclusive of four boundaries in his 80-ball knock.
Sangakkara had given Sri Lanka a good platform as he added 122 runs in 20.4 overs for the third wicket with Samaraweera. (199-3, 36.2)
Samaraweera was the key to Sri Lanka's fortunes and that pressure seemed to have bogged him down a bit. Part-timer Yuvraj took advantage as he sent down four tight overs, giving away just 15 runs as Sri Lanka reached 214 for three after 40 overs, needing 66 runs from the remaining 60 deliveries.
Sri Lanka were 224 for four after 43 overs when they decided to take the five overs of Batting Powerplay, while India brought back their best bowler of the day in Nehra.
The veteran bowled a few tight deliveries and the pressure paid off as Sri Lanka lost the wicket of Suraj Randiv for four, attempting a tight single. (226-5, 43.3)
However, Samaraweera made sure Sri Lanka didn't loose the momentum when he slammed a full delivery from Nehra over the point region to move into the 90s.
Zaheer's bad day continued as he went for 11 runs in his eighth over, with a boundary each for Samaraweera and Perera, as Sri Lanka reached 242 for five in 45 overs, with 38 runs required from the last 30 deliveries.
Samaraweera got a lifeline in the next over when he went for a quick single at point and was sent back, but Jadeja failed to hit the stumps.
Perera then showed his big hitting abilities when he smashed the second ball he faced through the vacant point region for his second boundary in as many deliveries to bring Sri Lanka some relief. Nehra then obliged Sri Lanka with a no-ball that Perera hit through square leg for another four and the resultant free-hit delivery was slammed over square leg for a six.
That over saw the course of the match change, as Perera smashed 18 runs to leave the equation at 20 needed from the last four overs.
In the next over Samaraweera completed his century, his second in ODIs, off 104 deliveries with a single on the off-side. Perera continued his attacking approach as he crashed a full delivery from Zaheer through the covers for a boundary to bring Sri Lanka closer to victory.
There was no stopping Perera as he continued tormenting the Indians. The left-hander hit another couple of boundaries in Zaheer's next over to race to 28 from 10 deliveries. Sri Lanka were left with a simple task of needing to score just 11 from the last three overs.
The boundaries continued to flow as Samaraweera flicked a full delivery from Nehra through square leg for his 11th four of the innings.
Sri Lanka finished off the game in the Batting Powerplay as they hammered 59 runs in those five overs with Perera smashing 36 from a mere 15 deliveries, laced with six boundaries and a six.
Samaraweera finished unbeaten on a splendid 105 from 106 deliveries, inclusive of 11 boundaries, to take Sri Lanka to 283 for five in 48 overs for a comfortable five-wicket victory with two overs to spare.
The two batsmen were unstoppable during their quickfire partnership of 57 runs in 4.3 deliveries as the Indian pacers suffered with boundaries flowing in every part of the ground in the closing stages.
Harbhajan was easily the best bowler for India as he took three for 47 in ten overs, but the rest of the bowlers failed to give him support. The pacers had a nightmare outing with Zaheer giving away 57 runs in nine overs, Nehra 55 in eight overs and Sreesanth taking one for 47 in seven overs.
Sri Lanka move top of the standings with eight points from two victories, while India will hope to break their duck when they take on hosts Bangladesh on Thursday.