'Yorkshire stint will help me prepare for England tour.'
'The basics will remain the same, but the primary criteria of doing well is respecting conditions.'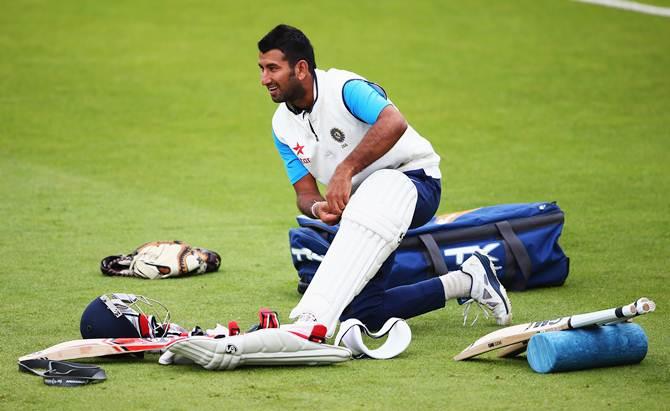 IMAGE: Cheteshwar Pujara will turn out for English county heavyweights Yorkshire this season. Photograph: Matthew Lewis/Getty Images
Come April, when the country's top cricketers crisscross the nation for the Indian Premier League, Test specialist Cheteshwar Pujara will be starting his 'homework' for India's 'English Test'.
He will turn out for English county heavyweights Yorkshire in Division 1 with an eye on the five-Test series against England in August.
"I am looking forward to the county season, as we will be playing Test matches in August.
"I was with Yorkshire in 2015 when we won the County Championship. It's a fantastic team, with good bunch of professionals, which helps me become a better cricketer," Pujara said, during an exclusive interview at the Kotla on Wednesday.
According to Pujara, the most beneficial aspect will be playing county cricket at Test venues of India's tour, which will give an idea about the pitches and conditions.
"Look, playing at Headingley in early English summer, with temperatures around 4 or 6 degrees, will test any batsmen's technique and temperament. Even scoring a 50 is tough. By the time the India tour starts, it will be bit more pleasant.
"Now playing Division 1 has its advantages. I will be playing against Middlesex (Lord's), Warwickshire (Birmingham) and Surrey (Oval) in away games, where India will play Test matches. So I will get a fair idea about the pitches and conditions," he explained.
For Pujara, there isn't much change technique-wise from South Africa to England.
"The basics will remain the same, but the primary criteria of doing well is respecting conditions. Technically, it's more or less same."
"I use lighter bats when playing overseas. Also the kind of fight we put in South Africa will augur well for us in England. May be we could have batted a bit better, but we were in with a chance in all games."
The 30-year-old batsman, who has played 57 matches in the longest format of the game, agreed that none of the top Test teams are travelling well.
"England's performance in Ashes will tell you that all top teams are struggling a fair bit in overseas conditions."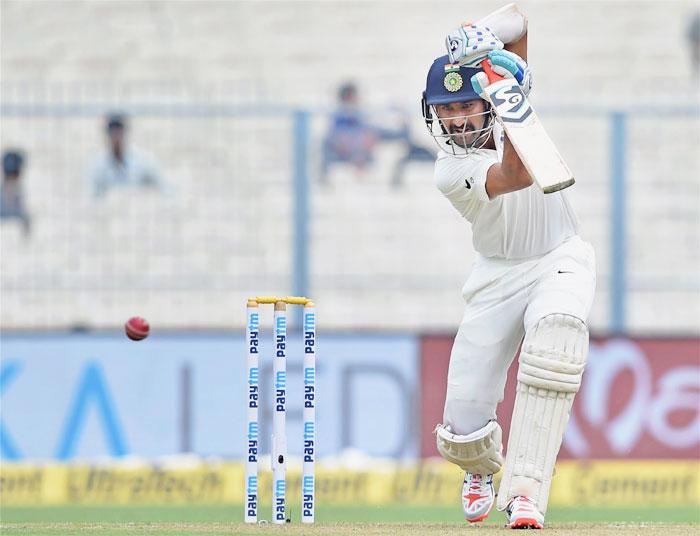 IMAGE: Cheteshwar Pujara insists he still has a lot to offer in the shorter formats of the game. Photograph: Swapan Mahapatra/PTI
As the discussion veered towards playing spinners, Pujara agreed that the team will be better equipped to play Moeen Ali, who had tormented them, claiming 19 wickets.
"Obviously, we will be better prepared, but that doesn't mean we can take Moeen or any other English bowler lightly. The best part is we have a fair idea about their core bowling unit."
Talking about South African batsmen not picking Yuzvendra Chahal or Kuldeep Yadav during the ODI series, Pujara said: "It will be difficult if you can't pick up the variation from wrists.
"If you can't differentiate Chahal's googly from his flippers, then there's trouble. You have to have an understanding which way the ball would turn."
Having not got an IPL deal in the past few seasons, he admits it has got a lot to do with 'public perceptions'.
"Perception, I would say, has played a major role. If you check my performance in List A (average of 58-plus over 88 games) and T20s (strike rate of 105.18 in 58 games), I still have a lot to offer in shorter formats. I am not at all worried, as I know my opportunity would come at some point of time."