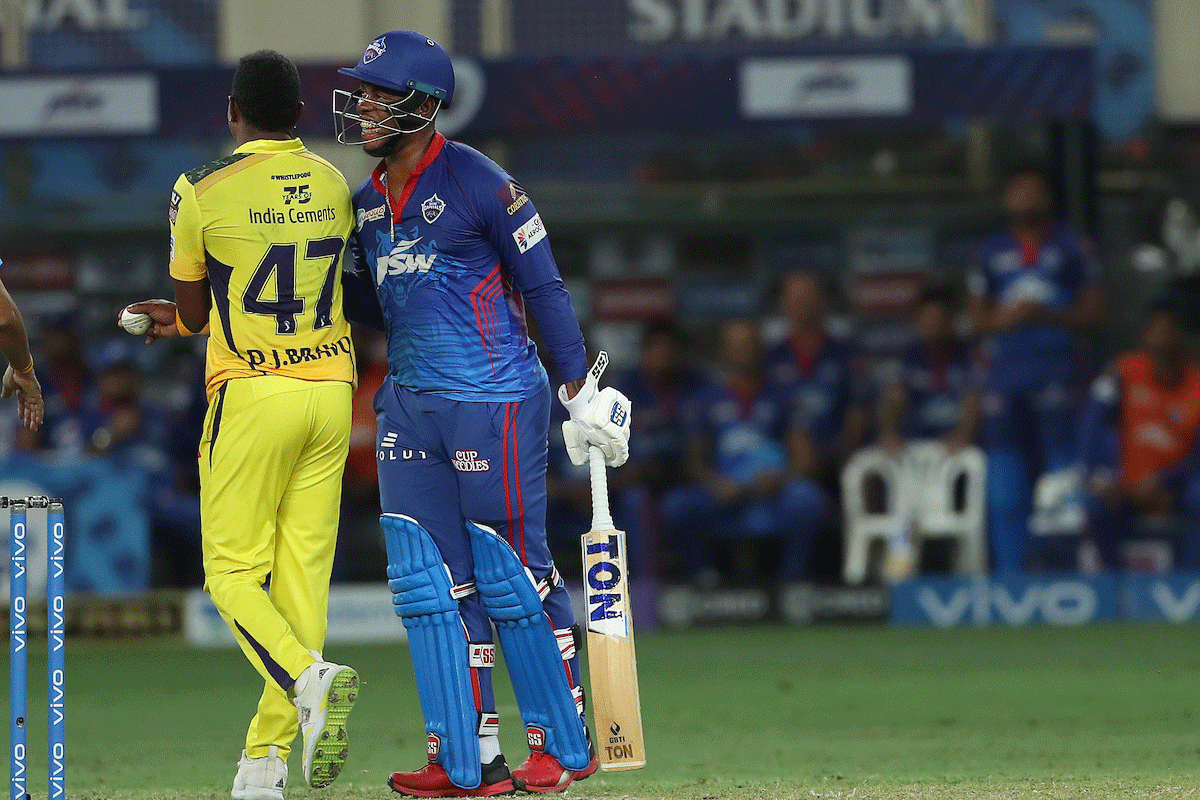 Delhi Capitals batter Shimron Hetmyer said it is a good feeling to be able to do the job against Chennai Super Kings (CSK) in the ongoing Indian Premier League (IPL) 2021.
Hetmyer played an unbeaten knock of 28 runs off just 18 balls to help Delhi Capitals defeat CSK by three wickets with two balls to spare. With this win, Rishabh Pant-led outfit moved to the top of the points table with 20 points from 13 games.
"Very important for me to finish games. I tell the guys that is what I am paid for and I try to finish as many games as possible. I thought I was out (on his dropped catch), and the guy missed it and I was thankful," Hetmyer told host broadcaster Star Sports after the game ended.
"It was just about getting bat on ball. The 19th over was the one where I thought I'd try and get a six and bring it down as much as possible. I had enough practice against Bravo in the CPL. I knew he would go wide with the field he had and I just looked to go straight down the ground against him. It paid off twice," he added.
Delhi Capitals senior off spinner Ravichandran Ashwin lavished praise on Hetmyer, saying that the swash-buckling West Indian has done well for the team this year and his efforts are recognised in the dressing room.
"I think more than about 6-8 points needs to go to Hety (Hetmyer), because he has finished games, sometime when you make those 25s and 30s, you don't quite get the recognition you must, because people are at the top are making the volume of runs," Ashwin said at the virtual post-match press conference.
"So Hetymer is one of those heroes for us and inside that dressing room, we recognise all these efforts, so yeah, he is in a good space," added the wily off-spinner.
According to Ashwin he has been batting well, ever since he came to the UAE from England.
"...I have been batting well and there was a lot of confidence from what happened in the last game, I was little late, I was probably not ready for the ball and little late on the ball and didn't expect sort of a delivery from him and could have done better, yeah I will learn and move on from it," the star Tamil Nadu player added.
Ashwin, who has taken five from 10 games this season, said he was satisfied and happy with the way he was bowling.
"There are 24 deliveries that I am allowed to bowl in a game and sometimes I kept on repeating this again and again, to look to go for wickets is not something that you can do in a T20 game, you have to play (to) the situation of the game, my job is to bowl to the best of my abilities in those 24 balls and create wicket-taking opportunities.
"So sometimes, I feel it is too lop-sided in trying, you can't put a short-leg, slip, you can't look to attack and try and get a wicket, so I think the way the ball is coming out and the way I am bowling, I am extremely satisfied and happy."
Delhi Capitals will next square off against Royal Challengers Bangalore (RCB) on Friday at the Dubai International Stadium.