'He is looking quite relaxed. He is not at all uncomfortable.'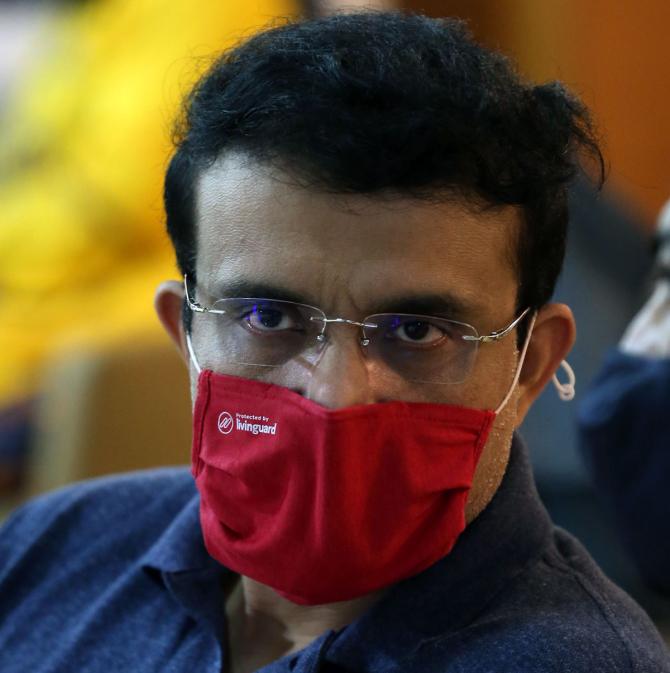 BCCI president Sourav Ganguly will undergo stenting on Thursday in presence of Dr Devi Shetty, Kolkata's Woodlands Hospital said.
"He had chest discomfort today and he is taken to Apollo today. Dr Saptarshi Basu and Dr Saroj Mondal are attending. Dr Aftab Khan will do the stenting tomorrow in presence of Dr Devi Shetty," Woodlands Hospital said on Wednesday.

An earlier medical bulletin issued by the Apollo Gleneagles Hospital said: "Ganguly went for a checkup of his cardiac situation on Wednesday and his vital parameters are stable."

Less than a month after he underwent an angioplasty, former India captain Ganguly was on Wednesday taken to a private hospital in Kolkata for a 'checkup for his cardiac condition'.

Several tests conducted on the 48-year-old former Indian cricket captain at the emergency ward of the Apollo Gleneagles Hospital in Kolkata revealed that his vital parameters are stable.

Earlier, a source in Ganguly's family had said that he felt discomfort in the chest following which he was taken to the hospital.

Ganguly had complained of chest pain while exercising at his residence around three weeks ago. He was diagnosed with three blocked coronary arteries.

Union Home Minister Amit Shah enquired about his health.
The Kolkata Police created a green corridor for smooth travel from his residence at Behala to the hospital near Salt Lake, over 20 km away, authorities at the hospital said.

His wife Dona Ganguly and brother Snehasish Ganguly accompanied him to the hospital.
'Ganguly is looking quite relaxed, he is not at all uncomfortable'
After meeting Ganguly at the Apollo Gleneagles Hospital, Vaishali Dalmiya -- daughter of former BCCI chief Jagmohan Dalmiya -- informed the media that the former India captain is "perfectly alright" and he will be released from the hospital soon.

"He is perfectly alright. I spoke to him he is good, he is looking quite relaxed. He is not at all uncomfortable. The doctors were there. They are monitoring him. He is looking quite healthy and I hope everything is going to be okay," Vaishali said after the meeting.

"Doctors are doing some tests and after that, he will be released soon. He is the number one person in West Bengal and anything happens to him, the doctors take special care of him," she added.