A trio of teenagers held up a banner that read 'Bring back Gautam' during the Duleep Trophy match on Sunday.
Watching a domestic game at a nondescript centre in energy sapping conditions can be an ordeal but a small group of teenage girls were not going to be bogged down by weather or any other conditions.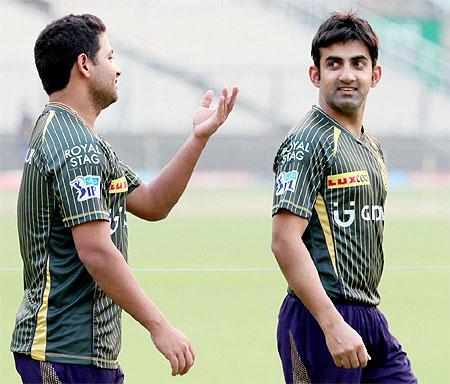 Asmita, Aryanka, Surbhi and Priya haven't just come to watch an otherwise mundane Duleep Trophy game. They have come all the way to the interiors of the national capital to support their hero and icon -- Gautam Gambhir.
Although Gambhir was out on Saturday, that didn't deter the 18-year-olds to carry a 20-feet-long banner that read 'Bring back Gautam', standing under the scorching afternoon Sunday sun.
It was learnt that after watching the youngsters standing in this searing heat, Gambhir told ground-staff to provide them with water bottles. He couldn't have possibly met them as ACU rules wouldn't have allowed him to interact with unknown people during the course of the match.
Gambhir has had a great Duleep Trophy with 320 runs at an average of 80 per innings, enough for these kids from Shivaji and KamlaNehruCollege to show solidarity with their hero.
Incidentally, the banner did attract the attention of national selectors Vikram Rathour and Saba Karim. Not to forget chief coach Anil Kumble, who was also present at the venue.
"We run a Gambhir fan club. We want him back in Indian team. He has been consistent," said Asmita, wearing a KKR jersey which was personally gifted to her by Gambhir.
"I had met him once at his residence. Called up his manager and went to meet him. It's a personal effort to show our love. We are his fans," the student from ShivajiCollege said.
As they say 'once a fan is always a fan' and they seldom believe in logic.
They also had a confident answer to a question a senior scribe jokingly asked: "But why should Gautam be selected. What have others done wrong?"
"He is so consistent and Shikhar Dhawan is not playing well," Asmita replied.
Her innocence and conviction along with understanding the power of Indian Premier League cannot be ignored!
These teenagers were barely aged between 9-13 when Gambhir was at his prime in the phase between 2007 and 2011. But as they grew up, they have watched him win IPLs and his exploits on and off in the cash-rich league.
They are not bothered whether KL Rahul and Murali Vijay are better or not. They just want their man back in the India shirt.
Image: Gautam Gambhir (right) and KKR teammate Piyush Chawla at a training session
Photograph: Gautam Gambhir/Twitter