Australia offie Nathan Lyon reckons the Indian captain 'will be able to adapt to any climate that we are able to play in'.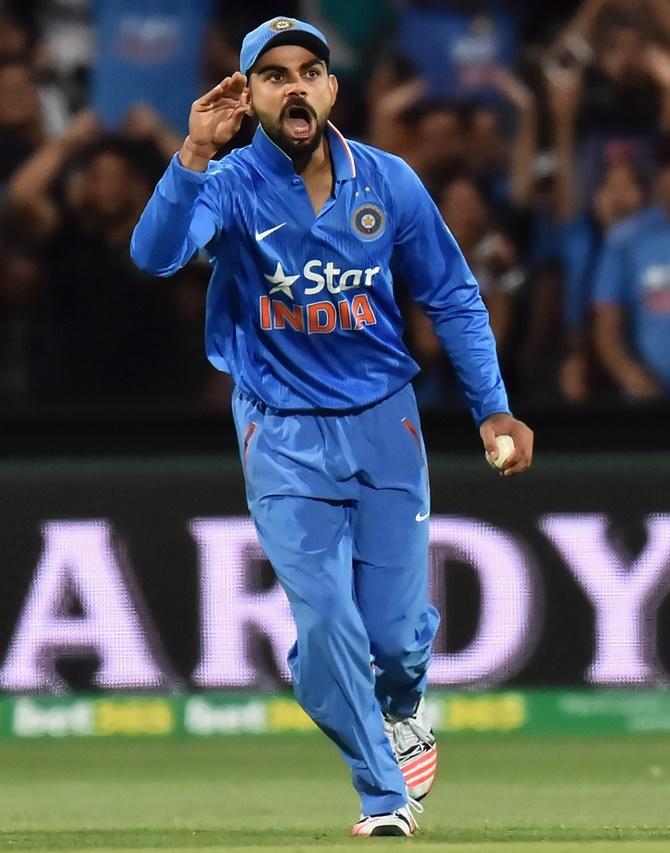 As all sporting action across the world has come to a halt due to the coronavirus pandemic, Australian bowlers are pondering as to how Indian skipper Virat Kohli might play in front of no spectators.
With Australia postponing their tour of Bangladesh in June in the wake of the COVID-19 pandemic, Lyon is looking forward to India's return later this year, even if the matches have to be played behind closed doors.
India and Australia are scheduled to play a four-match Test series later this year.
Australian spinner Nathan Lyon on Tuesday said that it would be interesting to see how Kohli goes about it if he does not get a chance to get the audience behind him.
"He is probably good enough to adapt to any scenario. But I was talking to Mitch Starc the other day and we actually said that if we are playing with no crowd, it'll be quite amazing to see Virat trying to rev up the empty seats," cricket.com.au quoted Lyon as saying.
"It is going to be a little bit different, but Virat is a superstar. He will be able to adapt to any climate that we are able to play in," he added.
During the 2018-19 series, India managed to defeat Australia in Australia for the first time in a Test series.
Australia, at that time were without the services of David Warner and Steve Smith. However, the series later this year promises to be a mouth-watering prospect.
"I am excited about the prospect of India coming out to Australia, it's up there with the biggest series alongside the Ashes. They are an absolute powerhouse of the cricket world, and to have those guys out here is going to be fantastic. Playing in front of crowds or no crowds is out of our control, we have got to follow the advice of all the amazing medical people around the world," Lyon said.
"I have not thought about no crowds or massive crowds, it is just about the opportunity of playing against India again. They had the wood over us last time they came over here but we are a much stronger Australian cricket side at the moment, and I am just unbelievably excited about playing them here at home," he added.
Lyon also gave his backing to Tim Paine saying he has been "absolutely incredible" since taking over as test captain during turbulent times and expects the wicketkeeper to continue in the role for the foreseeable future.
Paine was handed the job in 2018 after then-captain Steve Smith was banned for 12 months for his part in a ball-tampering scandal in South Africa.
Australia lost a first home series to India but retained the Ashes last year under Paine, who has said he would back Smith's return to the job after he served a further one-year ban from leadership roles.
However, Lyon says Paine is growing into the role.
"Tim Paine has been absolutely incredible for the Australian cricket team," he told reporters in a video conference on Tuesday.
"The way he's gone out and led this team, it's been unbelievable to be honest ... I truly believe that he's growing each and every day, he seems to be getting better as captain."
The spinner said Paine took on the mantle in the most challenging of circumstances.
"If you looked around that change-room at that time, I think Tim Paine really got up in my eyes, really stood up and could take that challenge on," he added.
"He took the captaincy on in the hardest time in Australian cricket and he's done an amazing job."
Lyon was slated to represent Hampshire in County Championship this year, however, his stint was called off last week due to COVID-19.
He is Australia's third-highest wicket-taker in the longest format of the game as he has total of 390 wickets in Test cricket.
Lyon was last seen in action in the Big Bash League for Sydney Sixers.