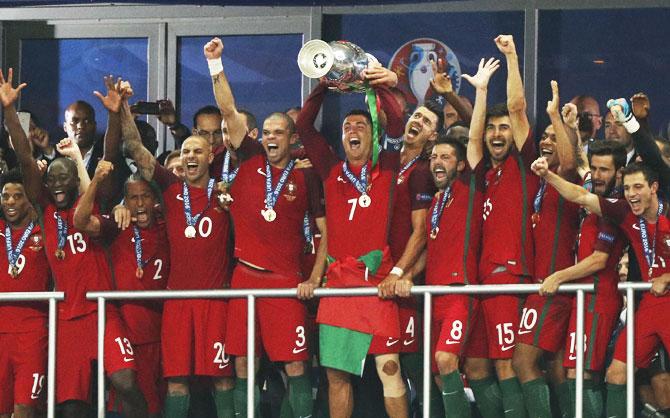 European champions Portugal will donate half of their prize money for qualifying for the now-postponed Euro 2020 championships to support amateur football amid the coronavirus outbreak, the team said on Monday.
The virus has shut down many countries and has wreaked havoc with the sporting calendar across the globe.
"In this spirit of camaraderie between professional and non-professional football, we have decided, as a team, to give up part of our Euro 2020 qualification prize money," the national team said in a statement.
"We have also decided, because we have not forgotten our own paths and all those who have generously helped us to make progress in our careers, that these amounts will be added to the support fund already created by the FPF (Portuguese federation) aimed mainly at players from non-professional competition clubs."
The team did not give any financial details of their qualification prize money. The support fund is expected to share a total of 4.7 million euros ($5.13 million) among regional associations and amateur clubs.
Most European leagues have been shut for more than a month and clubs are edging towards severe financial trouble due to the revenue drought.
Portugal has reported almost 17,000 cases of coronavirus with some 535 deaths. The league has been suspended indefinitely since March 12.
On Sunday, Sporting became the first of the country's three major football clubs to announce a 40% salary cut amid coronavirus losses.
($1 = 0.9162 euros)
Spurs reverse decision to furlough non-playing staff after fan opposition
Tottenham Hotspur have reversed their decision to furlough staff during the coronavirus pandemic amid criticism from supporters, the Premier League club said in a statement on Monday.
Spurs had imposed a 20% pay cut on 550 non-playing staff in April and May to protect jobs.
But the club said on Monday that only board members would see salary reductions and all other employees - whether full-time, casual, or furloughed - would be paid 100% of their wages for April and May.
"The criticism the club has received over the last week has been felt all the more keenly because of our track record of good works and our huge sense of responsibility to care for those that rely on us, particularly locally," club chairman Daniel Levy said.
The Tottenham Hotspur Supporters' Trust (THST) had said the club's decision to use the government scheme - where employers can claim for 80% of furloughed staff's monthly wages up to 2,500 pounds ($3,126) per month - was harming its reputation.
It added on Monday that the club's latest decision showed "maturity and humility."
"We're pleased that, rather than doubling down, the club's board has listened to the fans on this occasion and ultimately done the right thing," THST added in a statement.
"...no organisation is going to get everything right in these unprecedented circumstances and the eventual outcome is what matters... This is the first step, but a big step, in restoring relations between fans and the club."
Levy added that Spurs' earlier move had only intended to put measures in place to protect jobs while they sought to continue to operate in a self-sufficient manner.
"We regret any concern caused during an anxious time and hope the work our supporters will see us doing in the coming weeks, as our stadium takes on a whole new purpose, will make them proud of their club," he added.
Spurs said medical equipment had been installed in their stadium to operate drive-through COVID-19 testing and swabbing for NHS staff, families and their dependents.
"Our Tottenham Hotspur Stadium becomes the first Premier League ground to be used for testing, following on from other sporting venues around the world," the club added.
The stadium has also been fitted out to house the North Middlesex Hospital's Women's Outpatient Services, freeing up capacity at the hospital to treat patients with COVID-19 symptoms.
Professional football in England had been suspended until April 30. The Premier League has said the season will only resume when the situation stabilises.
Dalglish contracting COVID-19 was real shock, says Klopp
News that Liverpool great Kenny Dalglish had tested positive for COVID-19 came as a huge shock to the club's players and staff, manager Juergen Klopp has said.
Dalglish, 69, tested positive for the coronavirus last week after being admitted to hospital for an infection. He required intravenous antibiotics but was asymptomatic and returned home over the weekend.
"It was a real shock three days ago when I heard about it first. The boys were sent a message in our WhatsApp group and everybody was like, 'wow'," Klopp told Liverpool's website.
"What you feel in that moment is a massive difference if you know somebody who got the virus, or if you don't know.
"We all know this terrible disease is causing heartache all over the world, but this was the first time for many of us someone we have such a personal connection to was affected to this extent."
The Premier League has been suspended indefinitely due to the COVID-19 pandemic with the UK on lockdown to curb the spread of the virus. Liverpool held a 25-point lead at the top of the table when the season was halted.
Klopp has been putting his players through their paces in online training sessions and said the social aspect of the link-up, including birthday singalongs, was helping the squad deal with being stuck in isolation.
"When we have these training sessions, I could have never imagined I would enjoy it that much," he added. "The boys are all in good spirits.
"When we start at 10, the chat is open from 9.30 on and pretty much everybody is already in ... That's the best thing of having this situation in 2020 – we have this technical opportunity.
"Imagine if we would have had it in the '80s or something like that, it would have been really crazy. Not because of football, because of all the social contact and interaction we can have and use in the moment. That makes a big difference."
'Southampton took wage deferrals to help local community'
Southampton's players and senior staff wanted to protect the club and repay their community when they accepted wage deferrals and were not influenced by external pressure, vice-captain James Ward-Prowse has said.
The club were the first in the Premier League to announce that players and coaching staff would defer part of their salaries for April, May and June to help weather the shutdown brought on by the COVID-19 pandemic.
The Premier League has been suspended indefinitely due to the outbreak, with the UK on lockdown to curb the spread of the novel coronavirus.
"It was never about doing it quickly or facing any pressure," midfielder Ward-Prowse told the BBC. "It was about making sure we made the right decision for the people and the community and we definitely have done that.
"We wanted to make a good, mature, calculated decision on what was needed. It wasn't done for a 'well done, you're the first club to do it'. It was done out of thinking ahead and thinking what is best for the club and the community."
With the Premier League at a standstill, footballers are facing pressure to accept wage cuts.
The players union, however, questioned the league's call for a 30% player wage reduction, saying it would reduce tax revenue for the National Health Service.
Liverpool and Tottenham Hotspur have both reversed decisions to furlough non-playing staff members after fierce criticism of the moves, while West Ham United followed Southampton by announcing wage deferrals for players.
Southampton were 14th in the table when the league was suspended.