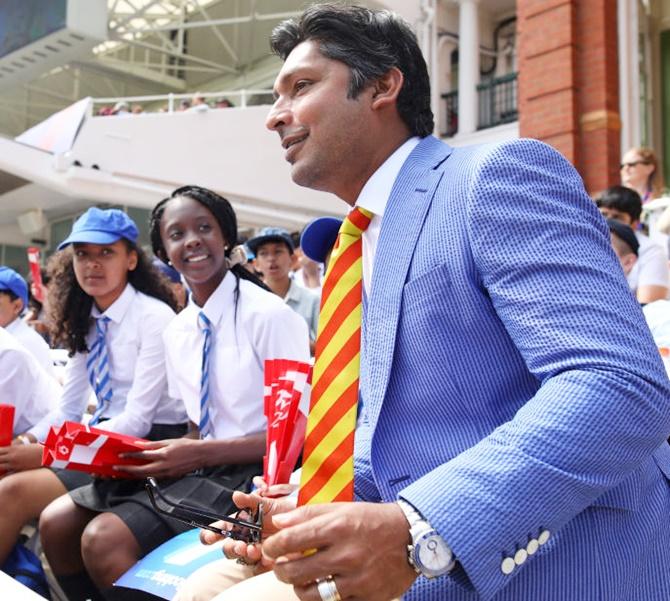 Former Sri Lanka skipper Kumar Sangakkara, on Tuesday, took charge as the president of Marylebone Cricket Club (MCC).
Sangakkara is the first non-British President of MCC and he will hold the post for one year. "I am thrilled to hold the prestigious position of MCC President and I look forward to working hard with the MCC to build on this incredible year of cricket," Sangakkara said in an official statement.
"We have an opportunity to convert more supporters to the game we love and educate them about the fantastic work MCC does locally, nationally and globally for cricket and those communities," he added.
Sangakkara's tenure as MCC President will include two England Test matches against West Indies and Pakistan, and ODI against Australia and the launch of The Hundred competition.
His nomination was announced by the outgoing President, Anthony Wreford, at the MCC Annual General Meeting at Lord's in May this year.
Sangakkara has been associated with the MCC for a long time. He played against the club in 2002 and in the match, he opened the batting for the touring Sri Lankan side.
He also played for the MCC against an International XI at Lord's in the 2005 Tsunami Relief Match.
Brathwaite cleared to bowl in international cricket by ICC
West Indies' Kraigg Brathwaite has been cleared to bowl in international cricket by the ICC after it found the bowling action of the Caribbean player legal.
All-rounder Brathwaite, who bowls off-spin, had been reported for suspected illegal bowling action during the second Test against India in Kingston, which ended on September 2.
He subsequently underwent a bowling assessment test in Loughborough, United Kingdom on September 14, where it was revealed that the amount of elbow extension for all his deliveries was within the 15-degree level of tolerance permitted under the ICC Illegal Bowling Regulations.
Vijay Patil set to be elected as Mumbai CA President
Businessman Vijay Patil, who filed his nomination on Tuesday, is all set to be elected president of the Mumbai Cricket Association unopposed.
Patil had last time unsuccessfully contested the polls losing to eventual president and NCP chief Sharad Pawar. However, Pawar later resigned citing the Lodha panel reforms.
It is understood that this time, however, Patil is set be elected unopposed with no candidate to contest him during the AGM.
Patil is the trustee and President of DY Patil sports academy, which is situated in neighbouring Navi Mumbai.
"It's truly a humbling experience. Members across all (groups), various stakeholders, have supported my candidature, and I'm delighted to be a part of the association," Patil said after filing his nomination papers.
"I feel greatly humbled because of the confidence that everyone has shown in me. It places a lot of responsibility on my shoulders. I will make sure that I'll be able to contribute positively for the game.
One of the MCA ad-hoc managing Committee member told reporters in Mumbai that there were 38 candidates for 14 posts and following the scrutiny of nomination, the valid list of candidates will be put up tomorrow evening.
He also said that there were candidates for the all the various positions barring that of the President.
Among the other members of the Bal Mahaddalkar panel, Amol Kale and Sanjay Naik filed their papers for the post of Vice President and Secretary respectively.
Current ad-hoc managing Committee member Shahalam Shaikh also filed his papers for the position of Joint Secretary from the Mahaddalkar Group.
Iqbal Shaikh filed his papers from the Cricket for Change panel for Apex Council member and Treasurer.
The Cricket for Change is a rival panel which is pitted against Bal Mahaddalkar Group.
Mayank Khanwala, Nadim Menon, Sangam Lad are the three other candidates of the United for Change Panel for various positions.
Current ad-hoc managing Committee member Dr Unmesh Khanvilkar has filed his papers for Apex Council member as independent.
Meanwhile, former player Amit Dani, who is the cricket secretary of the MIG cricket club in suburban Bandra, is contesting to be elected in the Apex Council as an independent candidate.
Vaibhav Gehlot files his nomination, all set to become RCA President
Vaibhav Gehlot, son of Chief Minister Ashok Gehlot, on Tuesday filed his nomination and is set to become president of the Rajasthan Cricket Association (RCA).
After failing to make an impression in politics, Vaibhav filed his nomination for the post of president in the controversial RCA elections scheduled for October 4.
Vaibhav had lost to Gajendra Singh Shekhawat of BJP by a huge margin from Jodhpur Lok Sabha constituency in the recent Lok Sabha elections.
Vaibhav, who has little experience in cricket administration, appears to be heading for an unanimous victory, but his election would push the RCA into yet another era of political interference in the sport.
He is being backed by senior Congress leader and current RCA president C P Joshi and his trusted district associations.
Vaibhav was challenged by another senior Congressmen from Nagaur District Cricket Association Rameshwar Dudi, creating an awkward position for the ruling party in the state.
The decision of disqualifying three districts -- Nagaur, Alwar and Sriganganagar -- on ground of having connect with former RCA chief Lalit Modi, who has been banned for life by the BCCI, came as a huge relief for Vaibhav.
But the rival group feels that his nomination is still controversial because his appointment as the treasurer in the Rajsamand District Cricket Association was not fair.
Vaibhav made his entry into cricket administration after being elected as treasurer of Rajsamand District Cricket Association and the RCA election officer R R Rashmi gave him the green signal after hearing all the objections.
The final voter list was issued on Tuesday.
There was only one nomination on Tuesday but the picture is quite clear because the Joshi group is sitting pretty with over 25 votes.
The last date for nominations is on Wednesday.
BCCI starts 24x7 helpline for cricketers to report age fraud
The BCCI has started a 24x7 helpline for cricketers in an effort to strengthen its stand on zero-tolerance for age-fraud in cricket after their anti-doping helpline.
The BCCI Anti-Doping & Anti-Corruption teams have been working closely to spread awareness amongst cricketers, team support staff and members of all associations to approach the respective cells in case of any drug queries, corrupt approaches and incidences of age and domicile fraud.
A banner with helpline numbers will be displayed inside dressing rooms across all venues where cricket matches will be played during the BCCI's domestic season 2019-20.
Personnel, who want to report suspicious or fraudulent activity can do so by contacting the helpline numbers. The identity of the complainant will be kept strictly confidential.
Kanitkar, Powar to get permanent jobs at NCA
Hrishikesh Kanitkar and Ramesh Powar will be the permanent batting and bowling coaches at the NCA, PTI reported on Tuesday.
They will report to NCA Director of Cricket Rahul Dravid and travel with various representative teams (India U-19, A or U-23) as and when required.
Also, during the CoA meeting on Tuesday, it was decided that Haryana Cricket Association (HCA) officials will be asked to meet the committee members along with amended state unit's constitution on Thursday.