It's a testament to Ashwin's skills: Abbott on Warner batting right-handed against India spinner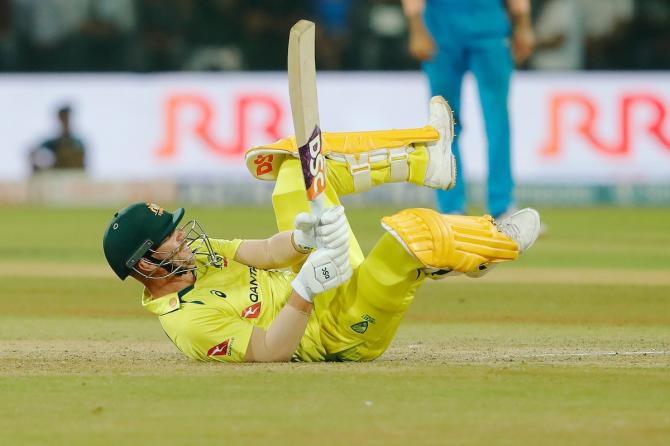 Southpaw David Warner had to employ a rather bizarre tactic of batting right-handed against R Ashwin in the second ODI because of the turn the Indian was generating from the Indore pitch, said Australia bowling all-rounder Sean Abbott.
Australia were never in the hunt after India amassed 399 for five to take an unassailable lead in the three-match series on Sunday.
Warner (53) and Abbott (54) were the two Australian batters who got going before the visitors suffered their fifth ODI loss in a row.
Warner played some audacious strokes batting both left and right-handed. He is known for his innovative strokeplay including reverse hits but he took that to the next level on Sunday when he resorted to bat with a right-hander's stance while facing Ashwin.
The premier India spinner did get the better of Warner eventually but it was not before the 'right-hand' batter swept him for a boundary, much to the amusement of his teammates in the dugout.
"I think that's a testament to Ashwin's skills, to be honest, because I think if Davey's just going to sit there and bat left-handed and Ashwin he's not going to miss his length, too often, and with the ball spinning so much, he's got the one that goes the other way, the straighter one and all the variations that go along with that," said Abbott when asked Warner's unusual methods.
"David just thought he had to change it up. He plays golf right handed. we obviously see how dynamic he is batting like doing his switch hitting and stuff. So he weighed up those options. They actually might have spoken about it during the test match here (in March)."
"He's done it before he practices it in the nets. So I was like, 'Oh, this is different' but Davey's Davey, so we just let him crack on, he's a great competitor," said Abbott who himself staked a strong claim for a spot in the playing eleven for the World Cup with his clean hitting."
Indian batters feasted on the Indore track but going by Abbott, it was not easy facing Ashwin and Ravindra Jadeja under lights.
"It was a difficult batting wicket in the end, facing their spinners. They're very skilful. So we were going to have our work cut out for us."
"Before we went out there bat we had some glimpses of some good batting especially from Davy and I just thought Ashwin and Jadeja on that wicket there, especially Ashwin... tremendous skills spinning it both ways as a finger spinner.
"He asked me if I was picking them and I was like, no chance, mate, so very difficult," said Abbott whose entertaining effort comprised five sixes.
In the absence of Mitchell Starc, who might play in Rajkot on Wednesday, the Australians have been struggling to take wickets in the powerplay of late. The loss on Sunday raised questions over their form going into the World Cup.

Far from ideal: Abbott on Australia conceding 400 twice in 10 days
Before Sunday, Australia had allowed South Africa to hammer 416 in the fourth ODI in Centurion 10 days ago. Five losses in a row should be a matter of concern for the Aussies.
"It is far from ideal. But at the same time, we've got such a great group in that, we're communicating well out in the ground, but we've obviously just not executed as well as we would have liked."
"I've mentioned a couple of times already our execution in bringing those stumps into play, owning our lengths and putting pressure on the batters that way certainly has to improve. And I have no doubt of that. We've got a very skilled attack. Looking forward to the next game," he added.