Much of this has been made possible by the owners's insistence on building a team, rather than banking on a collection of talented individuals not necessarily suited to play alongside one another.
Dhruv Munjal reports.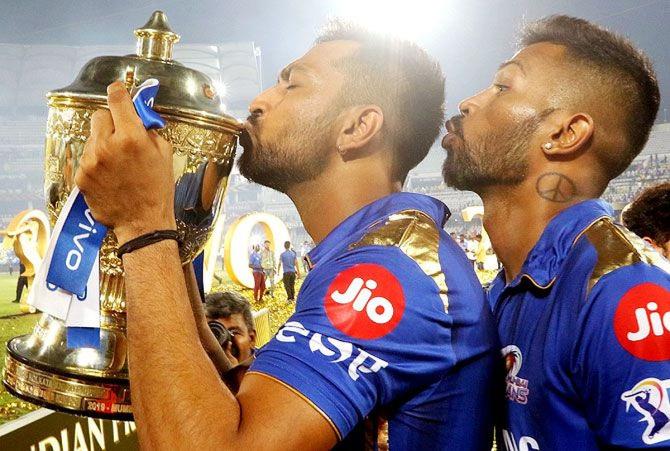 Perhaps the liveliest moment of Mumbai Indians's facile win over Delhi Capitals in the Indian Premier League Final arrived post-match.
Quinton de Kock and Nathan Coulter-Nile were in conversation with Simon Doull and Ian Bishop when they were interrupted by franchise owner Nita Ambani.
Unaware that the two players were chatting with those up in the commentary box, an exultant Ambani gave de Kock a high five, before realising that she had crashed their interview, and walking away.
It was a minor moment in the grand scheme of things, but one that perfectly encapsulated the camaraderie that had just helped Mumbai Indians win their fifth title in eight years, making them the most successful team in the history of the competition.
On air, Doull enjoyed a chuckle and noted that 'This is what a franchise is all about'.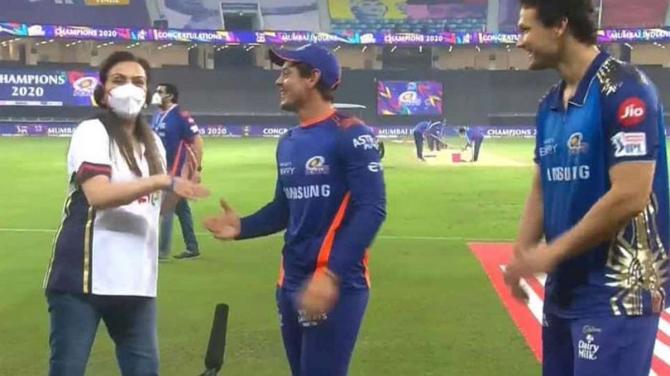 Such an easy-going atmosphere has allowed Mumbai Indians to flourish on the field, which, in turn, has contributed greatly to its fortunes off it.
In September 2019, financial consultancy firm Duff & Phelps, in its annual IPL study, put Mumbai Indians's brand value at Rs 809 crore, the highest among all IPL franchises for the fourth straight year.
In February, The Economic Times had reported that the team had become the first Indian sports franchise to register sponsorship revenues of Rs 100 crore on the back of new deals with Marriott Bonvoy and Astral Pipes.
These figures are an accurate reflection of the dominance Mumbai Indians have established over the years, one that arguably makes them the best T20 side in the world, international or otherwise.
"Brand valuations are driven by a combination of on-field performances and off-field management. Mumbai has succeeded in both departments," says Santosh N, managing partner, D and P Advisory LLP, and external advisor, Duff & Phelps.
Much of this has been made possible by the owners's insistence on building a team, rather than banking on a collection of talented individuals not necessarily suited to play alongside one another.
That's partly why Mumbai Indians have never fallen victim to any kind of disjointedness, a problem faced by several other franchises throughout the IPL, most notably Royal Challengers Bangalore.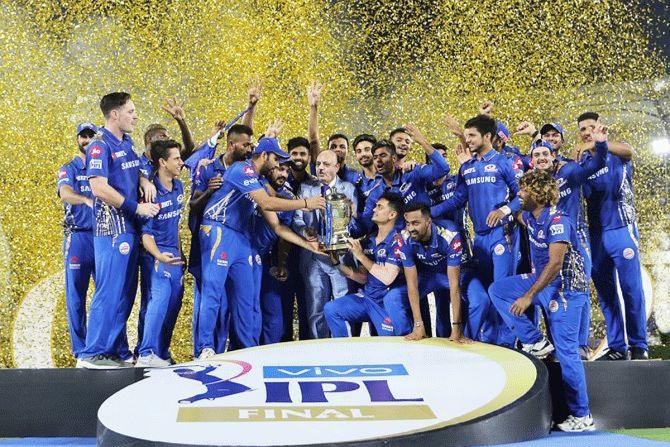 In a sport where franchise valuations are largely dictated by star names, Mumbai's reluctance to splurge on such players is what makes their success even more remarkable.
In its report, Duff & Phelps observed that a lot of Bangalore's brand value was down to Virat Kohli.
Chennai Super Kings, similarly, were steered by Mahendra Singh Dhoni's charisma.
"With Royal Challengers, for instance, their performances have been really erratic. Despite that, they have been able to do reasonably well (they are valued at Rs 595 crore) because of players like Kohli and A B de Villiers," says Santosh, adding that Mumbai's value would probably be even greater if they were to add a similar heavyweight name to their roster.
The biggest thing that has worked in their favour, however, is a strong core group of Indian players that has remained unchanged for the past few years.
"You take the example of Jasprit Bumrah. When he started out, nobody knew him. Now he is one of the best in the world. That's why advertisers want to be associated with him," says Navneet Ganapathi, managing partner at Sportainment, a Chennai-based consultancy that specialises in sports management.
Well-known faces like the Pandya brothers -- Hardik and Krunal, who hail from Vadodara -- help advertisers take their products to smaller cities and towns in a manner that players from the metropolises cannot.
"That's why you see so many consumer brands tie up with Mumbai," says Santosh.
"The biggest benefit here is that owners Reliance have their consumer brand in Jio."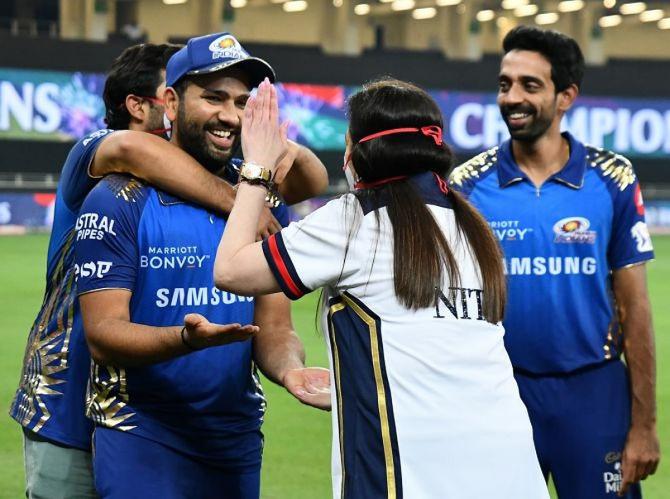 Ahead of the 2020 season, Mumbai retained partners like Samsung, Colors and Usha, while adding new ones in Colgate and Cadbury Dairy Milk.
Lead sponsor Samsung, signed up last year, is paying the franchise Rs 75 crore over three years, while the aforementioned deal with Marriott Bonvoy, the rewards programme of the Marriott hotel chain, is expected to fetch Rs 30 crore over the same period.
The fact that the latter also sponsors global sporting giants such as Bayern Munich and Manchester United is further confirmation of Mumbai's hefty standing.
"Earlier, Chennai was considered a safe bet, but now it's Mumbai. While they might not win the IPL every year, their consistency means they will at least make the play-offs, which gives you great visibility," says a spokesperson for one of the brands, requesting anonymity.
An understated reason behind Mumbai's sustained supremacy is the franchise's ability to maintain a clean image.
Unlike Chennai Super Kings or Rajasthan Royals, both of which were suspended for two years for spot-fixing, and Royal Challengers Bangalore, which had to restructure the ownership due to Diageo's acquisition of United Spirits, Mumbai has been an exemplar of smooth administration.
"When there's no controversy attached, and your team is doing well, it rubs off on all those involved," says Ganapathi.
All of which is supplemented by an aggressive social media strategy.
This season, Mumbai created a virtual stadium experience for fans, apart from posting behind-the-scenes content. The focus was #OneFamily.
"Mumbai has the most impressive social media machinery, which has helped them build an extremely large and loyal fan base. This has contributed immensely to things like merchandise sales," explains the brand spokesperson quoted above.
The IPL win is all the more sweet when seen in the context of Mumbai's big rivals this season.
Chennai Super Kings, Royal Challengers Bangalore and Kolkata Knight Riders -- the only franchises that have shown signs of taking Mumbai on financially in recent years -- all failed to live up to their billing.