'The question that Ganguly and brands now need to consider, say experts, is that as the person responsible for maintaining order in the flock, can he be as breezy about issues of conflict?'
Sohini Das reports.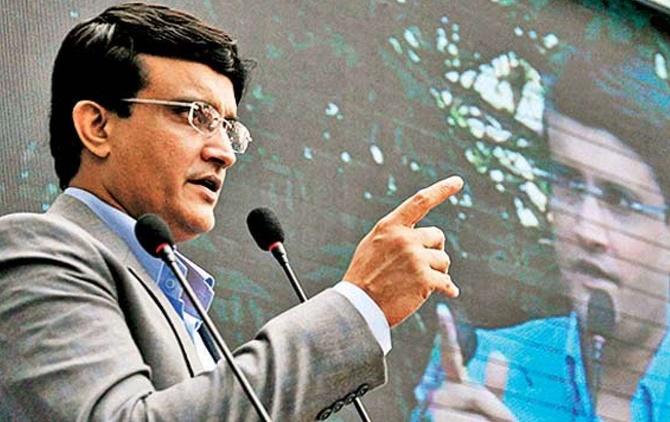 His typical insouciance was in full display when Sourav Ganguly, newly appointed chief of the Board of Control for Cricket in India (BCCI), tweeted during the recent India-Bangladesh match: "Will #TeamIndia keep up the winning streak or will Bangladesh bounce back? Beat my team on @My11Circle & Win Big. Make Your Team Now!"
With that one tweet, @SGanguly99 had lit a flame on his timeline.
How could the BCCI chief endorse a brand that rivals the Board's official partner, Dream11?
Conflict of interest screamed many, while some defended a man's right to choose his endorsements.
Ganguly was nonchalant.
His support for the league was a personal matter and had nothing to do with his role as administrator-in-chief heading the country's richest sports bodies, he told television reporters chasing him for a soundbyte.
For someone who has played with fire and ice, in his long cricketing tenure, Ganguly is no stranger to controversy.
His outspoken remarks about coaches and captaincy earned him as many admirers as it did, detractors.
He drew outrage and admiration for his behaviour, while he played and has continued to do so, even after he retired from the game.
His brashness and consistent brush with controversy led to the making of a unique brand, one that did not fit the mould set by the likes of M S Dhoni and Virat Kohli.
Experts say Ganguly has managed to get the brands to play by his rules.
For instance, after his retirement, he crafted an independent image of himself as the host of a popular Bengali game show Dadagiri.
This made him an attractive proposition for brands looking to tap into consumers in Bengal and also the diaspora.
Hence, he is the face of Senco Gold & Diamonds, a brand that was associated with a single city and community before he helped take it national.
Ganguly also endorses Essilor (lenses) and Puma, among other brands.
Brands do not love anyone who is controversial, says Indranil Das Blah, founding partner and co-chief executive of celebrity management agency Kwan Entertainment & Marketing Solutions.
But, he adds, there is a difference between being controversial and outspoken.
"Ganguly has never really been controversial, he is outspoken and forthright in his views.
"Brands want someone who is relevant.
"As BCCI president, he is all over the news and is very relevant," he says.
Ganguly has always been openly emotional about his attachment for the game.
For instance, he wore a 19-year-old blazer, given to him in the year 2000 as captain of the India team, on the day he officially took charge as the BCCI president.
Advertisers are drawn to such personalities, especially when they look to appeal to a younger demographic.
Ad veteran Sandeep Goyal, founder of Mogae Media, says Ganguly has been able to create a distinct identity for himself.
Brands look for characters like him as he brings his own sensibilities to the storyline.
As BCCI administrator, Ganguly is poised for greater achievements, Goyal believes.
"He could well be a candidate for chief minister tomorrow.
"I see his brand moving out of the endorsement trajectory.
"He is a more evolved and rounded brand than other Indian cricketer," Goyal says.
Blah, too, thinks his administrative role makes Ganguly an attractive endorser.
"Nothing in the BCCI charter says that the president cannot do endorsements.
"It is an honorary position, no payments involved.
"Do not see any reason why he cannot endorse brands, especially if there is no conflict with existing BCCI brands," Blah says.
Ganguly, however, has not really paid heed to conflict of interest issues in the past.
Be it endorsement of a rival fantasy league or holding three positions at once, president of the Cricket Association of Bengal, commentator on TV, and mentor of IPL franchise Delhi Capitals.
When BCCI's ethics officer asked Ganguly to choose one post, the former India skipper chose to remain the president of the CAB.
The choice seems to have paid off, making him head of the most powerful administrative bodies in Indian cricket.
However, the question that Ganguly and brands now need to consider, say experts, is that as the person responsible for maintaining order in the flock, can he be as breezy about issues of conflict?
Keeping the balance will be the key to his future as a brand, they say, as Ganguly slips on his endorser robe over the BCCI blazer.