Despite presiding over scores of factories in what is today India's largest garment exporter with 105,000 employees, Harish Ahuja is a modest man with much to be immodest about.
He tells Rahul Jacob that the government needs a free trade agreement with Europe fast to ensure a level-playing field with Bangladesh and Vietnam.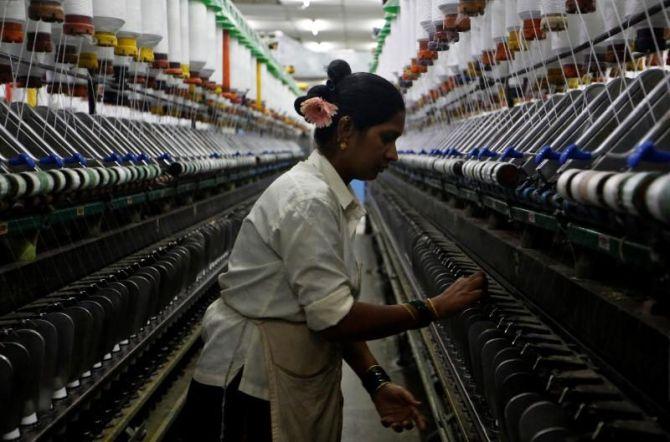 In Delhi, an invitation to high tea usually entails tea and samosas on the lawns adjacent to the Lady Willingdon Swimming Bath at the Delhi Gymkhana or sandwiches at the Golf Club, watching garishly attired men putt against a backdrop of peacocks tip-toeing amid mausoleums.
Tea with Harish Ahuja, however, involves a journey to his company's headquarters in Faridabad that sit atop one of its garment factories.
The visit is akin to a pilgrimage to a temple of global trade.
Neatly packed boxes headed for the United Arab Emirates are stacked near the door.
The plant with 3,500 workers, many hunched over Japanese sewing machines, is a whirr of activity.
A group of foreign buyers are on a tour of the factory.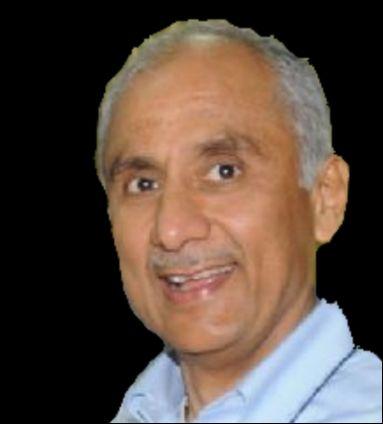 The laboratories for quality checks resemble an industrial theme park: American and European washing machines test that colours don't run while close by abrasion apparatus spin rapidly to test the tendency of fibres to become entangled into unsightly tiny balls on a garment's surface while in a washer or dryer.
Quality control in the 21st century has been largely outsourced to garment manufacturers such as Shahi Exports.
The checks conducted on a floral dress for the US retailer Gap has the detail of a medical report.
The quality control manual for Gap runs into a few hundred pages.
White-coated technicians are hermetically sealed from the production floor, a metaphor also of how separate the two functions are kept.
One contraption seeks to yank a button off a shirt; caught in a kind of simulated schoolboys' playground brawl, the button pops at about 30 lbs of pressure.
The tour over, I am led to a small conference room to meet Ahuja who inherited the business from his mother, Sarla.
She started the company in 1971 with a few sewing machines at her home in Delhi.
Despite presiding over scores of factories in what is today India's largest garment exporter with 105,000 employees, Ahuja is a modest man with much to be immodest about.
Remarkably, all his workers on the production lines are full-time employees.
Shahi uses contract labour only for security and housekeeping.
But this means Ahuja is fully exposed to the vagaries of inflexible Indian labour laws that other manufacturers often circumvent by using contract labour.
Dispensing with small talk, he launches into a comparison of the differences between China and India.
"Despite being Communist, they are very investor friendly and their policies are very flexible compared to ours.
"In India, once you hire a worker, it is very difficult to let them go," he says.
For the garment industry, where work is highly seasonal and prone to fluctuate, this is a huge challenge, especially since 30 per cent of the total cost is labour cost.
Shahi locates most of its factories in small towns such as Shikaripur or Hubli in Karnataka and overwhelmingly relies on women.
On his tablet, Ahuja shows off the gleaming new factories that Shahi has built in southern India, where women make up almost 90 per cent of the workforce.
With few competing job options in such places, employee loyalty tends to be higher and unionisation absent.
"Men have many diversions," he says, in a refrain I have heard from factory owners across southern China. "Women are more focused."
Ahuja, 64, is supremely focused, even ascetic.
A believer in standing desks, he does the interview standing up.
Pleading that he had a late lunch, he restricts himself to a mug of hot water.
After I insist that this interview format requires some consumption of food, he helps himself to a biscuit, but doesn't eat it.
A call he needs to take in his office interrupts our tea at about 5 pm, problematically leaving me alone with a large platter of pakoras.
There are few things I like more.
I pass this test of character by restricting myself to four delicious pakoras that, along with tomato and cucumber sandwiches, have come from the factory canteen, which has a crèche and a medical centre with a kind and solicitous doctor.
When Ahuja returns, he picks up where he left off in assessing India's tendency to score own goals as it loses ground in the garment industry worldwide: The rupee is overvalued by 17 per cent to 20 per cent, infrastructure deficiencies and excessive paperwork at ports add to costs relative to our competition overseas.
(An electronics industry estimate shows that compared with China and Vietnam, logistics, taxes, infrastructure and land costs are about 12 to 18 per cent higher in India.)
For Ahuja, the inability of Indian governments over the past nine years to sew up a free trade agreement with the European Union, is especially frustrating because it means that garments from Bangladesh, Cambodia and elsewhere go in duty free, but Indian garment exports are subject to nearly 10 per cent duty.
The EU wanted concessions on wine, cheese and automobiles.
The main sticking point is thought to be the need to protect automakers in India.
"How many people can afford a Mercedes or a BMW," Ahuja asks.
"Can it really affect Maruti's sales?"
Automakers, many of whom enjoy net margins twice those of Shahi Exports' 5 per cent, command the headlines with their every utterance in a way that garment manufacturers cannot, despite being large job creators.
(Tellingly, a Google search for Harish Ahuja yields many more photographs of his son who is married to actor Sonam Kapoor than of him.)
Textiles and garments employ more people in India than any other industry but agriculture.
In a provocative column in January 2018 in The Economic Times, Arvind Panagariya, the trade economist and former NITI Aayog vice-chairman, calculated that for an equivalent investment, Shahi Exports created 252 times the jobs that Reliance Industries did.
Admirers of Shahi Exports also include Naresh Gujral, the Rajya Sabha MP who built a successful garment business himself, and Ranjan Mahtani, who owns Hong Kong-based Epic Group, the largest exporter of men's casual trousers to the United States.
To respond to the jobs crisis, Gujral believes governments should offer manufacturers incentives based on the number of jobs created rather than the capital invested.
Ahuja insists he only wants the government to ensure a level playing field to compete with Bangladesh, Vietnam and others.
While the Modi government started its second term by rationalising codes on wages and occupational health and safety, it has ducked making it easier to retrench workers as well as allowing more overtime, restricted by law to just 30 hours a month.
In China, Ahuja says, employees work "996" - 9 am to 9 pm, six days a week.
Last weekend's incentives for exporters left Ahuja unconvinced.
A fortnight ago, he met with a delegation of executives from the American Chamber of Commerce in Hong Kong who were scouting for production locations outside China as the trade war bites.
The executives' overriding impression of India was that not much had changed.
"The game is going to Bangladesh and Vietnam," reports Ahuja ruefully.
He then points out that not only are Bangladesh's garments export at $ 37 billion more than twice that of India, but that West Bengal's share is just 1 per cent of Bangladesh's, which was considered a failed state a few decades ago.
I brood over that extraordinary statistic on the drive back to New Delhi.
My Uber driver, whose wife cannot find work outside her home in Himachal Pradesh, expresses admiration for the Shahi factory because he witnessed a predominantly female workforce trooping out at the end of the day.
Ahuja cites his mother, now 84 but in the office every day until a few years ago, as an inspiration: She feels it is imperative the garment industry create jobs for women.
When a private equity investor recently remarked at how slim the margin of error is for Shahi because of the disproportionate challenges of operating in India, Ahuja echoed that sentiment, "Our motivation is providing employment."
He is so matter-of-fact, the response seems completely sincere.
Back in pristine Lutyens Delhi, I can't help think that the imperial vistas from Raisina Hill have for too long obscured the urgency of the challenges India faces - job creation principal among them.
A factory visit on occasion might help disrupt that complacency.
Photograph: Francis Mascarenhas/Reuters