Again would offer two variants of double-toned milk with almonds, cashews, dates; and strawberry, chocolate, jaggery - and two variants of double-toned yoghurt - alphonso mango; and carrot, orange, banana.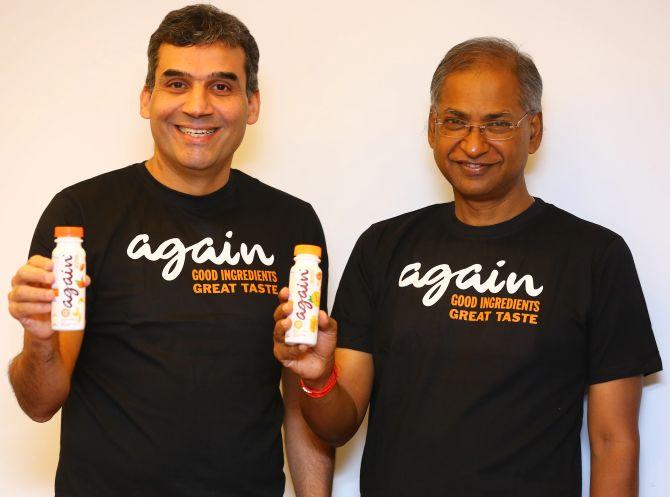 Twenty years ago K Vaitheeswaran and Sundeep Thakran unveiled India's first e-commerce company Fabmart.com along with four other co-founders in a room called 'Tipu's Chamber' at a prominent hotel in Bengaluru.
The venture which was later rebranded as Indiaplaza.com shut down in 2013 after 14 years due to various factors including lack of funding and inability to compete with new players like Flipkart and Snapdeal.
But after two decades, the gritty entrepreneurs are back in the ring.
On Wednesday, Vaitheeswaran and Thakran unveiled their new venture called 'Again Drinks' in the same room.
Again would offer ready-to-drink health beverages which have low-fat dairy and contain real fruits, nuts, vegetables, and natural sweeteners.
"I was 36 years old then and now I am 56. If we had to launch a startup now the condition was it must be something that is not done before and must have a significant and large social impact," said Vaitheeswaran.
"We didn't want to launch India's 147th e-commerce company."
Vaitheeswaran expects the total beverage market in India to reach Rs 136,000 crore by 2023 at a growth rate of 15 per cent.
He sees the total addressable market for Again as Rs 15,000 crore by then and expect to build a Rs 500 crore business in the next few years.
Considering the broken and poor quality of cold chain in India, the products created by Again have been specially created to be stored at ambient temperature without requiring refrigeration, allowing convenient, on-the-go use cases.
Vaitheeswaran and his team worked on the idea for about 18 months.
They visited some of the top institutes and met industry experts to discuss the product which would have a minimum shelf life of 90 days.
"They told us this is impossible, you have to put preservatives and sugar.
"We got more excited as it had never been done before," said Vaitheeswaran whose venture has filed two provisional patents for the unique process and formulation of the product.
The venture offers two variants of double-toned (low fat) milk with almonds, cashews, dates; and strawberry, chocolate, jaggery - and two variants of double-toned (low fat) yoghurt - alphonso mango; and carrot, orange, banana.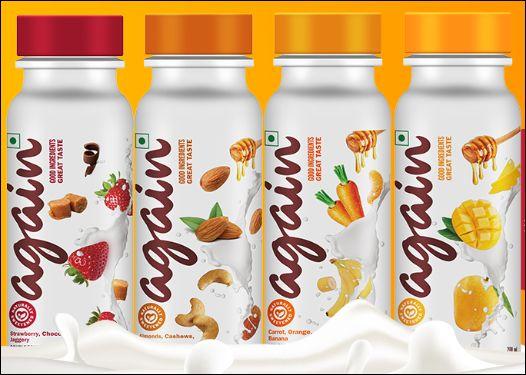 A 200 ml beverage has been priced at Rs 50.
Thakran, the other co-founder said the challenge for the firm was not to just build a shelf-stable product but bringing 'wholesomeness' into it.
"This (includes) not adding sugar, preservatives, artificial ingredients and putting a lot of fruits, vegetables and nuts into it," said Thakran, who got motivated to start Again two years ago after struggling to find nutritious beverages for his son.
"Everybody we approached in the industry were 'naysayers' and said it can't be done."
Four variants of Again have been pilot launched in select retail outlets in Bengaluru such as Namdhari's Fresh, Godrej Nature's Basket and through online grocery stores including BigBasket.com.
The range will be available across retail chains in key cities in South India starting from Chennai and then rest of the country.
"I am going to stick my neck out and say we are targetting to sell half a million bottles by next year," said Vaitheeswaran whose venture is being backed by angel investors and high-net-worth individuals.
Former Tata Sons director R Gopalakrishnan has joined the startup as a mentor.
The firm makes the products at the facilities of Nilgiris Dairy Farm and Kwality Milk Foods Ltd in South India.
Again is also planning for overseas expansion and export its products to regions such as the Middle East and other Asian countries which have similar demand like in India.
It is now in the market to raise larger funding round from venture capital firms.
However, there are already few startups as well as large firms jostling to dominate the healthy beverage market.
One among them is Zago which offers ready-to-drink protein and oats products.
Its products are focused on active consumers like athletes and runners as well as students and working professionals who skip meals and are hard pressed for time.
The company was founded in 2013 by Sridhar Varadaraj, an engineer and a health enthusiast.
Vaitheeswaran said that it a great time to build a consumer brand in India.
In fact, according to a World Economic Forum and Bain & Company report, India will post a 4x growth in consumer spend by 2030.
It will add 21 million high-income and 140 million middle-income households.
India will be a young consumer economy with 77 per cent millennials and Gen Z.
Consumer spend alone is slated to go from $1.5 trillion to $6 trillion.
Fireside Ventures, an early-stage venture fund recently said it expects its portfolio of consumer brand start-ups to go global and cross $100 million in sales each over the next few years.
"I must say tongue firmly in cheek that this (Again) would be a profitable business," said Vaitheeswaran.