'The controversy created by a Gujarat minister was totally unnecessary and unwanted.'
'It is a disgrace that a person who happened to be Gujarat's finance minister, spoke this kind of rubbish.'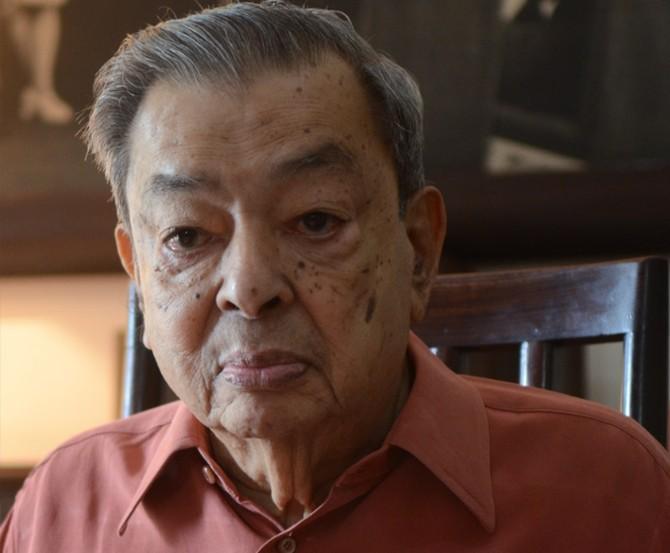 Economist and RTI activist G Krishnan began his career at the National Dairy Development Board in Anand, Gujarat, in 1973.
The NDDB was founded by Dr Verghese Kurien in 1965 to fulfil the desire of then prime minister Lal Bahadur Shastri to extend the success of Amul to other parts of India.
The Anand Milk Producers Union Limited, or Amul, as a dairy cooperative was started by Tribhuvandas Patel under the guidance of Sardar Vallabhbhai Patel and Dr Kurien in 1948, sowing the first drop of India's White Revolution.
Recently, when a minister in the Gujarat government, Dileep Sanghani, alleged that Dr Kurien diverted Amul's profits to fund religious conversions in Gujarat, it shocked and angered a nation that looks at Dr Kurien as a legend in the history of independent India.
In a conversation with Rediff.com's Shobha Warrier, Krishnan, who worked at NDDB for seven years, rubbishes Sanghani's allegation.
---
My first job was in NDDB's planning department under Dr Kurien. I worked with him from 1973 to 1980. I considered it an honour to work in an organisation headed by a legend and I was very keen to see him at work.
I saw his single-minded commitment to work, farmers's welfare and the development of Amul and his sincerity. He was truly committed to spreading the Amul model throughout the country. In fact, NDDB was set up purely with that intention. I also saw his hatred for the bureaucracy although there was an IAS officer also working at NDDB.
His motto was hard work and no play! The only relaxation for him was going home at 5.30 in the evening and be with his family.
Though I had the opportunity to observe him closely, I can never claim that I was close to him. For a period of two months, when his executive secretary was on leave, I had to work as his substitute which gave me the opportunity to directly interact with him.
He knew that I was a fresher and was there as a substitute. So, he was very sympathetic and understanding in his interactions and demands from me. He was basically a matter-of-fact person who concentrated only on his work and nothing else.
I found him not very friendly or expressive, but not rude also. In my seven years at NDDB, I never saw him overly friendly with anybody; he preferred only official dealings with people. Hardly anyone went to his home or socialised with him.
I have seen many people describing themselves as close friends and associates of Dr Kurien, but I never saw any close friends with him.
After I left NDDB, I was curious about his personal interactions with others, so I used to ask those who worked for 15 years or 20 years with him. They also used to say he had very few close friends.
His life was his work around Amul, the welfare of the people connected with Amul and there was no place for anything else.
I can describe Dileep Sanghani's allegation in one word: Absurd. Nobody who worked at Amul or NDDB would believe him.
Everybody who worked at Amul knew that Dr Kurien was an atheist and never went to church. The only thing that was Christian about him was his name.
I had gone to his house one day to hand over some photographs and I could not spot any pictures or symbols connected to Christianity in his living room.
He never showed any inclination towards people belonging to any one particular religion. He was beyond caste, creed and religion.
During the time I was with NDDB, there were many missionaries and nuns, mainly from Kerala, working in some of the tribal districts of Gujarat. Most of them initially engaged themselves with the welfare work of tribals through education, medical facilities and rural development activities.
They generally started the conversion process only later, that is after they established a rapport with the tribal people.
It is quite possible that when they were doing these welfare activities, they might have approached Dr Kurien for some contribution and he might have given some money for their welfare work.
I am not saying they approached him or he gave them money. It is quite possible that because they were Malayalis, they could have gone to him and told him about the kind of good work they were doing for the tribals.
Then, they might have asked Amul to make a contribution and sometimes, it is quite possible that Amul could have made a contribution.
Since these missionaries were involved in conversion, you can perhaps say this money might have been used for conversion also.
But I can say with 100% confidence that consciously, Dr Kurien would never have given a single penny for conversion activities.
After I left NDDB, I had an opportunity to meet a young Malayali priest in Chotta Udaipur, which was 65 km away from Baroda. During the conversation, he said he would not consider Dr Kurien a Christian at all. Why I mention this incident was because this was the kind of impression even a Christian priest had of him.
I feel the controversy created by the Gujarat minister was totally unnecessary and unwanted. It was blown out of proportion by the media that is after sensationalism.
It is a disgrace that a person who happened to be the finance minister of Gujarat once upon a time spoke this kind of rubbish. I am sure nobody takes it seriously, even those who are close to the minister.
It is true that the BJP leadership in Gujarat after Narendra Damodardas Modi took over did not have a good relationship with Dr Kurien. It was not because Dr Kurien was anti-BJP or anything like that. He was one person who wanted to keep politicians and civil servants at a distance.
Of course, he had good relations with politicians of the earlier generation like Sardar Patel, Tribuvandas Patel, Lal Bahadur Shastri and Indira Gandhi. When he wanted to leave Amul at an early stage, it was Tribuvandas Patel who made him stay.
But he never got along with the politicians who came later and kept them at an arm's length and naturally, they didn't like it. He never allowed politics to creep into the working of the co-operatives.
So, I feel the comment by the minister was totally unwanted and far from the truth.
Photograph: Kind courtesy Drkurien.com