As India reels from a severe water shortage, startups have begun offering innovative ways to help people access safe drinking water.
Sneha Bhattacharjee reports.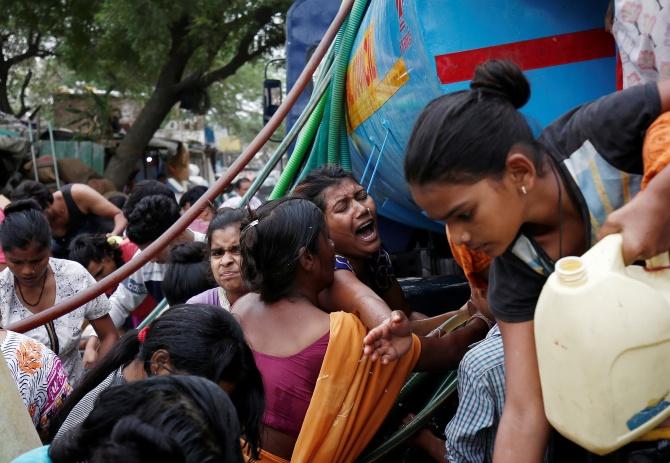 This year saw a city run out of water completely. It was one of the world's greatest tourist destinations, Cape Town.
Government reports suggest India's per capita availability of water has been reducing progressively due to an increase in population and the country is facing water stress.
To add to this, a report titled The state of the world's water by WaterAid says India has the lowest per capita access to clean drinking water -- close to 163 million Indians are said to be suffering from this scarcity.
At the same time, the report adds that it is also one of the world's most-improved nations for reaching the most people with clean water.
Further, it states the challenges faced by the country as: Falling groundwater levels, drought, demand from agriculture and industry, pollution and poor water resource management.
Despite the government restructuring rural water programme with a goal to reach 90 per cent of rural households with piped water by 2022, the challenges will only intensify as 'climate change contributes to more extreme weather shocks'.
"What we need currently is accountability of the existing resources and ensure that whatever is available to us is maintained well," says Dharmesh Shah, an independent researcher on environment from Chennai.
On one of his research projects to an area in North Chennai, Shah came across people paying for using 20 litre jar bottles.
"The groundwater has been left to no use because there has been constant deposition of garbage right above the source of water. In such a situation, the common man has no choice but to pay and use water," he adds.
As the government data suggests India's average annual per capita water may reduce to 1,340 cubic meters in 2025 and 1,140 cubic meters in 2030, it is a welcome relief to see some organisations using natural resources, IOT (Internet of Things) to provide accessibility to safe and clean drinking water.
Take the case of Hyderabad-based Uravu Labs.
Co-founder Swapnil Shrivastava says they source water from "air" using solar energy.
"A panel that can be installed on the rooftop that will attract water in the night, use sunlight through the day to heat it up, a condenser that will cool the water and then supply to the user through pipes," says Shrivastava.
They are still four to six months away from their official launch but are hoping to tie up with the government and the NGOs and reach places and people who do not have access to clean drinking water and where the infrastructure is missing.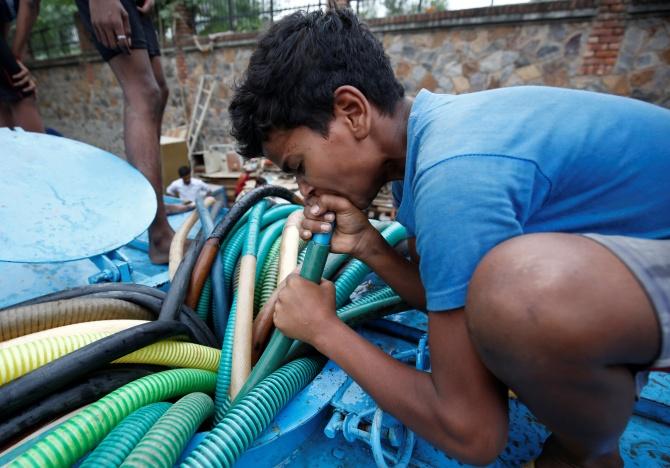 Bengaluru-based OCEO works on a "pay per use" model.
"The water purifier is IOT enabled and is installed at the user's location. They can recharge or buy water credits online through mobile and web application," says Vikram Gulecha, one of the co-founders.
This way, the user pays only for the purified water and there is no cost involved for machine and maintenance.
"There is a zero capping on minimum consumption of water for the user. Though we have observed that 15 to 20 litres per day is consumed by a household, users can consume as many litres of water from the device without having to worry about its maintenance for a lifetime," adds Gulecha.
Gurugram-based Swajal has water ATMs or shops across 15 states.
Their idea has been to provide for accessibility in public places and small hamlets. Swajal started in 2011 for cluster of villages.
The water ATMs come with solar pumps, and use locally available water. The machines are all self-run and have been programmed for self-cleaning too.
"We have for every 30 machines, one technician available. Our machines are connected via IOT to our data centre in Delhi where we monitor their maintenance," says Vibha Tripathi, one of the founding partners, Swajal.
This year, they are launching this project in areas where water quality is bad, and also teach people about water conservation and rainwater harvesting.
"It may sound great but come to think of it, we have actually let go of our water resources to private players. A resource that is already diminishing," feels Shah.
"At the end of the day, we are using environment to produce water; isn't it putting pressure on the environment further?" he says, adding instead the government should look at cleaning the already existing resources and ensure people have safe drinking water in their homes without paying for it.