After 18 months of closure, what really could be salvaged? And the answer sadly is, precious little, Patience, perseverance and plenty of moolah is the way forward even assuming intent is in place, says Anjuli Bhargava.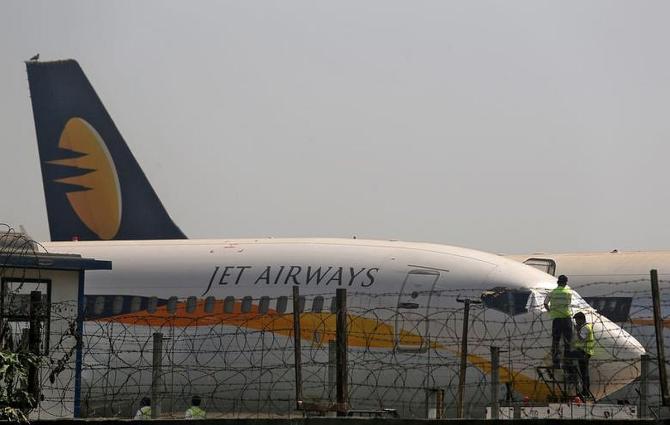 Shuttered since April 2019, it was the revival of the erstwhile jewel in the crown of Indian aviation - Jet Airways - that dominated headlines over the past few weeks.
Many Indians took immense pride in the airline, almost as if it were the national carrier, since Air India fell so vastly short of their expectations.
The million dollar question on their mind last week was this: After 18 months of closure, what really could be salvaged?
And the answer sadly is, precious little.
Readers shouldn't get me wrong. I would be overjoyed if this airline could indeed be revived.
Its founder NG, aka Naresh Goyal, may not have handled matters in the best manner possible, yet anyone who has been watching him and his ingenious - if at times underhand - manner of functioning cannot but develop a grudging respect for both him and the airline he built.
For someone, who visited the Jet Airways' Mumbai office quite often and has come to know many of the airline's employees rather well over the years, the airline was a part of Mumbai's fabric.
It's hard to envisage a Jet-free Mumbai!
But if wishes were horses, beggars would indeed ride and that is really the story as I see it.
Two things are clear: A lot of people are stuck with Jet stock, which has become practically worthless in the last year or so.
Many of these individuals, however, do want to recover a portion of their investment by selling off their shares.
If the stock price can move up a bit, why not?
Two, lenders and creditors of the airline see no other way to recover at least a percentage of their money other than to support some kind of revival.
A haircut is inevitable but it would at least not be a total write-off, if something can be salvaged.
So, several stakeholders have joined hands to cobble together a revival proposal, and there are a few bidders too who may perhaps be attracted by the basement price at which the airline can be resuscitated.
This may sound a bit harsh but many in the industry dismissed the development saying "a fool and his money are soon parted".
Kalrock Capital and Murari Lal Jalan who have won the bid are both unknown entities.
The knight in shining armour remains largely restricted to newsprint.
The ministry of civil aviation and other senior bureaucrats who could be instrumental in assisting such a turnaround are yet to meet Mr Jalan or anyone else representing the group, which is surprising since usually businessmen don't leave establishing connections and eliciting the support of the powers-that-be till so late in the day.
Usually, even before investors bid, they ensure the backing of the right horses.
This single act of "missing-in-action" makes me sceptical about the whole thing.
If Mr Jalan and Co are indeed serious, shouldn't they be elaborating on their plans and making sure things indeed go as they are hoping?
In India, there's usually a yawning gap between the actual and the anticipated.
There's a buzz going around that former Jet CEO and Naresh Goyal's trusted lieutenant Nikos Kardassis is going to be pulled in to revive the carrier.
Spreading further geographically, South Africa-based Indian-origin business family, the Gupta brothers, who from a preliminary Internet search appear to have bribed their way into running businesses in that country, were also reported to be involved in the Jet rescue plan.
Also, the word is that Aditya Ghosh would again don the CEO's cap and lend his "expertise" to reviving Jet Airways, which would be a small full-service airline with both a domestic and international footprint.
The idea, though charming, is highly impractical.
Airlines can work if they either have large-scale operations (think Emirates or United) or are small, niche and very boutique (think Virgin Atlantic or Bangkok Airways).
Missing from the excitement over revival is another small detail.
Jet was suspended by the International Air Transport Association (IATA) for non-payment of dues and all its interline arrangements with other partner carriers went into dissolution.
While none of this is insurmountable, getting back into IATA's good books, so to speak, is likely to involve a few explanations for past actions, plenty of paperwork and at least some operational hurdles.
Patience, perseverance and plenty of moolah is the way forward even assuming intent is in place.
Photograph: Francis Mascarenhas/Reuters