'The airline business is very dynamic. If you are unable to keep up and lead, you end up last.'
'This is what has happened to Jet.'
Manavi Kapur profiles the aviation pioneer who has lost his airline.
Sandeep Malhotra was a young man on the verge of becoming a father in 1988 when Naresh Goyal interviewed him. "He spoke to me in a mix of Punjabi and English," recalls Malhotra.
A former native of Sangrur, Punjab, Goyal unselfconsciously wielded his unpolished English and easy Punjabi with his north Indian colleagues.
Of course, this was before he was dubbed suave entrepreneur and the 16th richest man on the Forbes India list in 2005.
"He is a diminutive man and, in those days, unless you were told this was Goyal, you would probably not recognise him," says Malhotra.
In 1988, Goyal, then just shy of 40, owned Jetair, a successful travel company that worked as general sales agent for top global carriers.
The Indian skies had not yet opened to private players and Jet Airways was still only a pipe dream.
It was also the year Goyal married Anita Gupte, who joined Jetair in 1979 and rose to supervise the company's sales and marketing.
A family man who was close to his mother and brothers, former employees recall how Goyal treated his work family with similar courtesy.
"It was a massive celebration at the Taj Palace (hotel) in Delhi and all the bosses from international airlines were flown in," says Malhotra.
"Everyone in the company was invited to his wedding," remembers a former Jetair employee.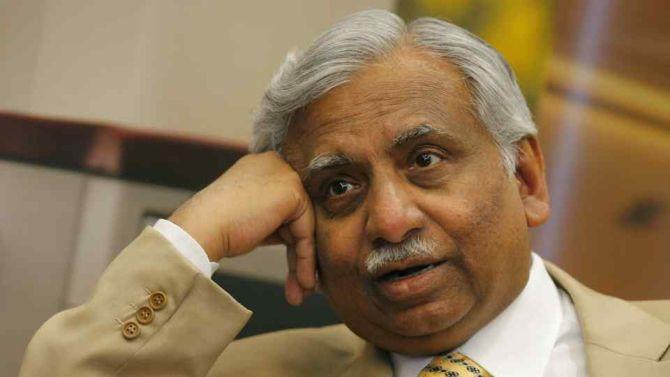 Before the Goyals became a power couple, it was Gupte who streamlined and organised Goyal's business.
"She was a capable manager who also paid attention to details ranging from how meetings should be held to how the flowers were arranged," says the former employee.
"Goyal wore loose shirts and baggy pants and didn't pay much attention to the way he looked. He wasn't like, say, Kapil Bhatia of InterGlobe. Goyal was not one for cigars or golf," explains Malhotra.
"He greatly valued loyalty and helped many of his employees through financial crises," recalls a former cargo manager for Jet Airways.
"If Goyal felt you were important to the company, he would do anything to retain you," says Malhotra.
Nearly three decades later, Jet Airways was known for offering some of the best compensation packages in the Indian aviation industry.
That was, of course, before March 2018 when the airline asked its employees to take deep pay cuts and eventually began defaulting on salary payments.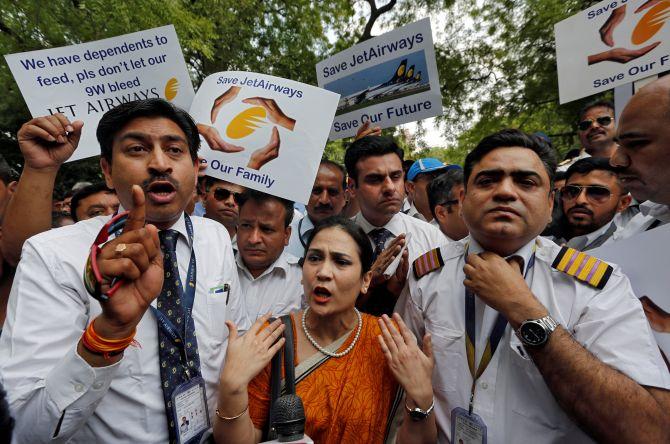 Many moods, many quirks
Himmat Anand was working with Sita Travels in Paris in 1991 when Goyal called him for a job interview.
When Anand reached Goyal's home in London, the latter opened the door and abruptly asked him, "Himmat, how hungry are you?"
"It was 1 pm and I thought he was asking me about lunch. But he immediately added, 'How hungry are you for this job?'" says Anand, founder of Tree of Life Resorts & Hotels.
"He had this habit of throwing one-liners at you and you were expected to understand them," he says.
"Goyal once told me that whenever someone told him that everything was okay and he should not worry, that was when he started to worry. I found that rather amusing," remembers Steve Forte, CEO of Jet Airways between 2000 and 2002.
Malhotra, too, remembers this striking habit. "He was short on patience with people who didn't understand him. He would hurriedly say something and end it with 'You know what I mean'. And one obviously couldn't say 'No, I don't!'"
Another of Goyal's idiosyncrasies was his superstitiousness. Fascinatingly, he was also afraid of flying.
"He would knock on the side of his seat, make gestures in the air, close his eyes and chant something every time he flew," recalls a former employee.
He would also make a specific number of dots on any document he signed. There were rumours about a spiritual guru guiding Goyal. "But Goyal was not one to care what people thought," says Malhotra.
So unfazed was he that he often slurped his tea from a saucer in the company of senior employees, virtually flaunting his rustic quirks.
"Everyone looked up to him because he had a remarkable memory and knew every single employee's name," says Anand.
Several employees recall his characteristic, high-pitched laughter that could sometimes be heard from a distance and announced his presence in Jet Airways offices.
When he was excited, he would loudly thump his table.
"It was unbelievable how he could crunch numbers. He was like some mathematical genius," recalls another former employee.
Goyal can well be called the father of private aviation in India, who not only took full advantage of the Open Skies policy post-liberalisation, but also used his skills to turn adverse scenarios and policies in his favour.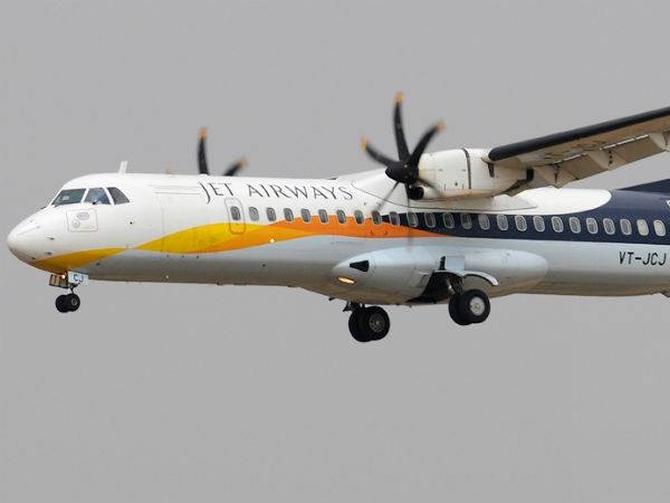 The networker
Goyal's powers of persuasion have been well documented.
It is widely believed that he was behind a policy change that prevented foreign direct investment in Indian aviation simply to prevent a Tata-Singapore Airlines joint venture going through in 1996.
A former employee also recalls a particularly sticky meeting with the chief of a West Asian airline whose GSA was with Jetair, which seemed to be going against Goyal.
"No one knows what happened at the meeting. But the next morning, the same chief who was hostile towards Goyal was raising a toast to their business partnership," he says.
"Impossible was not a word in his lexicon," recalls a former Jet Airways employee.
"Jet Airways's inaugural flight from Mumbai to Coimbatore in May 1993 landed at a defence airport and was seized by the air force," says Malhotra.
The same night, Jet Airways was hosting a huge bash for its employees.
"Everyone was on tenterhooks, expecting Goyal to be in a foul mood. He walked in beaming, making time to talk to almost every guest," adds Malhotra.
Goyal has always believed in smiling his way through adversity.
In the early 1990s, Jitender Bhargava, former executive director, Air India, and Goyal were residents of the same apartment building in Mumbai, and often met in the elevator.
"This was the time he had just started his airline. And he would simply say: 'Mr Bhargava, let me know if you need a ticket'," recollects Bhargava.
"This single statement told me how good Goyal was at networking."
The 5/20 policy (which requires an Indian airline to have been in business for five years and own at least 20 aircraft to fly internationally), Goyal's changing stance on FDI in aviation, and the 50,000 seats that were pledged to Abu Dhabi via Etihad Airlines while getting Etihad to acquire 24 per cent equity -- according to Bhargava, all these demonstrated Goyal's political manoeuvring and taking the easiest route to stay No 1.
"Goyal vehemently opposed FDI in aviation and used his clout to get the policy delayed to derail efforts to prevent Kingfisher Airlines from collapsing," says Bhargava.
"But once his competitor was out, he became a supporter of FDI, using the policy to bring Etihad on board."
Bhargava also recalls how hard Goyal lobbied for Alia Airlines, whose GSA was with Jetair in the 1970s, to fly to India once a week.
"If he could do that for an airline not owned by him, imagine what he can do for his own airline's survival," he says.
This was characteristic of Goyal's modus operandi.
When he launched Jet Airways in 1993, the airline's only real competition was Indian Airlines.
Jet then had a market share of 6.6%. But using his powers of persuasion, manipulating policy and pulling off joint-venture deals that gave him an edge, Goyal was able to take Jet Airways's market share to over 28% by early 2012.
At this peak, Jet Airways had over 120 aircraft and more than 600 daily flights. Before it flew its last flight, its market share had dwindled to 11.4%.
"Goyal always had it easy and there was virtually no competition when he launched Jet," says Bhargava.
"So once the going got tough, he preferred to be in London to see the last days of Jet Airways."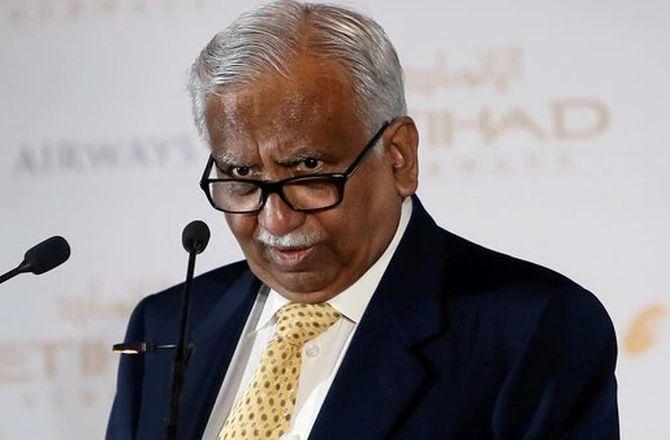 The controlling boss
The man who was compassionate to his staff was also one constantly afraid of losing control.
"I found his management style rather chaotic and lacking in an understanding of how to handle people. For example, he often humiliated department heads in front of their subordinates," remembers Forte.
"We used to call those sessions 'public hangings'. It is a no-no in any company," says Forte.
These "public hangings" largely stemmed from disagreements.
"I remember I had proposed something for our European business and Goyal clearly disagreed with me. He told me in front of everyone, 'Himmat, you are too emotional. You can never be the CEO of any organisation'," laughs Anand.
In his trademark one-liner style, he would often tell dissenting managers that theirs "was not a Catholic marriage" -- that they must never assume they were indispensable.
"He never raised his voice with me. But there was this one time when he got so frustrated with my ideas that he pinched my arm hard," recalls Malhotra.
"It was hilarious, and he was a bit embarrassed once he realised what he was doing."
Forte is less gentle with his observations. "The airline business is very dynamic. If you are unable to keep up and lead, you end up last. This is what has happened to Jet. Unfortunately, Goyal believed in planting 'spies' at all levels of the organisation," he says.
"Those people had a tendency to tell him what they thought he wanted to hear rather than report facts."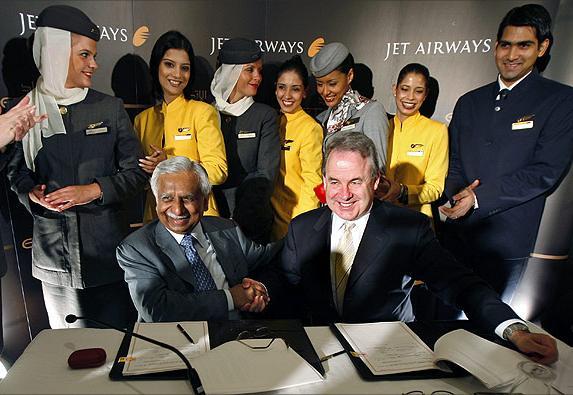 The hero's hubris
Industry experts have largely supported the decision to exclude Goyal from Jet's board.
They also believe it was Goyal's stubbornness that led the airline to its current crisis.
"With very few exceptions, most leaders can take a company from point A to point B, but then you need a different leader with different qualities to go from B to C and onward. This did not happen as Goyal did not want to relinquish control of anything, with predictable results," says Forte," says Forte.
"But more than his personality, I would say his reluctance to let people do their work their way was a determining factor in today's situation with Jet," adds Forte.
"He surely blames the whole world rather than himself for what happened," continues Forte. Bhargava agrees.
"All he has done in recent days after stepping down from the board is write to employees, leaving the survival efforts to the lenders."
Forte also believes that though Goyal does not share the flamboyance of Kingfisher Airlines's Vijay Mallya, both former airline owners suffer from a "Maharaja Infallibility Syndrome".
"Goyal can be quite arrogant, although he tends to treat people with more respect than did Mallya," says Forte. (Mallya tweeted sympathetically about Goyal a few days ago, extraordinary given how Goyal and Jet benefitted from Kingfisher's demise.)
But despite comparisons with Mallya, Goyal's brand standing is completely different.
Samit Sinha, founder and managing partner, Alchemist Brand Consulting, a Delhi-based branding and marketing advisory firm, explains: "Unlike Richard Branson and Virgin Atlantic, or Mallya and Kingfisher, where the brand image of the individuals are inseparable from the product or brands that they built, Goyal is distinct from Jet Airways."
"While Goyal may not be a brand outside of Jet Airways, Jet Airways is certainly a brand outside of Goyal."
And that's what the lenders' consortium hopes to cash in on.
Goyal's participation in the expression of interest to bid for Jet has been overturned.
The man who brought Etihad Airways on board has become a deal-breaker for investors.
The man who had a larger-than-life vision for Jet Airways in 1993 will also be remembered as someone who couldn't infuse money to keep even a single flight running.
Some names have been changed/withheld on request.