Artificial intelligence is being used to mine data to identify and isolate potential carriers and victims, and to guesstimate the likely course of the disease.
AI is also being used to try and generate vaccines, and to identify existing drugs, to combat the new virus, says Devangshu Datta.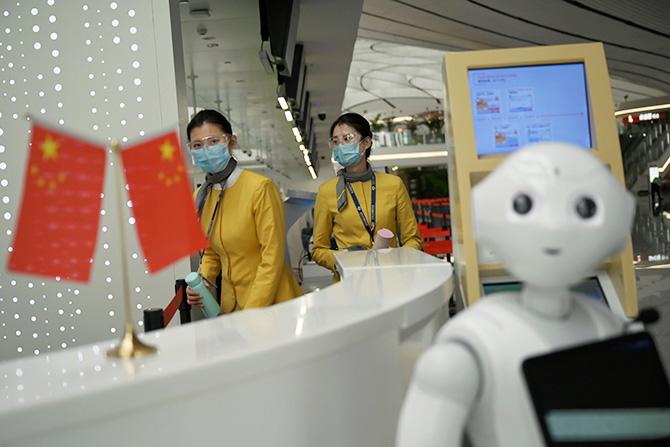 Meeting the threat of the Wuhan coronavirus, 2019-nCov, will be a test case for the effective and widespread deployment of artificial intelligence (AI) in fights against epidemic diseases.
An AI was among the first agents to flag the new disease.
AI is being used to mine data to identify and isolate potential carriers and victims, and to guesstimate the likely course of the disease.
AI is also being used to try and generate vaccines, and to identify existing drugs, to combat the new virus.
As of February 7, 2020, there were over 630 confirmed deaths and over 30,000 infections in at least 25 nations.
One of the first warnings came from a Canadian AI company, Bluedot, which uses AI to analyse publicly available news and data, and issues health warnings to its clients, which include businesses and public health officials in several countries.
On December 31, 2019, Bluedot issued an advisory that travellers should avoid Wuhan.
The WHO sent out a similar public notice only on January 9, 2020, while America's CDC had issued its first public warning on January 6.
The Bluedot AI used global airline ticketing data to correctly predict the virus would be exported to Bangkok, Seoul, Taipei, and Tokyo.
Impressively, BlueDot has also predicted earlier outliers like a Zika outbreak in Florida.
The Harvard Medical School is running an international team, which uses machine learning to analyse social me­dia posts, news reports, data from official public health channels, and information supplied by doctors for signs of where the virus is now taking hold.
Some AI-based predictions on the potential infection footprint are extremely scary but very likely, wrong.
Fin­tech company, HedgeChatter built a neural network to generate a day by day forecast of the numbers infected, the geographical spread and the death toll etc.
The model was accurate to within 3 per cent of actual numbers until early February.
It predicts that up to 2.5 billion people (the global population is roughly 7 billion) could be infected in the next 45 days, and fatalities could rise to over 52 million.
However, this could happen only if the assumed conditions for the disease spreading, and the public he­alth response don't change.
Since the alarm has been raised, there is likely to be a much lower toll, since those conditions have indeed changed drastically.
AI has been used by the Chinese au­thorities to mine data.
It has led to over 45 million persons -- an entire province -- being placed under lockdown.
The authorities have also quarantined people who have travelled to the affected areas.
Apps have been released to enable citizens to check if they have been in a bus, or train or plane, with a confirmed victim.
Of course, all this is greatly enabled by the tight surveillance systems of the People's Republic of China and the state's complete lack of concern for violation of privacy.
Baidu, the Chinese equivalent of Google, has deployed a system that uses a combination of infrared and face recognition to identify people and check if they have a higher than normal body temperature.
It's claimed that this can check over 200 people a minute, far faster than standard thermal scanners at airports.
On the medical research side, China has released the genome of the disease.
Versions of the genome have also been harvested and sequenced outside the country.
AI is also being used to search through already available drugs for potential cures.
A British start-up, Benevolent AI, and a Korean pharma company, Deargen have both used AI to search for existing drugs that may work against the virus.
So has the US pharma company, Gilead.
In these cases, the AI searched through medical data, and scientific papers, looking for drugs that might work.
Several other companies have also tried this approach, and there is now a short-list of some 10 existing drugs that could be going into trial soon in the fight with this disease.
An US-based biotech company, Insilico, is using the AI to identify and generate new molecules that could serve as potential medications.
It intends to synthesise and test up to a 100 of these new molecules.
It took Insilico's AI just four days to identify new molecules with medical potential.
Insilico has committed to publishing all the new molecular structures it has generated as a public dataset.
Michigan State University has also published a paper about using similar machine learning algos.
AI collapses the time period necessary for this sort of math-intensive research from a period of months or years, to a few days.
This is critically important during an epidemic.
The highly-connected 21st century can enable diseases to spread with rapidity.
AI could be one of the ways to mitigate this danger.