Experts, however, are of the opinion that a world manned mostly by bots is still some time away. Also, new jobs -- of bot builders and supervisors -- will emerge with time.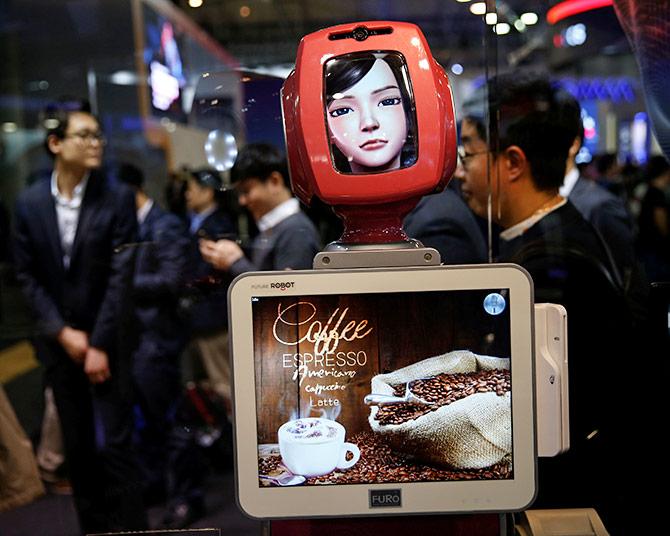 Image: Commerce Bot, that provides customer service with artificial intelligence technology and voice recognition, is seen at SK Telecom's stand at the Mobile World Congress in Barcelona, Spain, on February 28, 2017. Photograph: Paul Hanna/Reuters.
The bots are coming. Finally!
US-based Automation Anywhere, founded by four Indians, aims to produce 3 million bots by 2020 -- almost five times of what it has now. These bots, or robotic process automation (RPA) software, could replace at least an equal number of human workers when they are set up at client sites.
Automation Anywhere could do it themselves, or through partners who are the likes of Infosys, Wipro, TCS and others firms. The cost for clients will be a tenth of what they incur now for onshore deployment of employees, and a third of offshore (India) expenses.
"In a way, we will be one the largest employers without having that many employees," said Ankur Kothari, co-founder and chief revenue officer of the San Jose-headquartered company. At present, it employs about 700 people across centres in the US and in Vadodara and Bengaluru.
But, it is not only Automation Anywhere. Almost every company developing software bots -- UiPath, Blue Prism, Contextor, EdgeVerve Systems, Pegasystems, WorkFusion, Kryon Systems, etc -- is witnessing a surge in demand like never before. With clients shedding inhibitions, RPA is going mainstream and organisations are adopting it, shedding early inhibitions.
According to a recent HfS Research report, based on a survey among a few Global 2000 companies, RPA is the technology most plan to invest in this year as they "slash costs". RPA is ahead of cloud, internet of things, analytics, artificial intelligence, machine learning and cognitive technology.
"RPA has succeeded in being positioned as the easiest silver bullet to find the next wave of cost take-out," said Phil Fersht, CEO and chief analyst, HfS Research.
Automation Anywhere has been in operation for 14 years, but it is only during the past two years that interest in automation has increased. "Pretty much every global company is adopting it," said Kothari.
Following massive job losses after the global economic crisis of 2008, people were reluctant to adopt automation. But, since 2013, things have moved at a rapid pace. Now, almost all information technology service providers are offering a significant portion of work to be done by bots to their clients.
"In terms of maturity, I think we have hit the inflection point. We are almost growing in the three digits every year in revenue and volume," said Kothari.
From breadth of services to cost take-out to reliability, the combination of RPA with cognitive technology and analytics embedded in these robots have made them far more powerful, creating a perfect digital workforce of the future. These can do almost anything humans can.
Cognitive technology enables bots to think like a person; analytics allows analysis. Their productivity is also higher -- almost four times more than humans -- as they do not need to take breaks. They are also more accurate and come at a compelling price.
The ratio of costs incurred in onshore and offshore for the same work stands at 100 to 35. That means, if the cost of a human workforce is $100 onshore, it is $35 offshore. "But, in the case of a bot, it is only about $10," said Kothari. "This means one bot can do the work of three humans."
Experts, however, are of the opinion that a world manned mostly by bots is still some time away. Also, new jobs -- of bot builders and supervisors -- will emerge with time.
"As bots become more prevalent, they will take over the repetitive work which does not involve critical impact, such as scanning data, highlighting correlations, and searching knowledge bases. Human beings will have to apply these to the job at hand, make judgements and contextually apply the recommendations," said K R Sanjiv, chief technology officer, Wipro.
The total enterprise robotic software and services market is expected to grow to $1.5 billion in 2018, according to an estimate by HfS, and to surpass $3 billion by 2021.