'I'm an unbalanced human,' the founding partner of AZB, India's top law firm, tells Pavan Lall.
Illustration: Dominic Xavier/Rediff.com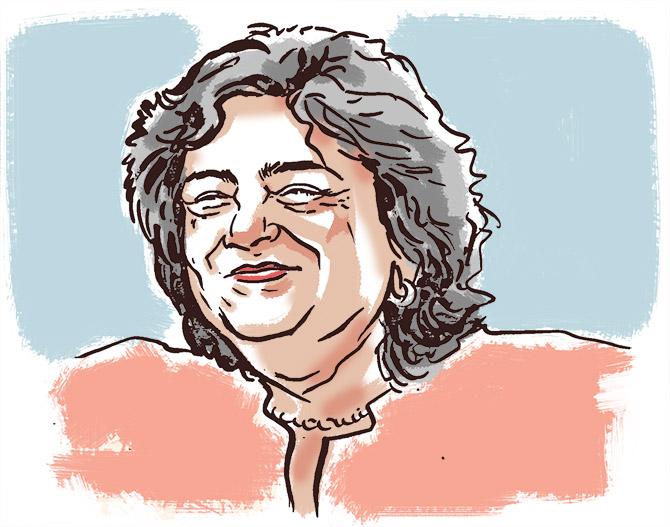 "So, who have you signed on recently?" I ask of Zia Mody, founding partner of law firm AZB & Partners.
After all, at this stage of her career, Mody, who needs no introduction, has represented most captains of industry that include Ratan Tata, Mukesh Ambani and Anand Mahindra.
There are several others that we don't know about -- and Mody makes it emphatically clear it's going to stay that way.
We're catching up for dinner and instead of meeting at a restaurant, we have decided to order in at AZB's corporate office at Peninsula Corporate Park in Lower Parel, Mumbai.
We sit down in the Oak room.
India's best known lady lawyer opts for a margherita pizza with an extra dollop of sun-dried tomatoes from Quattro on Senapati Bapat Marg.
It's spinach and ricotta ravioli with a side of grilled vegetables for me from Cafe Zoe.
Mody, a vegetarian and strict teetotaler, has no pretensions when it comes to dining, and is as much at home with street food that includes idlis and other spicy snacks from lesser known eateries as she is to five-star favorites like the Thai Pavilion at the Taj Hotel in Cuffe Parade.
Inside AZB's office in Lower Parel there's a stillness that's periodically broken by footsteps and the sound of young partners and associates checking on case updates and calls as they move in and out of rooms named after trees such as Juniper, Sequoia and so on.
Dinner is laid out for us on AZB monogrammed china ware and we start the minute it's served.
Mody, as always, is dressed simply in a silk, purple tunic, one very large record-size diamond ring and another unusual Alexandrite one that matches her tunic.
Almost always, it's easy to tell the kind of mood Mody is in by her hairdo.
If pulled back, like rockstars or gangsters do with pony-tails tied up with a band, the message is: Stay out of the way.
If she's got it down, you can get away with pushing the envelope.
Today, it appears, is a regular hair day.
My ravioli is bang on target, the Italian dumplings stuffed with spinach and ricotta cheese are drizzled with a tangy orange sauce garnished with slices of green olive and translucent flakes of garlic.
The slightly charred zucchini and mixed greens offer as perfect a foil as they can.
I offer Mody some, but she sticks to her compact pizza, that's neatly pre-sliced.
AZB's league tables rankings are impeccable. Mergermarket's latest report puts AZB at number one with 22 deals valued at around $9.5 billion.
Shardul Amarchand Mangaldas & Co is at number two with 19 deals valued at $8.5 billion.
It's the same with Bloomberg's legal rankings, and that of Thomson Reuters, where again, Mody sits pretty at number one by value and count.
That isn't the only reason that she is the first port of call for most promoters, conglomerate heads and CEOs.
In her favour, she's a unique blend of tough-as-nails counsel who can switch at light-speed to offer a sympathetic ear when the client is losing a deal, is at war with a sibling, or has made pivotal mistakes after years of getting it right.
Sounds simple but few do it well.
So, what is the first question she typically asks while taking on a case?
It depends on the client but if it's a negotiation she will ask "What's the bottom line that you want from this deal?," she says.
If it's litigation, then the questions are judgment calls on where the matter is likely to go, how much reputational damage is likely to happen and so on, she says, adding that "every meeting is a law plus."
"Law plus strategy, law plus EQ (emotional quotient), law plus navigating regulations, law plus image management, law plus global impact, law plus business sense.
I stop and take a sip of my green tea.
She works round the clock at a pace which would deter most youngsters half her age and then there's the matter of her reputation.
She's notorious for being a merciless task master and AZB is known for being one of the toughest law firms to cut one's teeth at.
Mody smiles, then says slowly with jarring honesty, "I'm an unbalanced human and it's obvious I don't need a balanced life as much as anyone else because I've gotten used to a certain schedule."
"You here at this time of the night and working isn't balanced either," she quips.
The thing is that clients expect a response quickly, which means that instead of taking five days to get back, it needs to be done in two days.
That means you push faster and run harder than others, Mody says, adding it's also the reason she's managed to settle fights, and do the big deals.
"At the end of the day it's about the letterhead of this firm."
She isn't fibbing about the big deals.
In recent times, AZB has advised Tata Steel on its Rs 35,000 crore/Rs 350 billion acquisition of Bhushan Steel, one of the largest deals under the new Insolvency and Bankruptcy Code; the $14.6 billion merger of Indus Towers with Bharti Infratel; and the $1.2 billion ATC-Vodafone-Idea Cellular merger.
Is there a secret formula to catching the most high-flying of clients?
"Different clients require different doses of fear, some get it quickly, some need to be told categorically what will happen if they cross the line, and I don't think we advise being virginal but what we do is counsel clients as to the line in the sand, how close they are, and on which side."
In the next four or five years, Mody says, we will see the emergence of class-action law suits in a big way.
"Promoters are listening much harder, the noises being made by proxy advisors and minority shareholders are getting louder and one or two hard class-action cases will set the tone. It's coming."
She also means that fear is today a stronger factor in decision-making and there is genuine regulatory concern, about not making a habit of certain business processes.
How does she deal with loss?
Mody, a follower of the Bahai faith who visits Israel every couple years on pilgrimage, says she's okay with it.
"Some big deals will go to competitors, a few talented partners will leave. The element of churn is there but the objective is to keep moving ahead."
Hang on a second -- did Mody just say she's okay with occasional losses?
Has time mellowed the iron lady of law?
It almost sounds like she's okay to hang up her boots sooner than later.
Mody says, "I've been perceived as a larger than life presence, internally for a long time now, but as my other founding partners will agree, we have the best second line of senior partners in the market, and institution building stands tall for all of us."
So is it going to be five, seven or eight years before she and her founders retire?
"I hope sooner, I mean look at my hair, it's getting white now."
I disagree and tell Mody it's dark in patches and she pushes the last slice of pizza towards me and it's clear I am not being asked but told to polish it off.
I oblige and once done realise it's almost 11 pm.
How long will Mody stay in office?
"Another four-five hours or so," she says, as she turns to face the light flashing on her phone, an assistant with a sky-high pile of papers and three junior lawyers who need direction.
And vanishes into a different world.